With a new weighted item unit, Instacart continues to build and scale its ad platform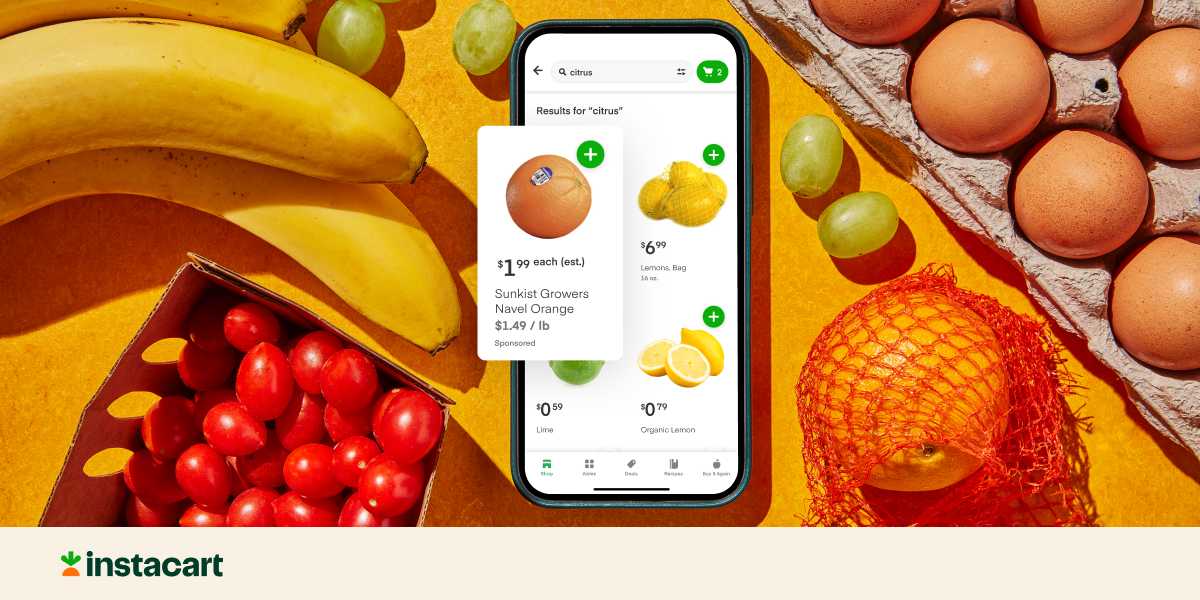 Instacart
Instacart, last week, rolled out its sponsored product ads to fresh produce brands. It's the latest sign that the company views its advertising business as a big area of growth as it tries to diversify away from its well-known grocery delivery service.
Instacart will now let brands run ads for random weight produce items like bananas and grapes with price-look-up (PLU) codes or stickers, the company said. While earlier brands could run ads for packaged produce items that come with a barcode, this new capability will offer brands like Gotham Greens and Love Beets among others, premium placement on Instacart for weighted items ranging from fresh vegetables, fruits and meats to cheeses, nuts and deli items. Since 2020, Instacart has partnered with nearly 60 packaged produce advertisers, the company said.
Instacart has made a concerted push into advertising since the onset of the coronavirus pandemic. Over the last six months, Instacart has made it easier for brands to launch new deals, promotions and incentives on their Instacart ad campaigns with self-service access and related capabilities. In November 2022, the company introduced shoppable ads and has been expanding that into different formats including, shoppable display, shoppable video and brand pages. The company's advertising products generate a more than 15% sales lift for brands, The Wall Street Journal reported last month.
This trend is in line with the rise of retail media more broadly — where traditional grocers and new commerce platforms alike sell ads, which have higher margins typically than what it would receive from the sale of a product.
"A lot of our focus in the past year and a bit has been on making sure that we're really investing in driving and measuring results for advertisers," Ali Miller, vice president of ads product at Instacart told Modern Retail. "And so that includes a lot of nuts and bolts of a typical ads platform like attribution and core measurement capabilities and reporting self-service tools and capabilities like that."
According to Bryan Gildenberg, founder of commerce consultancy Confluence Commerce, Instacart is making it easier to vary a basic advertising ad unit across multiple types of retailer interfaces. "They're doing a lot of things to just increase the overall usefulness of their ad platform," he said.
Gildenberg said the big shift happened when Instacart started selling display ads and not just sponsored product ads, which was historically its primary advertising format, the platform opened itself to more than just "conversion-based marketing." Last year in January Instacart added display ad units to its suite of growing advertising capabilities.
"Marketers can do different things from a messaging point of view on display ads that allow Instacart to be a broader solution for a broader part of the marketing funnel than they used to be," added Gildenberg.
More recently, over the last six months, the company has introduced ad offerings that simplify the shoppers' path to final purchase and newer ways for brands to showcase more deals and promotions across their ads. For example, in October 2022, Instacart announced the launch of shoppable video ads enabling brand partners to link and sell products within those videos to shorten the path from inspiration and discovery to purchase.
In November 2022, the grocery delivery platform introduced 'Instacart Promotions' giving its sellers the ability to set up coupons and promotions in their campaigns, in a bid to drive higher sales as inflation hurt overall consumer sentiment. And in February 2023, Instacart expanded its Carrot ads to include display ad units to offer more targeted ads and improved measurement to advertisers.
Instacart first introduced Carrot Ads over a year ago. It described it as "[opening] up new digital revenue streams for retailers by bringing the best of Instacart advertising — including the company's industry-leading technology, products, engineering and sales talent, and data insights — to retailers' owned and operated e-commerce sites."
Miller acknowledged that retail media is a growing segment of the advertising industry overall and a priority for the company. "Our focus on driving and measuring those outcomes that brands really care about is really driving sales at the end of the day," she said. "To offer something that is truly measurable end to end, using the strength of our first-party data and the strength of our optimization capabilities and measurement capabilities," Miller added.
Another big area Instacart is focusing on is proving out its advertising program's worth. Within ads, Miller said, one of the areas the company is most excited about is "incrementality testing or lift studies" that will measure the impact of ad sales versus a holdout of users who do not see ads. "And that is really kind of the gold standard in terms of showing the actual impact or causal impact of ads on driving sales for our advertisers and brands. That's something that we've really invested in developing and scaling up over the past six to eight months," Miller added.
Gildenberg lauded the company's acquisition of Eversight, an analytics company that allows brands to test pricing and promotion concepts in real time. "They're trying to make themselves more indispensable to their retail partners by providing them with a variety of solutions," he added while referring to Instacart's use of self-checkout shopping carts.
He added that the new weighted produce ad capability will help Instacart centralize the order platform for those non-UPC coded items, so that the retailer can order it all together. "The ability to advertise on top of that is a nice combination to the operational capability they built to enhance the ordering. So it's trying to connect together, the various services and the ways that they can make the retailers more money or save them costs to connect those together," Gildenberg explained.
Greg Carlucci, senior direct analyst at Gartner said advanced ad features around recipes are new ways that consumers are shopping. "It's changing how consumers are finding products, and the more that a platform can provide unique features or ways that the consumer finds products is going to change the way they shop," he said.
But with the rise of so many retail media ad platforms and units, comes an uncertain future. Carlucci warned that this could lead to consumers reaching a breaking point, "where they are taking longer to find products or are being served ad products that are not relevant to them. And that's the landscape of where retail media is going."