Snap announces new tools designed to get more beauty brands investing in its AR experiences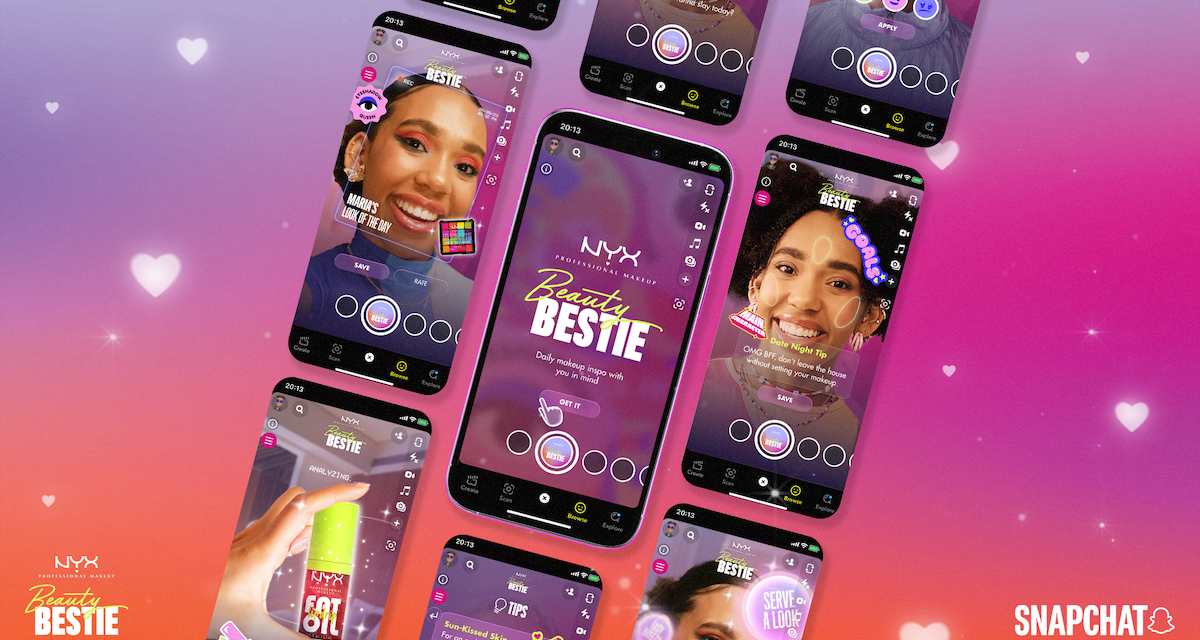 Snap
Snap is rolling out a new batch of advertising and marketing tools for beauty brands looking to connect more with key audiences on Snapchat.
At its 2023 Beauty Summit in New York on Thursday, Snap revealed that it will soon launch developments like non-live beauty Lenses, makeup drops for Bitmoji and an ad tool called "Total Takeover." It also revealed an upcoming partnership with NYX called the "Beauty Bestie" AR experience, as well as ways for brands to pull key search terms from "My AI" conversations for the purpose of targeted messaging.
Snap views AR as having the potential to "revolutionize" the way people interact with the world, with each other and with their favorite brands, Resh Sidhu, global director of Snap's Arcadia Creative Studio, said in a session. Throughout the summit, brands spoke to the value they received from Snapchat partnerships — Estée Lauder, for instance, pointed to Snap's large contingent of millennial users — and Snap is looking to partner even more on AR with brands that "really understand technology and innovation," Sidhu said.
For years, Snap has worked with the likes of Maybelline and L'Oréal on live augmented reality filters that allow Snapchatters to "try on" beauty products like foundation and mascara. Approximately 67 beauty filters are seen "every second" in the Snapchat camera, according to the brand. Beauty is one of the biggest categories for Snapchat; in addition to the filters (called Lenses at Snapchat), Snapchat offers live beauty shows with creators, and Snapchatters can ask the "My AI" messaging bot for insights on makeup, skincare and haircare.
With these tools, Snap is thinking about return on investment in a unique way that sets it apart from Byte Dance or Meta, Jeremy Goldman, senior director of the marketing, retail and tech briefings at Insider Intelligence, told Modern Retail.
"One of those things that's really key and interesting here is their ability to basically make brands think about new metrics and to be able to quantify a degree of ROI from that," he said. "Because if you're able to see a brand uplift in terms of sales of something based off of AR usage, then that becomes something that brands are more likely to get incremental investment in."
Goldman acknowledged that one of the trickier aspects of Snapchat is the "dynamics of their platform," and that users lean more into Lenses and chat than they do the Spotlight tab. "I think the key thing is monetizing that attention in new ways."
Snap's revenue for the second quarter was $1.068 billion, compared to $1.111 billion in the prior year. At the same time, Snap managed to narrow its net loss from $422 million to $337 million. Its number of daily active users increased 14% year-over-year to hit 397 million.
More than 250 million Snapchatters engage with AR every day on Snapchat, according to Snap, and "we will continue to invest with a long-term perspective, especially in areas that are critical to realizing the long-term opportunity of augmented reality," Spiegel said on an earnings call. Here's a closer look at some of the announcements and when brands can expect to start using the new offerings.
'Post-capture filters'
Until now, Snapchat's AR Lenses allow users to test out looks and effects in real time. (Remember "dog ears" or "vomiting rainbows?") Now, Snap is adding "post-capture filters" that allow users to apply special effects to pictures they've already taken using their camera.
These experiences, when used by beauty brands, are "another way to have more than just a static image," Michele Nevitt, Snap's head of CPG, health and beauty, told Modern Retail. "Brands can create custom creative that they'll be able to add on." In many cases, this will mean stickers or animated graphics, she explained. Snapchatters can then save these images or send them to friends.
Bitmoji 'beauty drops'
In 2014, the comic-creation app Bitstrips launched Bitmoji, a sticker app that allows users to make cartoon avatars. After acquiring Bitstrips for $100 million in 2016, Snapchat incorporated the features into its app, allowing users to send Bitmoji stickers in messages and or stick them on Snaps.
While Bitmoji users can switch out their fashions, they haven't been able to try on branded makeup looks. That's about to change, thanks to an upcoming feature called Beauty Drops. Mirroring real-world drops, Snapchat's Beauty Drops involve the virtual release of a limited-time product such as a lipstick, blush or eyeshadow. Snapchatters can discover the Drop, save it to their closet and apply it to their avatar. The look will then be available everywhere that the user's Bitmoji is, from chats to the Snap Map.
Snap is partnering exclusively with e.l.f. Beauty on its first Drop, which will launch in the coming months.
Enhanced 'My AI' ad targeting
In February, Snap released a new chat bot called "My AI" that lives within the Snapchat app. More than 150 million people have sent more than 10 billion messages to "My AI," according to the company. More than 23 million conversations to date have revolved around beauty, with users asking things like, "What color should I dye my hair?" and "How do you remove nail polish?"
Today, Snap is beginning to test ways to share AI keywords with brands for targeted marketing. Snap currently offers advertisers insight into what it calls Snapchat Lifestyle Categories, or the main categories that reflect what content a Snapchatter is watching. Snap can now fold keywords from "My AI" interactions such as "haircare" and "skincare" into those SLCs. This will, it says, "boost the relevance of the ads Snapchatters see on the app."
In addition to the above, Snap says it is conducting early testing of sponsored links within "My AI" "to connect our community with partners relevant to the conversation in the moment." That, it said in a blog post, will help partners "reach Snapchatters who have indicated potential interest in their offerings."
These features appear to be designed to help Snap monetize attention in different ways, Goldman said. For example, "just being able to watch for keywords or being able to look at sentiments… to be able to tap all of that attention and sell against it to brand interest."
More interactive partnerships
In November, Snap launches a new partnership with NYX called "Beauty Bestie" that allows users to try on daily makeup looks designed by NYX professional makeup artists and recommended based on users' color palette and mood.
Users open up the "Beauty Bestie" tool, then lean their head left and right to pick prompts like "sunset shades" or "icy tones." As the user continues to pick options, "Beauty Bestie" will then offer up a special "look of the day." The more users interact with "Beauty Bestie," the more it will recommend personalized looks. Users can save the looks, rate them and then send them to friends, Arcadia's Sidhu told Modern Retail.
"What's great about the looks is that around Halloween time, they'll be for Halloween," she said. "Around prom time, they'll be prom looks. Red carpet season, we'll pull from the red carpet looks. So, culturally-trending moments."
Snap began developing "Beauty Bestie" with NYX in February, Sidhu said, and views it as an example of a more interactive type of AR branded experience. "Beauty Bestie" is also shoppable, meaning that as products are suggested, a "more" button will appear that links to the NYX Professional Makeup website.