Q&A
// May 26, 2023 ■ 5 min read
Snap's head of beauty on building AR tools for brands like Supergoop and OPI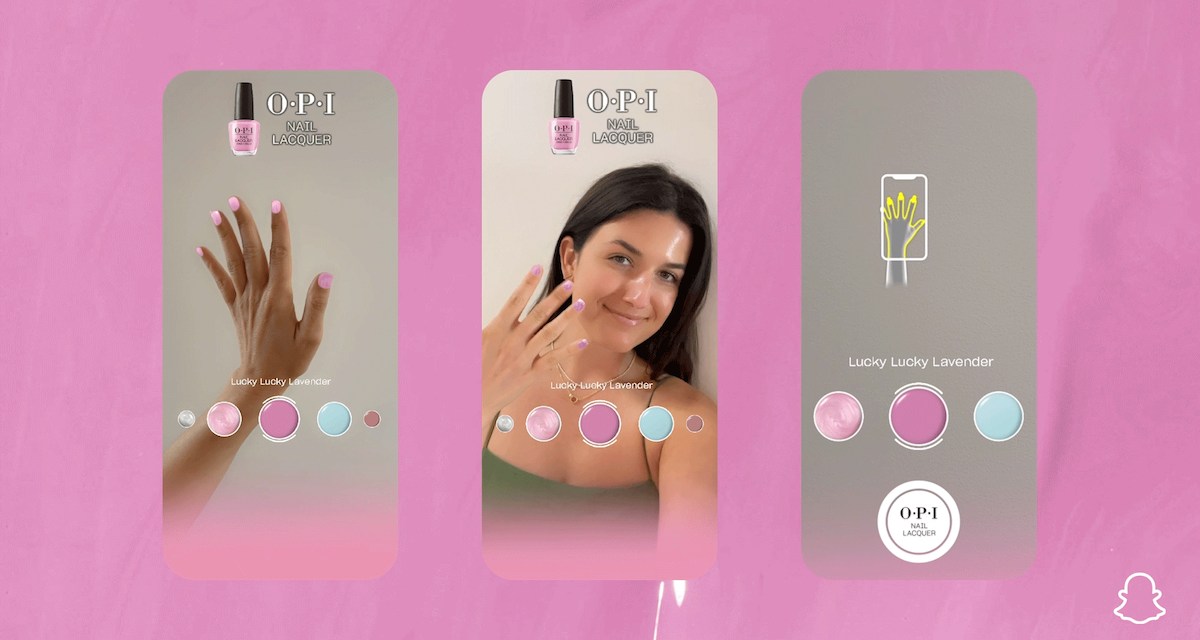 Snap
Snap is continuing to ink major partnerships with beauty brands as it looks to grow its influence in augmented reality (AR).
This week, Snap is launching new try-on tools in connection with the sunscreen brand Supergoop and the nail polish brand OPI. Snap users can "try on" Supergoop's new lip product Lipshade in four shades of red and purple, against virtual backdrops like a strawberry field and a flower market. Meanwhile, OPI fans can see how nail polish colors might look on their nails by holding their hands up to their phone screen. Both brands' live filters — known as a Lens in Snap's parlance — are free to use.
Since launching the Lens program in 2015, Snap has gone on to develop a suite of AR tools for retail clients across the apparel, auto, footwear and entertainment industries. Beauty is one of its biggest categories, with past clients including Covergirl, Dior, Kiehl's, Lancôme, NYX and Lancôme.
In the past, Snap has developed a mascara try-on filter for L'Oréal, a foundation filter for Maybelline and a nail polish try-on filter for Essie. Its product try-on tool with Ulta Beauty was used more than 30 million times, according to the company. Earlier this year, Snap packaged some of its biggest AR tools for customers to integrate into their own websites, outside of the Snap app.
Snap stumbled a bit in its latest earnings, with first-quarter revenue down 7% year-over-year. In an earnings call, CEO Evan Spiegel said the company had "reprioritiz[ed]" its business last summer to focus on three main buckets, one of which was "leading in augmented reality."
Snap wants to help "democratize AR" and make it more widely-used, Michele Nevitt, Snap's head of CPG, health and beauty, told Modern Retail. Modern Retail spoke with Nevitt at an OPI and Supergoop preview event about Snap's work with beauty brands and how its AR business works. This interview has been edited for length and clarity.
What do Snap's AR tools offer, and why might they be a draw for beauty brands like OPI and Supergoop?
To take a step back in terms of who our audience is, Snap reaches 90% of all of Gen Z, 75% of all millennials. So it truly is the mass reach of our audience. We have 750 million monthly users.
With that… we truly have become that go-to destination for beauty brands. When you think of all of the content that is on the app, beauty is actually the third-largest category that is consumed behind sports and entertainment. And then, when you look at AR and what you can do there for beauty, beauty was one of the first categories that ever leaned into AR, so it's been wonderful to see how they've embraced it in so many ways.
What I love about these two campaigns specifically is that they show the dynamic nature of AR and that they're so different. They're both, in many ways, for color and cosmetic, but with Supergoop, you transform yourself and put yourself in these different environments and really understand the brand. And I think that's the wonderful piece about AR as a format — that it's so immersive. As a brand is looking to build brand affinity [and] brand equity, really having that more experiential is wonderful.
And then on the flip side of it, what OPI is doing is just straight virtual try-on — it is such a wonderful way to be able to test the colors. I think what's really great about that is it's using our new nail segmentation technology. So it's not just the colors — you could really play with the texture, the design, there's so much more you can do. So if you're putting your nails out in front of the camera, you're really seeing how it would reflect in a different light.
Where do you stand on bringing on more beauty brands?
The platform itself, from a business perspective, is thriving. Our community is engaged. It continues to grow. Brands across the category are coming to us because we're that go-to destination for the Snap generation to learn about beauty.
If you look at AR within an advertising campaign, we fundamentally believe it is a universal format, just like video. It is a wonderful way to tell your story. So we really love that we work with advertisers to make it part of all of their communication on the platform.
Is there a package brands can opt into? How does that cost structure work?
I think that's the beauty of our marketplace. It's available in the auction. So the same way that a brand would buy a video ad… they would buy AR, and they can target their audience. They can pull all the different levers that they would as with video ads.
What do you want to accomplish with AR this year?
We believe everyone should have AR. I would say for beauty, it really goes beyond just virtual try-ons. We know that when you are trying a product with AR as a consumer, you are more likely to buy it. There's also research that shows you're less likely to return it. So there is a wonderful ecosystem in terms of the business impact there.
Is Snap doing anything to connect with Gen X or other generations?
It's a great question. I mean, 25+ is actually the fastest-growing segment of our audience. So, we're always looking for ways there… We have a number of brands that are looking to connect with that audience and leverage the platform for that as well.