Shopify puts spotlight back on its Shop app with the rollout of Shop Cash rewards program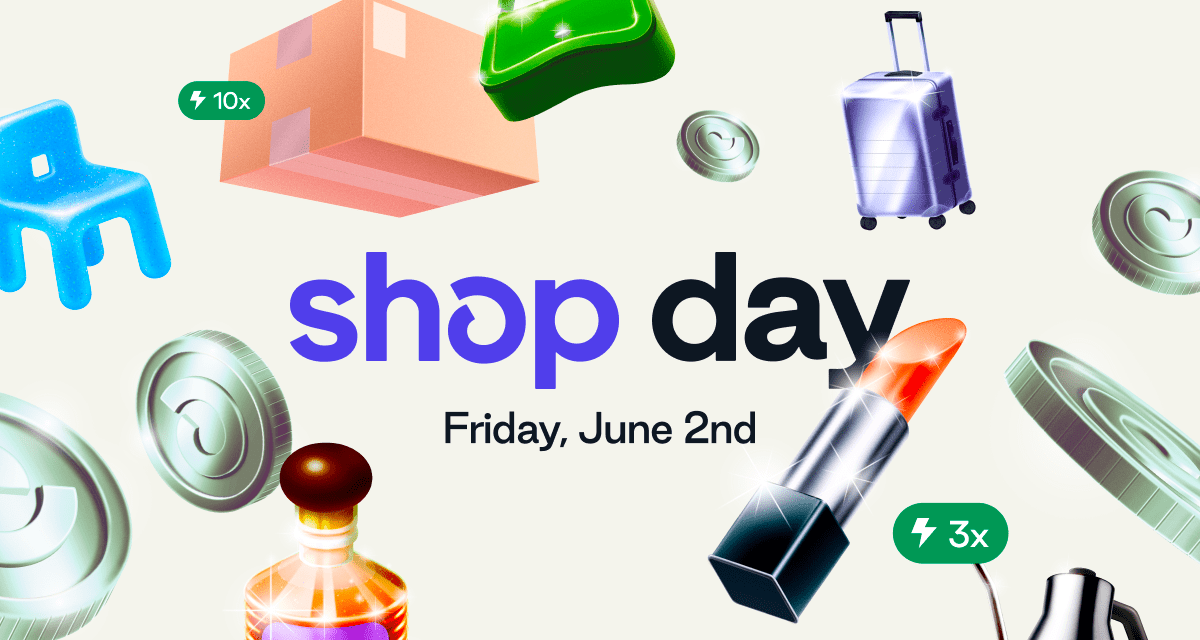 Shopify
Shopify has launched a new rewards program called Shop Cash for purchases made using Shop Pay and redeemable only in its Shop app.
As of Friday, Shop Cash is available on all eligible Shop Pay purchases for merchants and shoppers based in the U.S. Customers will receive 1% Shop Cash on purchases made using Shop Pay.
Shopify has been been testing Shop Cash in beta with brands like MrBeast, Trixie Cosmetics and Monday Swimwear over the last few months. Shopify is also hosting its first Shop Day to celebrate the company's 17th birthday, and giving away more than $1 million in Shop Cash with the help of roughly 25 select merchants like Steve Madden, ColourPop, Chamberlain Coffee and Feastables. This Shop Cash giveaway is being fully funded by Shopify, and shoppers can nab some of the Shop Cash that's up for grabs by clicking on a custom link that will be shared by these participating brands on their social channels.
Shopify launched its Shop app in 2020 as a rebrand of Arrive, an app that was originally meant to track packages. But now, the Shop app has evolved to encompass more capabilities that, in some ways, resembles a marketplace. People can review products, are encouraged to check out shops that are similar to the ones they already buy from and, now, get cash back. Shopify, for its part, said it has been building out the Shop app to become a one-stop shopping destination where shoppers can discover new brands — and it is also positioning Shop Cash as a new customer acquisition tool.
"This sort of feels like a bit of a coming-of-age moment for the Shop app because we're combining the conversion power of Shop Pay with this incredible discovery platform that is Shop — and the goal is really to help brands find new customers and retain those existing ones," said Harley Finkelstein, president of Shopify, in an interview with Modern Retail.
Finkelstein added that merchants selling with Shop Cash discounts or offers are using it as a means to acquire a customer. "We think it's a better model because you only give the discount when a transaction takes place. A lot of merchants are spending money today, they're putting up ads and billboards everywhere hoping that those convert, we think this is a better model," he said.
Merchants can set up a Shop Cash offer in the admin part of their settings; the Shop app promotes the merchants' Shop Cash offer to the active shoppers on the Shop app, and then merchants only pay when a sale has been made. Finkelstein said "tens of millions of shoppers use the Shop app" currently, and "over a million merchants" are selling products on the Shop app.
"That is very different than paying for eyeballs or paying for clicks. You're only actually providing that discount when the sale is made," said Finkelstein. He described it as a win-win for both the merchant and the shopper: A merchant gets to focus on high-value, loyal consumers, while customers can now get money that they can redeem across other brands.
Shop Pay, one of the components underlying Shop Cash, is an accelerated checkout service the company launched in 2017. Shopify said that merchants using Shop Pay have seen a lift in conversion as much as 50%.
In addition to being a customer acquisition tool, Finkelstein said Shopify is trying to incentivize more consumers to use its Shop app because the people that have used the app thus far are high-value repeat customers. Shopify said 35% of the orders on the Shop app are repeat purchases. "And so it's a new owned channel for Shopify merchants that we think will help them sell more," he explained.
Shopify's latest update is, in some ways, taking direct aim at rival Amazon's marketplace as it focuses on building retail and commerce software for merchants. According to Mark William Lewis, the founder of e-commerce development agency Netalico Commerce, the Shop Cash launch shows Shopify wants to unite all sellers that have built their stores using Shopify under one marketplace model. But, that could also raise concerns from merchants if they feel like Shopify isn't doing anything to draw more eyeballs to their competitors. Shopify claims to power as much as 10% of all e-commerce transactions.
Lewis described the Shop Cash and Shop apps as basically a way to unify all of "Shopify's merchants, slowly but surely, into more of a marketplace and solving a big discovery problem in e-commerce."
Last month, Shopify announced that it was selling its logistics business after top leadership said it became a distraction from the software company's core offering. The company also disclosed that 20% of its workforce will be laid off as it rightsizes operations.
One big question for this program is whether or not enough brands will sign on. Lewis also pointed out that among his clients, "none of our merchants really care about the Shop app too much. But I do think that this kind of thing where there's some monetary incentives around it will push people to start looking into the Shop app a bit more."
That being said, the strategy behind the Shop app hasn't always been clear. As Lewis put it, when Shopify launched the Shop app, "I don't think that they had a really unified marketing strategy around uniting their e-commerce merchants." But since then, he went on, "I think that they really started focusing more on creating their marketplace as Shop app."
In February, Shopify added new updates to the Shop app to give merchants more options to customize the look and feel of their pages within the app including a new development kit and layouts for things like product collections, best sellers.
Finkelstein said hundreds of merchants will be running exclusive Shop Cash offers on Shop Day. "Shoppers will find these incentives where they can explore new brands and then the merchants can boost their Shop Cash by two times, five times, 10 times — and the more they spend the more than they earn as well," he said.
Ultimately, Lewis said, Shop Cash will have takers. "I think most merchants will really jump on board and at least try it for a time."