Shopify is launching 'one-page' checkout and new Shop app updates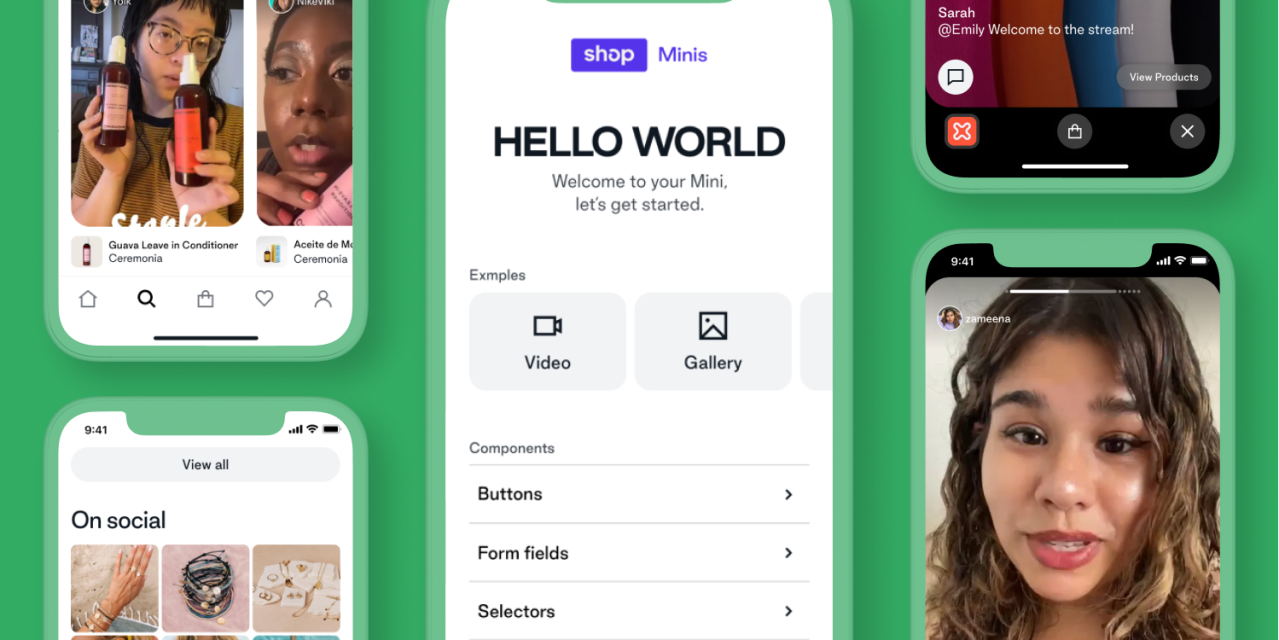 Shopify
Get news and analysis covering the modernization of retail and e-commerce, delivered to your inbox daily. Sign up for the Modern Retail Daily Newsletter here.
Shopify's latest update includes a major overhaul to its checkout pages that aims to provide a more streamlined user experience, including a "one-page" checkout and code-free ways to offer functions like loyalty memberships, add-ons or ID verifications.
The platform, which claims to account for 10% of all U.S. e-commerce and $444 billion in global economic activity, unveiled the upgrades Thursday during its twice-yearly Shopify Editions announcement. The update also included upgrades to its Shopify Fulfillment Network, plus a host of customization tools for merchants to use on the Shop app, which launched in 2020 as a means to track packages but has evolved into a shoppable marketplace-style platform where brands can promote their products.  
But the biggest customer-facing upgrade is the implementation of "one-page" checkout. The existing Shopify checkout page takes shoppers through multiple pages to enter their personal, shipping and billing information. But the "one-page" update consolidates that, eliminating the load time between pages that might make a customer drop off.
Shopify is also releasing a new Checkout Editor that allows merchants to customize a checkout page by dragging and dropping what tools they want to use, rather than having to edit code in a designated file.
Mani Fazeli, director of product at Shopify, told Modern Retail that the updates will allow customer information to automatically pre-fill more easily, while the ability to add extensions — like loyalty programs, gift receipt options or upsell opportunities — allows merchants to customize the page to their individual needs.
"The look and feel and consistency of the experience for the buyer journey is important. But so too, are the elements that make that checkout unique to the business needs and business processes of that merchant," Fazeli said.
The Shopify updates come at a time when it's increasingly difficult for e-commerce businesses to match the record-high sales they may have experienced in 2020 and 2021, when shoppers leaned into online shopping amid in-person store closures. Shopify's 2023 Commerce Report included survey results from Shopify Plus merchants that found 35% saw shrinking cart sizes in 2022. Half of respondents said they're experiencing less site traffic and lower conversion rates. Meanwhile, cart abandonment plagues e-commerce brands to the tune of 70%, according to the UX research firm Baymard Institute.
The new customization set-up may also entice more merchants to use Shop Pay, the brand's accelerated checkout service that saves customer information. The service, according to Shopify, yields a 72% increase in conversions above a typical checkout and 91% higher on mobile. But some merchants shied away from it because it couldn't be integrated with certain custom checkout tools, Fazeli said. Shopify says it has more than 100 million registered users with access to the service. 
"This is the real unlock that we think is going to be a game changer for merchants who had the need to make customizations and did not want to have to let go of those customizations when a buyer wanted to use their preferred way of accelerating that checkout," Fazeli said.
The checkout updates will roll out gradually over the coming weeks, which Fazeli said gives Shopify time to verify that the product is meeting customer expectations. 
Nihar Kulkarni, managing director with e-commerce agency Roswell NYC that has worked with brands like Aerosoles, Hat Heaven and Feed, said the new extensibility additions will help "democratize the access to e-commerce" for merchants of all sizes by giving them access to more tools like add-ons, loyalty memberships and non-invasive pixel tracking.
"Gone are the days where merchants will have to rely on their agency partners to hardcode enhanced functionality in checkout," he said.
The new update respond to how brands want to ensure the checkout experience that reflects their own identities, Kulkarni said.
"You know if you're on a Shopify checkout, even if you're not even looking at the URL, because it's exactly the same." he said. "That branding experience is going to be critical for merchants in the future to make checkout feel like it's not a discontinuous experience from what they were previously on before the site."
Shop app updates
In addition to the one-page checkout experience, Shopify's new edition includes multiple updates to the Shop app. The new updates aim to give merchants more options to customize the look and feel of their pages within the app.
That includes a new development kit that developers can use to customize what merchants can do. It also is going to allow merchants to be able to customize their Shop store with layouts like product collections, best sellers and reviews.
Carl Rivera, vp of product at Shopify, told Modern Retail in an email the updates aim to help brands find new buyers and "own the relationships," without having to build and maintain their own app.
"On a more fundamental level, merchants have told us that they need to pull through more of their unique brands to their Shop Stores," Rivera said. "So we're giving them more options for customization so that the Shop app feels like an organic extension of their online store."
Patrick Johnson, a web developer with Progress Labs, said that the announcement shows how Shopify is betting on Shop to be the new connector to customers. And it shows the importance of allowing brands and vendors to be more creative with how they use a platform. In turn, that could entice more brands to stick with Shopify. 
"It does feel like [Shopify] is moving toward a more technically independent and capable option, allowing brands to continue to leverage [out of the box] solutions while making custom brand experiences more accessible," he said.