How Care/of uses its app to retain customers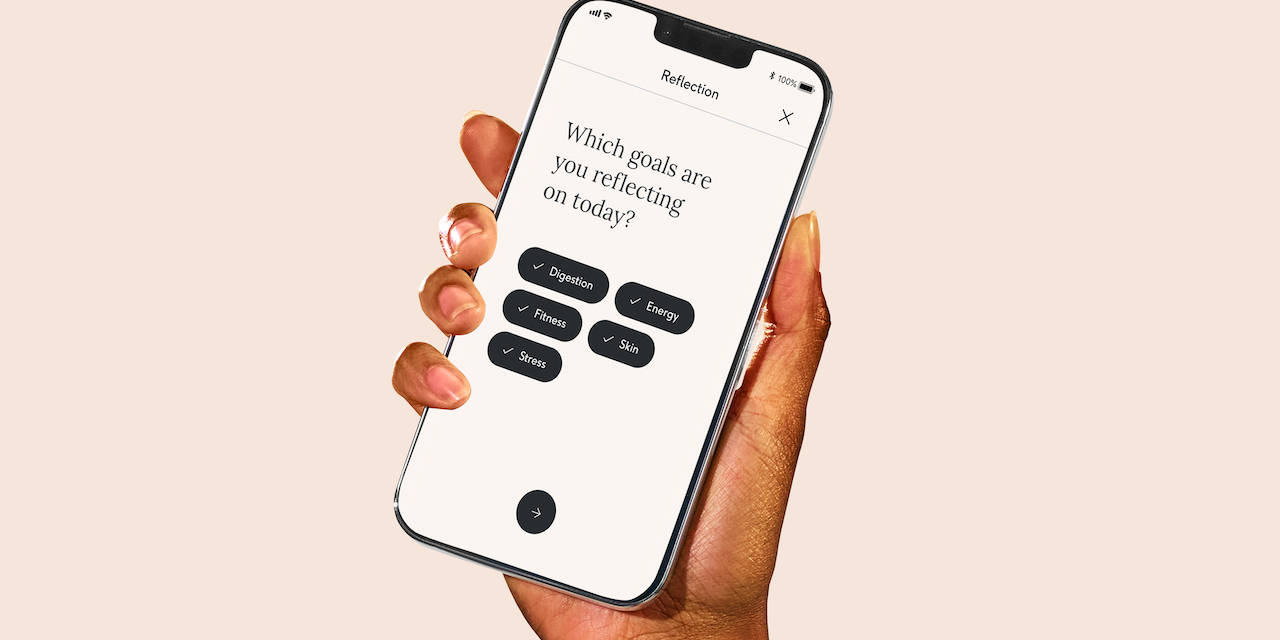 Care/of
For supplement brand Care/of, a mobile app has become critical to its customer retention strategy.
The Care/of app first launched in November 2017, about a year after the brand launched. Currently, around 75% of the Care/of customer base has the app downloaded on their phone.
This figure has prompted the company to further build out the app as a hub for customers to manage subscriptions, receive daily reminders to take their Care/of vitamin packs and earn rewards for consistently doing so. In January, tied to New Year's resolutions, Care/of released the latest in-app feature, called Reflections. The feature helps users track and monitor how Care/of products are impacting their daily physical and mental health.
The company, which launched in 2016, was acquired by pharmaceutical giant Bayer in 2020. Since then, Care/of has grown the mobile app's role in retaining customers by launching new features. With the latest update that rolled out in January, the app has experienced a surge in downloads and time spent on the app. Care/of saw about a 50% increase in daily active app users between December 2022 and January 2023. The company has not disclosed its current number of customers
The Care/of app's tagline is "take vitamins, earn rewards." But Brittany Izrailov, chief customer officer at Care/of, told Modern Retail that the mobile app has evolved significantly over the years. "The vast majority of our customers download the app, which gives us a direct line of daily engagement with them," she said.
Izrailov said that the biggest learning her team has gotten from the app is that the Care/of customers want an opportunity and structure to reflect. She added that because the products are focused on health, there is a level of trust the company tries to gain through the app's daily usage. "A deeper onboarding process and an ongoing relationship post-purchase helps us build necessary trust, and make more informed and personalized recommendations on their health."
So over time, Care/of has built out features to help users adapt their health and wellness routines based on changing goals.
"A way to close the feedback loop"
At first, Izrailov said, the app was used as a simple tracker that helped Care/of subscribers keep up their vitamin routine and earn rewards for doing so. "We used habit psychology to build a loop: the trigger of getting a notification on your phone, the habit of taking your vitamins and the reward of earning points," she said. Users can redeem points in the Care/of marketplace to receive free products, brand swag, donations to a variety of nonprofits and gift cards to retailers like Apple and Target.
But as the customer base has grown with the company, Care/of has added more features to its app to reflect new customer needs. 
"Over the last five years, we've built out the experience significantly," Izrailov said. "We recently introduced what we call milestones, which help customers understand what's happening in their bodies as they take their products," she said. "We've also started doing monthly check-ins to help customers think about their health goals, and provide guidance on how to update their routine accordingly."
The most recent design update came in January, which was timed for the brand's new year's campaign. Izrailov said that the new feature was designed to show users how their vitamins and supplements are affecting their body and overall mood. For example, users log daily the status of conditions like digestion, energy levels and skin condition. Over time, the app generates line charts of stats outlining how these goals are being met. "And we recommend they stop taking certain products if they haven't been working effectively," she said.
The app is also becoming a tool to fold retail customers into Care/of's digital ecosystem. 
It's is available to retail customers, not just people who buy supplements through Care/of's direct-to-consumer website. The brand launched its vitamins line at Target in 2021, with plans to add more retail chains this year. "We include QR codes (leading to app download for both iOS and Android) and packaging call-outs on our products in retail to ensure those customers know about the complementary digital features," Izrailov said. In the few months, new packaging with bigger motifs of the app will roll out at Target.
Habit-building apps are being adopted by other wellness startups trying to engage with customers on a regular basis. Journaling brand Silk + Sonder, for example, has also invested in a companion app that customers can use to connect with other Silk + Sonder users. 
Silk + Sonder founder and CEO Meha Agrawal said that the main purpose of the Sonder Club app is to create a member-only platform. The app users can use it as a monthly planner, and join groups based on their wellness interests and goals.
"I wanted the app to act as an extension of the physical journals our customers receive every month," Agrawal said. "It's also a way to connect with other Silk + Sonder users to expand our community."  
Like Care/of's app, the majority of Silk + Sonder customers opt into an app account. The app is also seeing a boost from the company's retail expansion, most recently on QVC. Since Agrawal's Silk + Sonder episodes aired in January, the app has experienced a 20% increase in downloads.
Care/of's Izrailov said the brand has a slew of new updates slated to roll out in April. The company did not disclose specifics on the new features yet, but Izrailov said they will help users create and monitor more "holistic daily routines" — such as stress management and fitness goals.
"People are getting inundated with wellness content everywhere, and it's become overwhelming to scroll through Instagram and TikTok," she said. "With the app, we want to help simplify daily routines in one hub."