Grocery retailers are among the first to embrace ChatGPT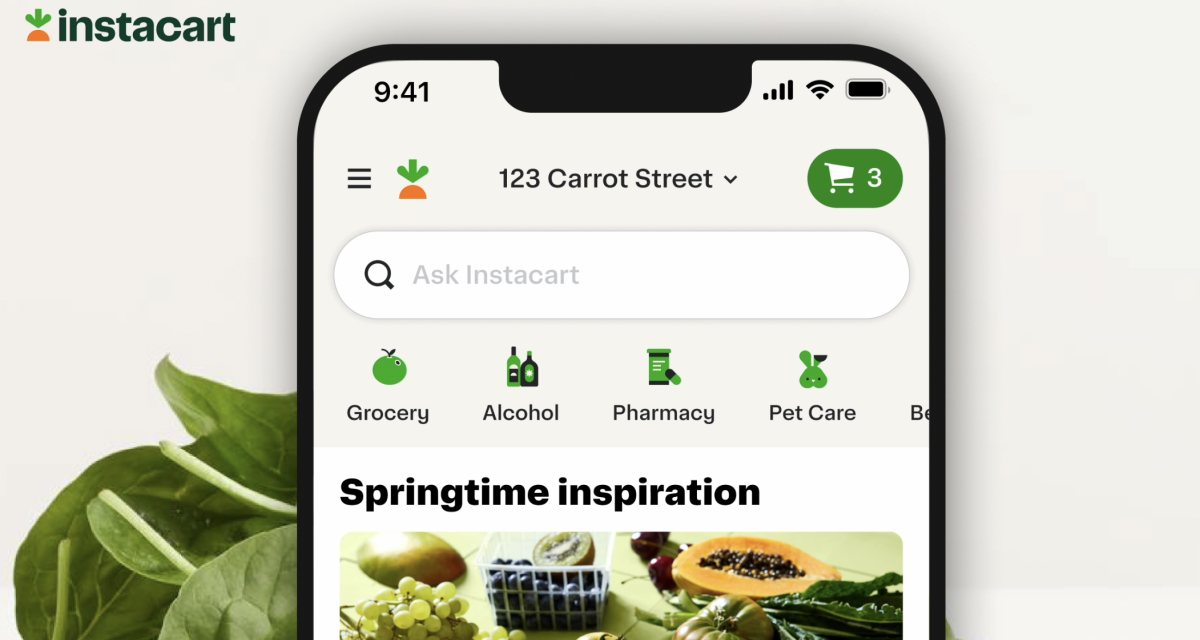 Grocery shopping is set to get a makeover, courtesy of artificial intelligence.
Last week, grocery delivery platform Instacart announced that it building an 'Ask Instacart' feature in partnership with Open AI. Through Ask Instacart, which is expected to launch later this year, shoppers can pose questions about things like budget, health and nutrition and prep time as they are creating their grocery lists. An Instacart spokesperson told Modern Retail that the 'Ask Instacart' idea emerged from a new internal team setup to dive deep into understanding what new tools like ChatGPT can offer to better serve customer needs.
Separately, in February French grocery chain Carrefour produced its first-ever video made with ChatGPT answering FAQs. The 30-second video has a robot speaking in French and answering common questions from customers like "how to eat better and cheaper via its website." Carrefour's Chief E-commerce Officer Elodie Perthuisot wrote in a LinkedIn post that Carrefour Carrefour's "data and innovation teams are currently working on the use cases of ChatGPT, and generative AI in general."
Analysts and grocery tech executives that Modern Retail spoke with said while all types of retailers are excited about using ChatGPT, grocers have compelling reasons to jump into this head first, for a few reasons. For starters, grocers have among the most diverse customer base. Additionally, they have enormous product catalogs, and tools like AI can help grocers sift through the arduous task of deciding which products among many to recommend to customers, depending on their budget or dietary restrictions. In turn, the ability of tools like ChatGPT and generative AI more broadly to personalize content could help increase sales for grocers.
Launched in November, ChatGPT is an AI-driven tool for dialog. Its conversational format has exploded in popularity, with many use cases showing ChatGPT tools answering follow-up questions, rejecting inappropriate requests and taking prior context into consideration.
In turn, e-commerce platforms have been eager to explore how they can incorporate ChatGPT into their offerings. Recently, China's fashion retailer JD.com said it will launch a tool similar to ChatGPT. Last month, Amazon CEO Andy Jassy said his company has been working on a ChatGPT-style tool for a long time. Additionally, Shopify recently unveiled AI tools to help vendors and merchants write product descriptions.
Grocers will see an increase in sales as a result of their capacity to employ generative AI to identify who their customers are, tailor marketing messages based on that person's cooking preferences, and help design a basket of goods that will complement that person's cooking preferences said Sean Turner, chief technology officer at grocery tech startup Swiftly.
"That's very difficult for grocers to do today because they have very low headcount typically on their marketing teams, and ChatGPT really gives an efficiency boost to those groceries. So, I think that's the kind of overall value proposition," Turner added.
"I think that is driving grocers that want to offer that personalized experience. The only way to do it is through technology. You can't afford to do it manually, versus a brand that sells one product," said Turner.
Brad Jashinsky, director analyst at research firm Gartner's marketing practice, said while Instacart has been working on their own AI software development, partnering with a well-funded organization like OpenAI will help the grocery delivery partner be "faster to market."
He agreed with Turner that the grocery industry's embrace of artificial intelligence "makes ton of sense based off of the fast product catalog, the many different nutritional facts and the different consumer preferences. The ability to kind of take recipes to the next level," he added.
Online grocery shopping rose significantly during the pandemic, and was expected to touch $1 trillion at the end of last year, according to a report from Adobe.
However, Jashinsky also cautioned while retailers will be able to push a new frontier with customers, "it remains to be seen, will this produce a better customer experience?"
Turner said the second area that he sees a lot of excitement around is the customer service angle, and leveraging ChatGPT to provide enhanced customer service experience. "That's another area that grocers really struggle with their margins to be able to afford that one-to-one personalized service. And so if they can provide something that is, you know, as close to as possible to that one-to-one service, but not have to spend as much as it would cost to hire the labor for that — that's got a big advantage," added Turner.
Turner said that ultimately, "your average grocery stores has 40,000 SKUs," and in turn, that can make it difficult to offer personalization on a manual basis.
"You can't have a marketing team go and individually create material for each one of those SKUs, or for each one of their customer segments that they serve," Turner added.
When it comes to digital adoption generally, grocery tends to be much further behind other retail in terms of investments in e-commerce, because majority of grocery shopping still takes place in-person, said Jashinsky. "And smaller regional grocers just haven't invested as much in kind of digital transformation and digital technology," he added.
Even so, Turner said, that groceries have always been the ultimate mass market product, but have struggled to scale their operations. "They've always been the ultimate penny business. And as a result, they really need tools that scale. And ChatGPT is a great opportunity to leverage technology to scale rather than people. And it's an opportunity to serve the customer at a better margin structure," he added.