After a successful Super Bowl ad, Temu's growth is outpacing rivals like Target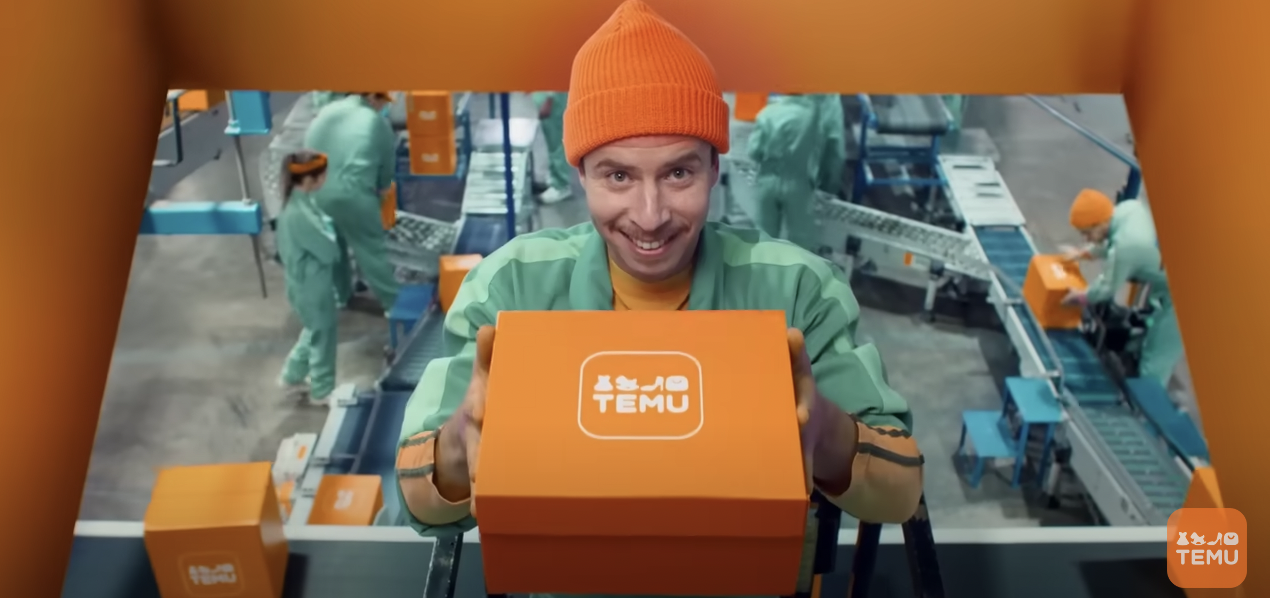 Temu/Youtube
Online shopping site Temu, owned by the e-commerce firm behind the Chinese app Pinduoduo, is trying to make greater inroads in the U.S.
The e-commerce platform, which entered the U.S. last September positioning itself as an app featuring steep discounts and incredibly low prices, has launched an aggressive marketing campaign to get more Americans to visit its website and download its app. Temu most recently aired its first ever ad spot in the U.S. during the Super Bowl on February 12. The 30-second ad, created by Saatchi & Saatchi and directed by Robert Jitzmark, ran twice during the game and reportedly cost the company around $14 million.
The ad for Temu, which featured the tagline 'Shop like a Billionaire,' immediately led to a rise in both downloads and daily active users. According to Sensor Tower data, Temu saw a 45% surge in downloads and daily active users jumped by about 20% on the day of the Super Bowl, compared to the previous day. Since then, Temu's downloads have continued to grow and even outpaced U.S. retail giants like Target in the beginning of February.
In an emailed statement, Temu said the advertisement performed 10 times better than the median ad based on findings from tv ad measurement company EDO Inc. "We did see a significant surge in visitors to the Temu marketplace site as well as app downloads both during and after the game and the interest remains elevated," the company wrote.
Temu's parent company PDD Holdings — best known for its Pinduoduo app in China — reported revenue of $4.9 billion in the third quarter, an increase of 65% compared to the same period last year. PDD Chairman and CEO Chen Lei said the international business is a new area for the company. "We will start from the fundamental needs of consumers and apply the operation and supply chain knowhow and experiences that we have gained."
"We are still in the early stages of exploration. And we have many areas to improve in terms of the services that we provide. We need to learn and also optimize. The process itself will take time," said Lei during the third quarter earnings call.
Overall, Temu has seen very robust growth in the U.S. with over 24 million downloads and remains the most downloaded shopping app in the country, since it first launched, Sensor Tower data showed. The company has recently expanded its overseas operations to Canada. Analysts agreed that Temu undoubtedly attracted attention during the Super Bowl ad, but expressed skepticism about how many of these new users would return to the app and whether the growth rates were in fact sustainable.
"They seem to be on a path of extremely aggressive consumer acquisition, trying to get as many users as quickly as they can," said Juozas Kaziukėnas, founder and CEO of Marketplace Pulse. "And the Super Bowl ad seems to be the latest effort — almost like a coming out party — where they elevated their marketing efforts beyond Facebook ads, Instagram ads, beyond user referrals to now trying to reach a wide audience."
Though expensive, Kaziukėnas sees the Super Bowl ad as a more ephemeral stunt. "This is not going to be a make-it-or-break-it moment for Temu. But, if anything, it shows this sort of willingness and boldness in their marketing to really go from zero to 100 just in a matter of months," said Kaziukėnas.
While the TV ad did give the platform a bump, Kaziukėnas credited Temu's continued accelerated user growth in the U.S. to its direct marketing efforts and its user referral program where the company incentivizes the existing users to invite more users to join Temu in exchange for some spending credit on the app.
Still, the ad's immediate impact is nothing to sneeze at. Seema Shah, senior director of research at Sensor Tower, said Temu saw "the biggest surge [in user growth] and the highest absolute number [in downloads]," on the Super Bowl day, once it aired that ad. In February month-to-date, the app saw 13.4 million month active users — outpacing Target, which clocked 9.2 million monthly active users, according to Sensor Tower data. But Temu's February number were still under legacy retailer Walmart which had close to 17.7 million monthly active users this month.
In Shah's eyes, the company is clearly focusing on growing its U.S. base. For example, Temu opened an office in Boston in September last year to manage its U.S. operations. "I think it's interesting to have boots on the ground, maybe to get a sense of what's actually happening culturally, which may also be why they were able to think about advertising during the Super Bowl," said Shah.
Temu's strategy is very similar to Chinese rival Shein's overseas playbook. During the pandemic, Shein decided to go all in on the U.S. with a huge marketing push in 2021. The brand's ads were generally specific calls to action including links to specific sales, products or coupons rather than aspirational content Modern Retail earlier reported. This led it to be the most downloaded shopping app in 2021 and is now considered a leading online fast-fashion competitor. Like Temu, Shein also targeted its marketing strategies and low-priced, trendy products to a wider audience base.
Despite the impressive growth, Kaziukėnas said that Temu has yet to establish itself as a unique product offering.
"It's only because it's so aggressive in its marketing that it's being able to acquire these users. It has not yet established itself as offering a unique product selection or unique customer experience. It is a pretty basic app today, but that obviously is a foundation that I would imagine they will continue to build upon," he said.
"Today, the value proposition of Temu, Ali Express and Wish is China, which is not enough in modern retail, you have to do more," said Kaziukėnas.
This story was updated to clarify that Temu's parent is PDD Holdings.