'You've got to have a beautiful display to grab people's attention': How BlendJet merchandises in stores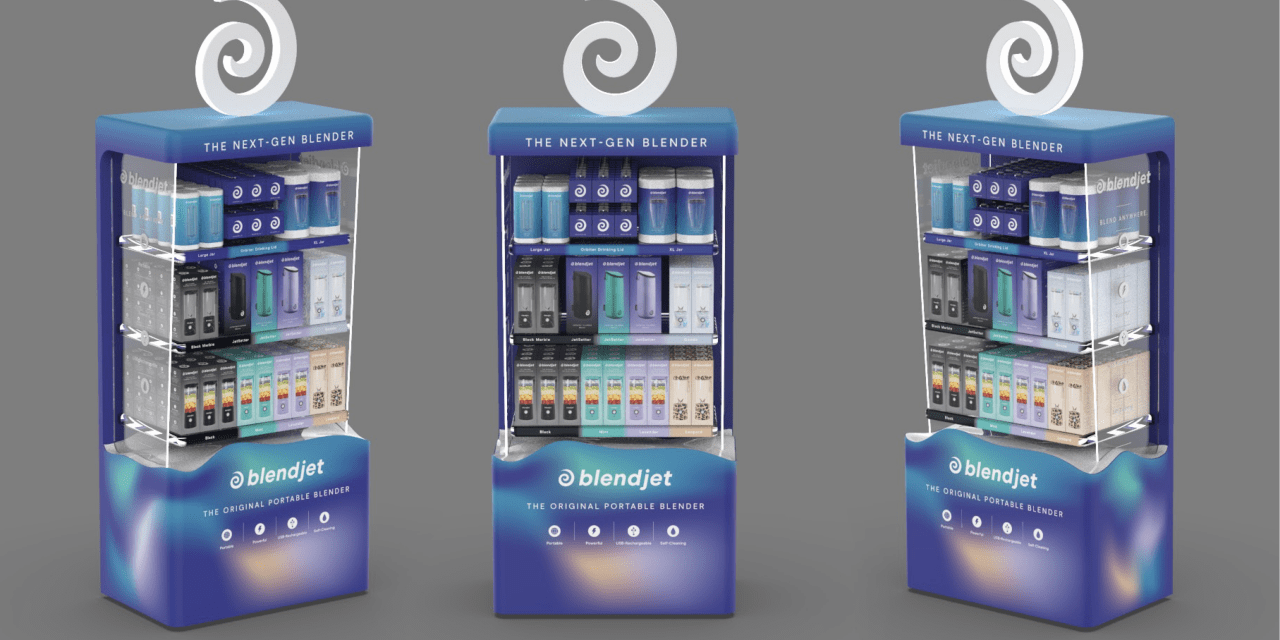 BlendJet
As more DTC companies move offline, in-store merchandising is becoming more important. According to BlendJet, personalized retail displays have helped it grow in-store sales.
Founded in 2017 as an online-only brand, personal blender maker BlendJet began selling at specialty retail stores during its first few years of operation. Since launching, BlendJet has focused on growing a strong following online. The company claims it is the most- followed blender brand on Instagram with 645,000 followers, while its recipes group on Facebook currently has 100,000 members. 
By 2020, the company struck distribution partnerships with major retailers like Bed Bath & Beyond, Best Buy, Kohl's, CVS, Walmart and Target, among others. BlendJet is known for offering a wide range of colors, patterns and exclusive collaborations — most recently, launching a blender with Lisa Frank. In total, the brand has a presence at over 10,000 doors in the U.S., as well as on QVC and other digital marketplaces. Currently, about half of the business' annual sales come from retailers. 
Given its large retail footprint, BlendJet formed an in-house team to create its own mini store-within-store fixtures that feature a curated product selection for each of its retailers. Now, the company says its in-store merchandise fixtures have grown sales compared to locations that don't feature those in-store campaigns.
"We consider ourselves a convenient food company, so the way we merchandise our SKUs is important," said Ryan Pamplin, co-founder and CEO of BlendJet.  
BlendJet's digital strategy is focused on creating tiered sales, said Pamplin, where customers receive a deeper discount for the more products they buy. The idea is to parlay this strategy to physical retail — where BlendJet is often competing with established competitors for in-store sales — by offering upsell options like product bundles. 
While BlendJet began with its flagship portable blender, the company has since launched new categories like accessories and protein smoothie packs. These SKUs are getting increasingly incorporated into BlendJet's retail displays. For instance: the blender's insulated sleeve, which has a 25% add-on rate online, is a popular item on retail displays.
"Our goal with all of these custom displays is to optimize our retail merchandising and maximize sell-through," said Pamplin.  Pamplin said that stores that feature a curated BlendJet see a 50% to 100% sales lift compared to stores that carry Blendjet products but don't have a curated display.
According to Pamplin, BlendJet tries "to give each retailer something that differentiates them," whether it's different colors, or exclusive bundles or a bigger selection than a competitor. Bundles are often created for individual retailers. Kroger's fixture, for example, focuses on the brand's JetPack smoothies instead of the blender. "Kroger wanted a JetPack shipper that's ready to be opened and displayed, so we custom-made that for them," Pamplin explained. 
"The first retailer we deployed displays in was Walmart," said Pamplin, in the first half of 2020. For the Walmart fixtures, BlendJet created an exclusive SKU bundle featuring its BlendJet 2 with a 20-ounce jar, which is sold at the same price of the BlendJet 2 blender model. While the Walmart merchandise is limited in colorways, it's been a big seller among the retailer's value-driven shoppers, said Pamplin. 
Getting a retailer to agree to display multiple products from a brand in one fixture isn't easy. With some, it takes selling through one order run before taking on a fixture, Pamplin said. "First you get your foot in the door," said Pamplin. "They [buyers] need a couple of quarters of data to know how well we sell, then make projections on where to place us." When they come back for more inventory, "we ask them to merchandise us in one place to grow basket sizes," Pamplin said.
The design strategy also differs from one retailer to another, Pamplin explained. "Some retailers have different available spaces and require specific dimensions, so sometimes we adjust our designs to accommodate them," Pamplin said. 
Katie Thomas, who leads the Kearney Consumer Institute, said for digitally-native brands, simply getting on retail shelves may not be enough to drive big sales. 
Thomas said that for buzzy online brands like BlendJet, creating bright displays that act as stores-within-stores is a great play to catch a customer's eye and drive in-store bundling. "You can get away with strong merchandising when you have a big following already," she said. 
The trick today, Thomas explained, is "the ability to tell the consumer what your brand is all about while they're busy shopping in a crowded store." Curated end caps or palettes are a creative way to do this, she said.
She pointed to other digital-first brands, like Native deodorant, which have been pushing for single-brand displays among retailers. Other recent examples of startups leveraging retail floor displays include Grove Collaborative, which created on-stop-shop end caps for its Target locations. This past year, CPG company Schwan's began to deploy a similar strategy in the frozen food aisle. "When you have the breadth of SKUs, it's easier to argue for these types of fixtures," Thomas said. 
For BlendJet, creating more varied assortments will be the key to continued retail growth. "You've got to have a beautiful display to grab people's attention," Pamplin said.