Earnings
// November 17, 2020 ■ 5 min read
With sales growth slowing, Walmart is looking for more longterm business boosts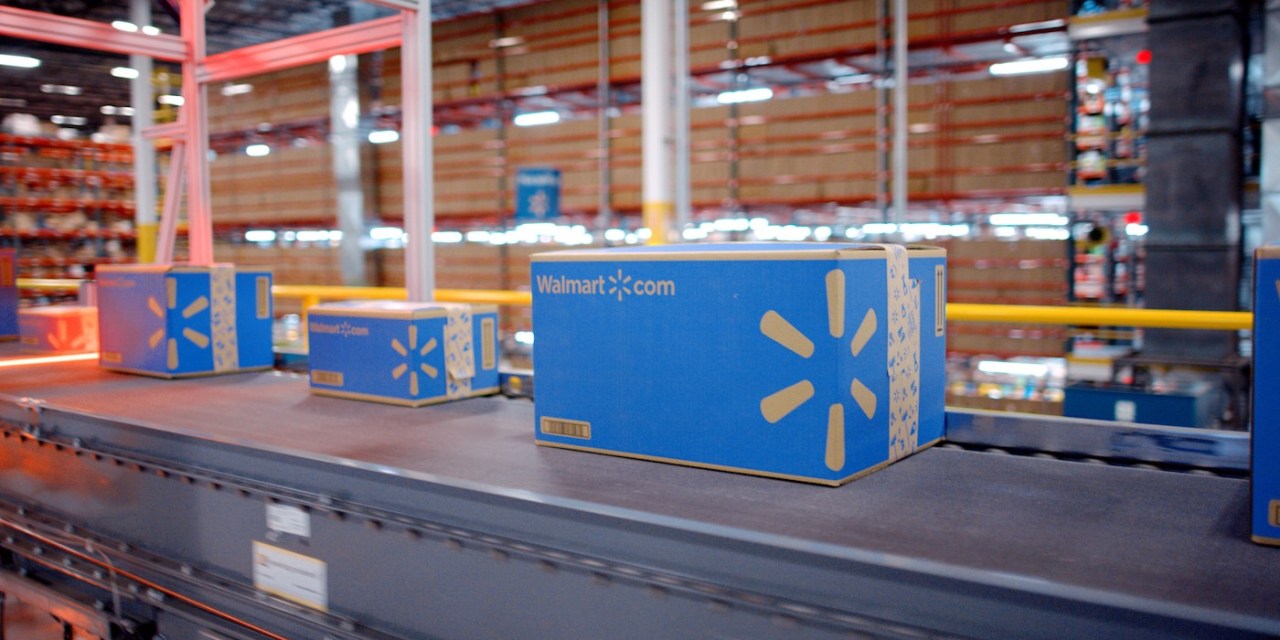 Image via Walmart
Walmart has seen huge growth during the pandemic, and it's hoping some of it will last in the longterm.
During its third quarter earnings on Tuesday, Walmart reported slower sales growth compared to the prior quarter. America's biggest retail chain is seeing fewer people panic-buying compared to the earlier days of the pandemic, and its shoppers have less money to spend as any enhanced benefits from the CARES Act have no run out.
However, Walmart still had plenty to be positive about during its third quarter earnings, as it's still reporting solid growth. E-commerce sales were still up 79%, year-over-year compared to 97% the prior quarter. Revenue was also slightly lower this quarter — $134.7 billion, compared to $137.7 billion in revenue during the second quarter. Comparable sales growth dropped to 6.4% during the third quarter, after Walmart reported 9.7% growth during the second quarter.
Now, the big challenge for Walmart is to ensure that, as shoppers start to resume to normal buying patterns, that people continue to use its website for their regular shopping, and particularly for more expensive items like home goods and clothing. It's also betting on its new membership program, Walmart+, which launched at the beginning of September, to continue to increase basket sizes as people make fewer trips to the store.
"The signs that retail is becoming tighter and that the boom is ending are there," Neil Saunders, managing director of GlobalData Retail, said in note to media. "Unless a new round of stimulus is agreed, retailers will need to navigate this new landscape into the fourth quarter and beyond. Walmart has the firepower and business model to do this."
Below are other highlights from Walmart's earnings call, during which executives emphasized the progress the company has made in e-commerce, as well as how the chain is preparing for the holidays.
More sales from its third-party marketplace are improving e-commerce margins
During the earnings call, John Furner, CEO and President of Walmart's U.S. business said that e-commerce margins improved during the quarter, thanks to Walmart selling more higher-margin items — particularly home goods. The company reported that general merchandise sales — which includes home goods, electronics, toys and apparel — were up high single digits. He also said that Walmart benefitted this quarter from more of its e-commerce sales coming from its third-party marketplace.
Walmart has not broken out how many sales come from its third-party marketplace. In July, research firm Marketplace Pulse, estimated that Walmart's marketplace now has more than 50,000 sellers. However, that's still a fraction of Amazon's millions of third-party sellers around the world.
"Walmart is doing a good job of growing e-commerce and improving margins, which can be hard to do when low-margin grocery is part of the mix," Saunders said in an email to Modern Retail. He added: "Apparel could be better online as it has attractive margins – however, given the state of the clothing market right now this is a longer term play rather than something Walmart can grow in the near-term."
Grocery sales are slowing, but Walmart's food and beverage business is still bigger than competitors
During the third quarter, Walmart reported that grocery sales were up mid single digits. Meanwhile, other top grocery chains like Albertsons and Kroger's reported that their identical sales were up 13.8% and 14.6% respectively during the second quarter.
When asked during the earnings call about why Walmart's grocery business is growing slower than competitors, Furner cited temporary headwinds as one of the issues, like Walmart shortening operating hours in some markets due to the pandemic, and being out-of-stock on some items. But he also said that Walmart was still seeing record demand for its grocery pickup and delivery service.
Charlie O'Shea, vice president and senior credit officer at Moody's, said that he estimates that in the U.S., Walmart's grocery business is still two times bigger than its next biggest competitor, Kroger. And he doesn't see slower growth as cause for concern. "In this environment, the smaller players should grow at higher percentages; if not, something is amiss," he said in an email to Modern Retail.
Panic buying won't look the same as it did in the spring
When asked during the earnings call about whether or not Walmart is seeing any pantry loading, Walmart CEO Doug McMillion said that, "it really does have everything to do with what's happening with Covid cases in any particular community," and that it varies by state-to-state. Currently, coronavirus cases are rising in more states — and more quickly — compared to the spring.
He said that people are still stocking up on many of the same items as they were in the spring, like non-perishable food items. But he added: "I think we are going to be able to respond in this instance, better than we did in the first half of the year," because Walmart has had more time to stock on the items that it anticipates will be most popular.
Additionally, with the holidays approaching, the company is anticipating that people aren't just going to be stocking up on the basics as they did in the spring, but also will still want holiday decorations and gifts.
"As it relates to holiday…[people] have been through a difficult year," McMillon said during the earnings call. "For my family, while it will be a smaller group, we are really looking forward to Thanksgiving and Christmas and New Year's, and some sense of joy and normalcy. I think we will see that play out as it relates to consumption patterns in the U.S. and beyond."