Earnings
// February 2, 2021 ■ 3 min read
With Jeff Bezos set to depart, Amazon's growth continues apace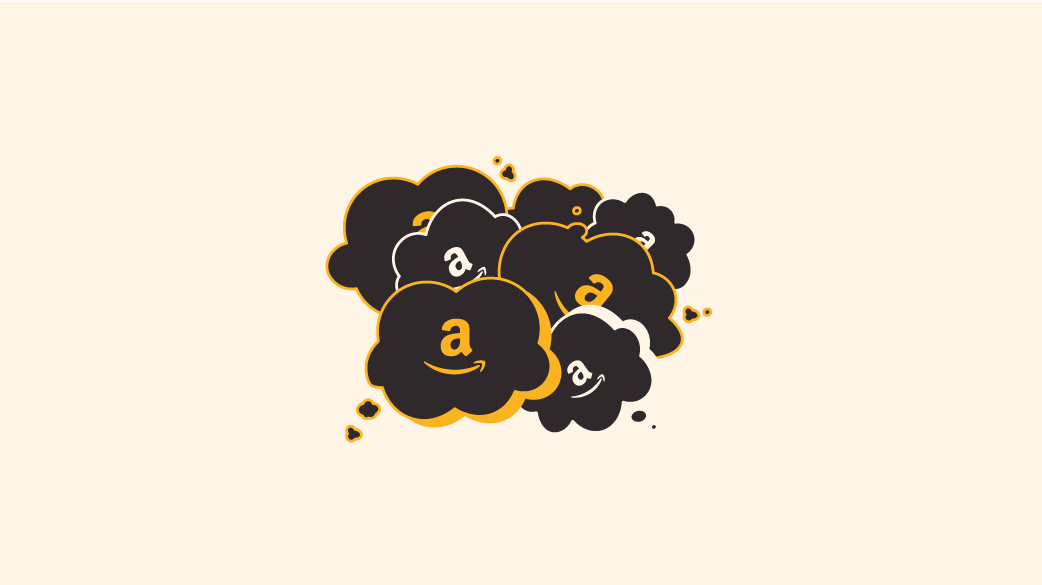 Ivy Liu
In its year-end earnings report, Amazon capped off a meteoric year of growth.
Over the last quarter, net sales jumped 44% year over year. That was a higher percentage than even last quarter (37% year over year), and it's likely attributable to the fact that Prime Day happened in the third quarter this year. "They gained so much share in Q4. They had Prime Day in Q4. There was just a lot of wind at their backs this past quarter," said Sucharita Kodali, an e-commerce analyst at Forrester.
The quarterly growth closed out a record year for the company, and it put Amazon's overall net sales in 2020 at $386.1 billion — up 38% from 2019.
In a surprise move, the company also announced that Jeff Bezos would step down as CEO in the third quarter of this year, putting its Amazon Web Services head — Andy Jassy — in the top job. "In the Exec Chair role, I intend to focus my energies and attention on new products and early initiatives," Bezos said in a letter to staff explaining the news.
Here are the highlights from Amazon's latest earnings.
Amazon's third-party sellers are thriving
2020 has proven to be a tentpole year for Amazon sellers, and that didn't stop last quarter. Third-party seller services — a metric that includes commission and fulfillment fees paid to Amazon by its sellers — leapt 54% this past quarter, on par with recent growth figures. (Last quarter, seller services were up 53% year over year.)
To capture as much as it can from that bull market for third-party sellers, Amazon has rapidly expanded its fulfillment system, most recently by securing exclusive partnerships with 130 trucking operators, according to a report in The Information. Amazon has also grown its air cargo fleet faster than analysts predicted, putting it on a trajectory to rival UPS's fleet by 2028. Reflecting those investments, in its earnings report, Amazon noted that it spent $58.5 billion on fulfillment expenses this year, up from $40.2 billion in 2019.
And all that investment might soon pay for itself: this year, Amazon has incentivized more sellers to sign up for its fulfillment services, including by making it more attractive for vendors to use Amazon's fulfillment services even when they're selling on other platforms.
A strong push into services  
In the fourth quarter, Amazon's "Other" income was up 64%, totaling $7.95 billion. That category includes primarily advertising revenue, and reflects the fact that Amazon has spent much of 2020 investing in its search ads — which are gaining more and more favor among brands.
The "Other" category also includes the retail-tech services that Amazon has begun to both adapt into its own stores and market to physical retailers. The company most recently rolled out its palm-payment system — Amazon One — to several more Amazon Go stores this week. It has also carved out a niche servicing Just Walk Out — its cashierless checkout technology — to airport convenience stores.
Most recently, the airport convenience store chain Hudson has moved forward with a pilot of Amazon's technology, and analysts think it's likely that Amazon will reshape the future of airport retail. "I think it will be in ten years it will be fairly widespread, at least at large airports and probably the bigger medium airports," Alan Gluck, an airport manager at the consultancy ICF, previously told Modern Retail.
Looking ahead
In the coming quarter, Amazon predicted that net sales would show a year over year increase of between 33% and 40% — less than its mammoth fourth quarter, but no small increase, either.
What wasn't said, though, is that Amazon has many battles ahead. For one, it continues to face criticism from its vast army of full-time and especially contract workers. Meanwhile, the FTC announced a $61.7 million settlement over tips it rerouted away from delivery drivers working under the Amazon Flex program. And next week, Amazon warehouse workers in Alabama will vote on whether to form a union for the first time.