How Amazon is shaping the future of airport retail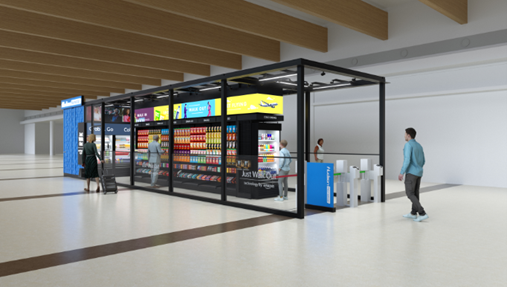 Airport retailers are in crisis mode, and they're turning to Amazon for help.
This month, Hudson Group — the company behind airport retailer Hudson News — announced it was moving ahead with a cashierless tech pilot with Amazon. In the next few months, the company said it would open up its first "Hudson Nonstop" convenience store in the Dallas airport. It's one of the first retail stores to be powered by Amazon's Just Walk Out technology, the cashierless system that Amazon started selling to retailers last year. At Hudson Nonstop, there's no waiting in line; customers pay by walking out of the store with, say, a bag of chips in hand. The Hudson announcement follows a similar trial by OTG, the airport retailer that operates 350 restaurants and stores, which has been testing Amazon's tech at some of its locations since last March.
It might sound surprising that OTG and Hudson Group would move forward with what is likely to be an expensive pilot — at larger stores, Amazon's technology is estimated to cost at least $1 million a pop — given that few people are shopping in airports right now. But the partnerships make a certain amount of sense for both Amazon and the retailers. On the retailer side, this is one way to lower the barriers to entry as much as possible for customers. For Amazon, airport retail is a complex and expensive sector to enter — so, the e-commerce giant relying on its technology to get a foothold into the market instead.
"I think one of the classic mistakes that a company makes during a downturn is to stop investing in improvements and marketing," said Alan Gluck, an airport manager at the consultancy ICF. "What Hudson is gambling on, and I honestly don't think it's a big gamble, is that people are going to be intrigued by it."
Airport retailers certainly need a boost. Across the industry, sales figures remain bleak. In early November, when Hudson Group last reported earnings, its sales were down 74.4% from last year — dropping to $130.9 million. OTG is a private company and doesn't report earnings, but last March the company cut 1,200 workers across three airports in New York and New Jersey alone. According to the Airport Restaurant & Retail Association, the airport concessions industry is expecting a $3.4 billion loss through the end of 2021, equivalent to at least three years of profit going down the drain.
Once an area of growth
It seems like another lifetime now, but in the years before 2020, the airport retail sector was experiencing furious growth, buoyed by an uptick in travelers and long wait times in terminals. In 2017, the research firm GlobalData predicted that the industry would grow 27% by 2021. Not only did Uniqlo introduce a clothing vending machine to be placed in select airports, but high-end brands like Gucci and Estée Lauder were stepping into airport retail. It was working: in 2018, Estée Lauder (which owns MAC Cosmetics, Clinique and other beauty brands) reported that it was generating more revenue in airports than in department stores.
The business was so hot, in fact, that it allegedly drew Amazon's eye. In 2019, Retail Dive reported on rumors that Amazon might open up an Amazon Go store in airport terminals, using its cashierless technology to allow for faster, on-the-go purchases. One expert told the outlet at the time, "They could take out Hudson News completely."
Yet breaking into airport retail space is not easy, said Stacy Moore, an airport foodservice expert. Rents are high and involve extensive bidding processes; the logistics are also complicated, because airport retailers have to have all of their goods screened at checkpoints, and retailers themselves bear all of those costs. "Airports are pretty complex, and there's a lot of contracts and logistics and security, and so it doesn't seem like a space where Amazon itself would want to be operating because they are not calling the shots," she said.
The learning curve that comes with creating airport retail stores, paired with the fact that they are, ultimately, small stores unlikely to turn the kinds of profits Amazon is used to, might have meant that becoming a concessionaire just isn't worth it. So, with Just Walk Out, Amazon took a back-door approach.
A resurrection attempt
Cashierless technology, said Gluck, has two benefits within the airport retail sector. First, the novelty of it might draw customers in the short term, he said. But more importantly, "if you can speed a transaction up so that it fits within the limited time that people have available, then you offer a better opportunity for making a sale," he said. If people are in a rush, they might be more likely to choose a store that has Amazon's technology. "I think it's rather genius."
The Hudson Nonstop stores likely won't be totally employee-free. Someone needs to restock the shelves and help customers who aren't familiar with the technology. But Moore said that one reason these companies might be going ahead with these pilots is to save on labor costs. When these companies are looking at their books, "the biggest number they have is their wages," she said. "So if they can save wages and still be open, they would do pretty much anything.
Just Walk Out technology isn't the only way that airport retailers are folding tech into their services. OTG has built out a mobile ordering app, which lets guests order online from their gate and have staff deliver orders directly to their seats.
It's not clear that tech alone will be able to keep these retailers from going under. But for those that do weather the storm, Gluck said, Just Walk Out technology seems poised to gain a lot of traction in the coming years. "It may not be the only way things are sold. I think there will always be staffed situations, because you have a lot of people who may not be conversant with those kind of technologies," he said. But "I think it will be in ten years it will be fairly widespread, at least at large airports and probably the bigger medium airports."
(Photo via Hudson Group)