Why retailers see health care offerings as a post-pandemic booster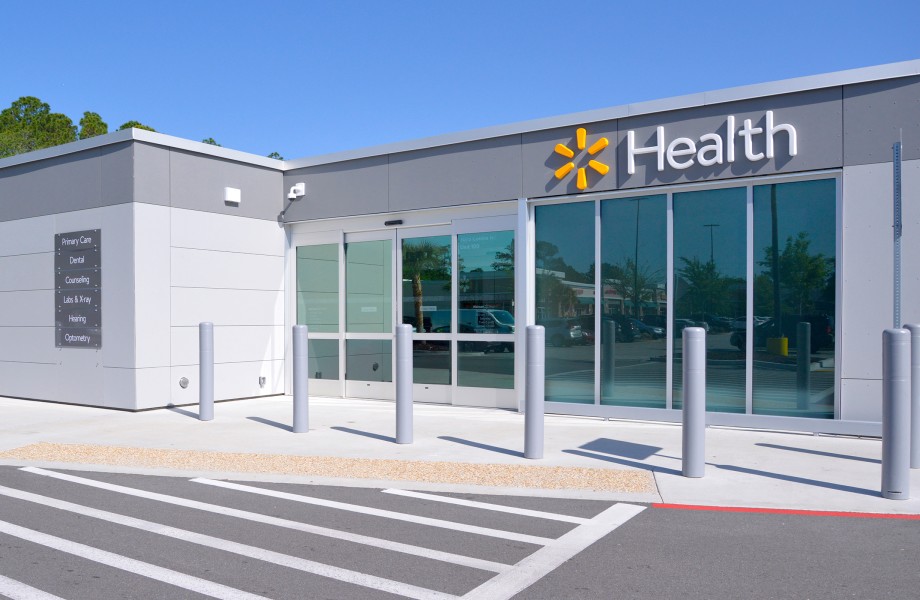 Walmart
More retailers are trying to encourage people to pick up their groceries and conduct their health care visits in one trip.
Walmart announced last month that it is opening five new Walmart Health locations in Florida, offering services like primary care, behavioral health and dental. Last year, when vaccines started getting rolled out Walgreens furthered its plans to become a health destination, and during its recent earnings, disclosed that its health arm — which consists of its investment in primary care clinic VillageMD, among other offerings — had a revenue of $527 million. Meanwhile, CVS has been expanding its health care capabilities, just recently forming a partnership with tech giant Microsoft to automate the 40% of prescriptions that arrive as paper or fax.
In the wake of the pandemic, health and wellness have become a priority for many people. Findings from an AlixPartners' report released in June indicate that 49% of consumers surveyed think that living a healthy lifestyle has become more important over the past year. With a growing opportunity ahead, retailers have been expanding their health care offerings to gain market share.
"The health and wellness industry is an increasingly valuable consumer space and it really extends almost outside of general health," said Hilding Anderson, head of strategy for retail in North America at Publicis Sapient. "You've got mental well-being, you've got physical well-being and you've got social well-being. There's a role that digital and retail locations can play connecting each of those."
Retailers have long been involved in the health care market, typically by offering over-the-counter medications and administering flu shots. But the pandemic has opened the door for health care offerings to be an additional source of revenue for retailers and a method of increasing store visits, experts said. 
Merging retail and health care
Retailers are expanding their health care offerings in varying ways. Even retailers who aren't exactly known for their health care offerings have made moves to grow their presence in the category. For example, Dollar General hired its first chief medical officer last year, in a bid to grow its health care assortment of cold and flu medicine and dental products, among others. 
For the likes of CVS and Walgreens, expanding their health care offering is a way for them to keep the consumers they've acquired in recent years, as the number of people getting tested and vaccinated for Covid-19 drops, said Matthew Hamory, managing director in the retail practice at AlixPartners.
Walgreens said in its second-quarter report that health and wellness sales rose 43.3%, with the help of at-home Covid-19 tests as well as cough, cold and flu remedies. Back in October, Walgreens made a $5.2 billion investment to accelerate the opening of at least 600 VillageMD locations, a primary care provider, inside Walgreens stores by 2025 and 1,000 by 2027. CVS executives, on the other hand, said that the company plans to keep investing in healthcare initiatives such as broadening its virtual care service and by making "capability-based" acquisitions.
But for others, becoming a health care destination can be an effective method to maintain growth and customer loyalty, Hamory said. Plus, offering health care services can be a seamless expansion to make for some retailers because people already view them as places where they can purchase products to improve their health, he added.  
"The best way to continue to grow your business is to focus on new products and services," Hamory said. "I would say it's not even really optional for those companies to move more into health care. I think it's almost mandatory if they want to continue to grow the way they have."
Walmart has been plotting its health destination for years, even prior to the pandemic. Its first Walmart Health Center was launched in Dallas, Georgia back in 2019, offering low and transparent pricing on key health services for local families. The company's health centers are typically geared towards patients with no or poor insurance coverage.
Target and Walmart have slowly added health and wellness offerings into their assortment, with the help of some direct-to-consumer brands. Target has added brands like vitamin brand Care/of and gummies supplement brand Sugarbreak on its shelves in recent years. Meanwhile, Walmart has partnered with feminine hygiene brand Lola and health care technology company Ro.
Even e-commerce players are vying for a share in the health market. Amazon announced in February that its Amazon Care's virtual health services are now available nationwide, while in-person services will expand to over 20 new cities this year. Amazon Care offers a variety of urgent and primary care services, including vaccinations, preventive care and sexual health. 
"They're very smart to be playing in these areas," Hamory said. "The better they can do it, the better they'll build their customer relationships and be able to compete long term."
Retailers' investment in healthcare comes with its own set of challenges, said R.J. Hottovy, head of analytical research at Placer.ai. For instance, it may take time for some consumers to adjust to getting medical treatments done at grocery stores. 
"It's not typically the way health care has been provided in the United States," Hottovy said. "The risk is how quickly you see that return on investment when consumers are still probably going to need some time to fully adjust to having formats like this."
Still, with large retailers entering the health care market, Hottovy said it could make health care more accessible to consumers and drive innovation in the category. For instance, scheduling with CVS's MinuteClinic — which offers treatment for minor illnesses and injuries, among other services — has been integrated into Google Search.
"Primary physicians are getting overwhelmed. It's impossible to get appointments," he said. "I think there's a big opportunity right now where you don't need to wait weeks, if not months to get in to see a primary care physician."