Why real and fake meat brands are embracing plant-based chicken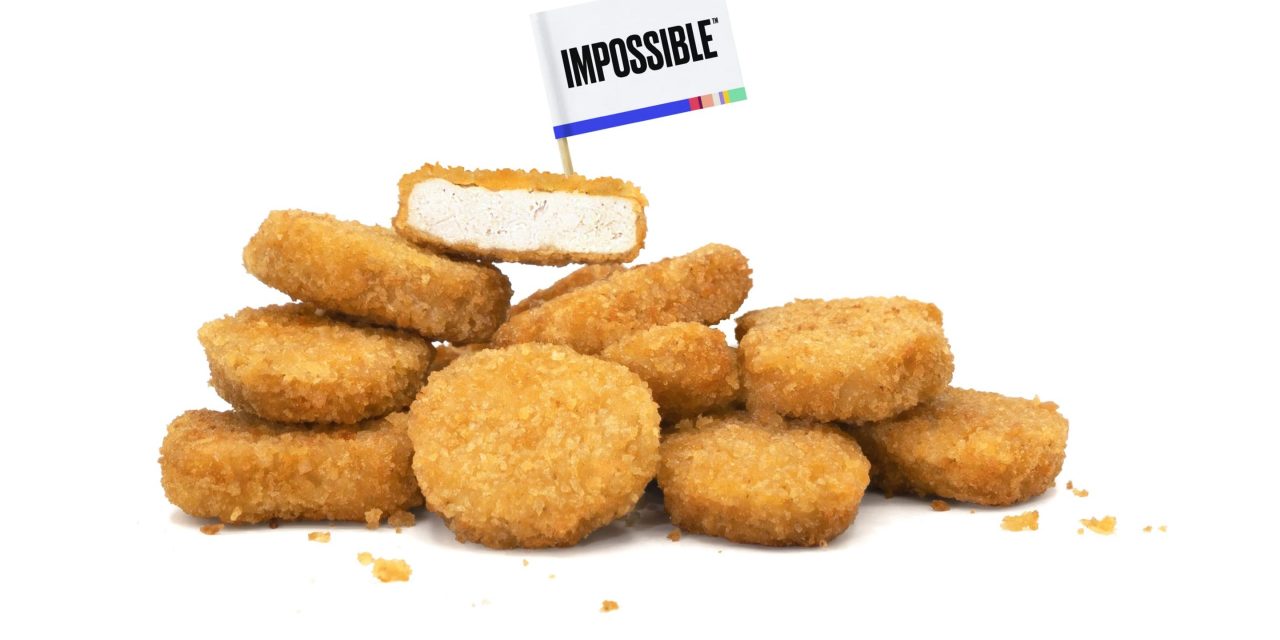 Impossible Foods
Plant-based meat's newest frontier is chicken.
Following last year's chicken sandwich wars, restaurants are embracing plant-based versions of chicken. Last week, Impossible Foods released its version of meatless chicken nuggets to 150 restaurants and chains including Fuku, Red Rooster, Fatburger and Dog Haus. In July, Beyond Meat launched its alternative chicken tenders in 400 restaurants including Detroit Wing Company and Burger Patch. These plant-based meat brands are betting on chicken alternatives to be their next best-seller as they are looking for new products to help continue driving revenue growth, and to fend off competition from incumbents like Tyson and JBS rolling out plant-based meat alternatives.
Chicken's share of the American meat shelf has been increasing for "40 [or] 50 years" explained Chris DuBois, svp of market research firm IRI's protein practice. In 2014, chicken consumption surpassed beef.  Now, consumers are increasingly interested in chicken-less chicken. Plant-based chicken, grew 82% in April year-over-year according to the NPD Group.
As a result, companies are betting that more chicken (real or otherwise) means more profits. After last year's chicken sandwich boom, Popeye's is now making $400,000 more per restaurant while McDonald's chicken launches outperformed expectations and led to higher same-store sales.
At the same time, the poultry industry is facing supply issues. In April, chicken producers said they were having trouble keeping up with restaurants' needs, giving rising chicken demand and a lack of workers to process that chicken. Last week, KFC's U.S. president Kevin Hochman said KFC planned to stop marketing chicken tenders because the chain lacked product supply. That provides plant-based meat alternatives with an opening.
Meatless brands highlight their differences
Beyond Meat and Impossible Foods initially built brand awareness with their plant-based burger. Now, it's hoping fake chicken will help grow sales even more. This year, Beyond Meat's revenues increased 31.8% in the second quarter year-over-year to $149.4 million, however the brand's net loss was $19.7 million.
Going forward, Beyond Meat is planning to grow its in-store presence at a wide variety of retailer and restaurant partners by expanding its product range. And while Beyond may now be focusing on chicken, recent trademark filings suggest the company may move from meat into milk substitutes next.
For the new product launches, both Beyond Meat and Impossible Foods are betting on restaurant partnerships to drive hype. Chicken substitutes have been around for decades — MorningStar Farms has been selling meatless meat in grocery stores since the '70s, for example — but many restaurants haven't opted to put these products on their menu until now.
Erin Dress, director of product marketing at Impossible Foods said the brand decided to first roll out its latest line of products to limited its newest nuggets launch to "a curated list of restaurants." Dress focused on restaurants with "multiple James Beard Award–winning chefs" as well as "longstanding Impossible collaborators" like Dog Haus, Fatburger and Gott's.
"We're excited to share this with their customers first," said Dress.
Later, the company will roll out the product to the 22,000 grocery stores that currently carry its products, up from 150 at the beginning of the pandemic.
Beyond Meat enacted a similar strategy with their chicken tenders, rolling out their meatless products to hundreds of restaurants but only one Canadian grocery chain to start.
It's not only fake meat companies trying to get in on this plant-based action. Mega-meat player Tyson released a new line of plant-based meats in May while competitor JBS entered in 2019 with burgers, grounds and meatballs. Beyond and Impossible have had thus had to get creative and go beyond their burger beginnings.
However, despite recent inroads, restaurant executives and analysts alike are skeptical that the product will truly steal much market share from the chicken space or disrupt the industry altogether.
"Having a meatless option, at times, it can pull in some people who would opt out [otherwise], said DuBois. "[However], it's still going to be relatively small… in terms of popularity. So I don't see it changing menus [altogether], it just offers consumers options."