Why Pomp is entering the crowded online floral startups field — and trying to take on 1-800 Flowers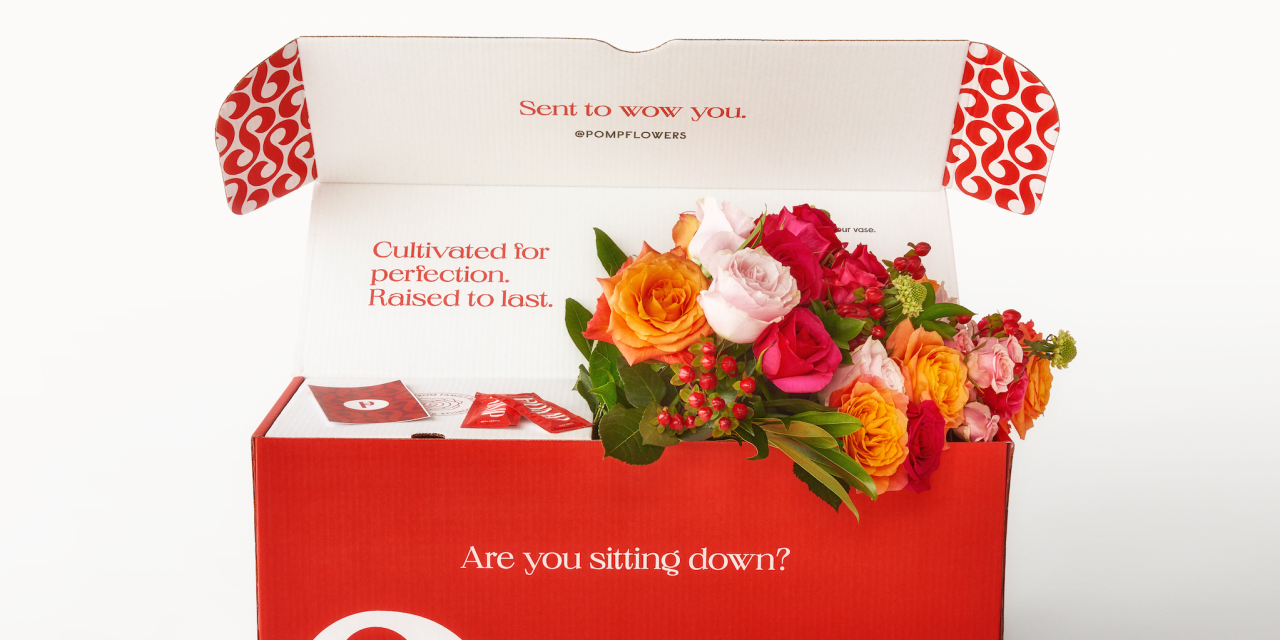 Pomp
Direct-to-consumer floral company Pomp launched on Wednesday, joining the new guard of online-native brands trying to improve the floral industry's convoluted supply chain, and provide simpler alternatives to industry giants like 1-800 Flowers.
The perishable floral industry has struggled with supply chain since its birth. In response, new DTC challengers like Pomp, Farmgirl Flowers, and Urban Stems have tried innovate with owned supply chains and a smaller, more curated assortment of bouquets. While challenges like continued shipping delays and rising product costs continue into 2021, Pomp still thinks the time is right for a new floral player.
The largest incumbent players in the flower delivery space include FTD (formerly Florists Telegraph Delivery), founded in 1910, and 1-800 Flowers. In 2018, when FTD was last a publicly traded company, it reported total revenues of $248 million. 1-800-Flowers too, delivering from a variety of local florists, reported revenue of $474.2 million, up 70% year-over-year during its 2021 recent earnings announcement. Both have now expanded beyond flower delivery, and also offer an assortment of gift baskets, foods, and house plants.
However, despite recent growth, the floral delivery supply chain remains complicated and pricey for most retailers. The majority of U.S. flowers come from farms abroad, imported mainly via the Miami International Airport, and are sent to local airports, Supply Chain Dive has previously reported. Then, they are transferred again to local wholesalers and local flower shops. Major floral retailers like FTD and 1-800-Flowers partner with these local florists to fulfill orders, though 1-800-Flowers also has its own set of brick-and-mortar storefronts.
Moreover, the pandemic has exacerbated shipping delays — and while they are bad for any business, it's a nightmare for companies that sell perishable live blooms.
Pomp hopes to change this by operating out of three family-owned fields in Colombia, rather than relying on third-party floral vendors. The Pomp co-founders, Ivette Harorouche and Steven Peisach, are cousins. Their parents previously sold flowers wholesale for events like the Tony Awards.
"The difference between Pomp and any of our competitors is that we own and operate our supply chain," said Pomp co-founder Ivette Harrouche. "We're growers, we're farmers and we're bringing that high quality product."
A boom in flower delivery
Pomp is launching with next-day shipping for only nine items: Four arrangements and five long stem rose bunches, starting at $89. It's following in the footsteps of other startups like Farmgirl Flowers or Urban Stems, which also launched with a small set of SKUs. Farmgirl Flowers, for example, offered only one daily arrangement when it launched in 2010 and has since expanded to just under 50 products, starting at as little as $40. 1-800 Flowers, meanwhile has thousands of bouquet varieties.
"We try very hard to source and design for a variety of price points," said Farmgirl Flowers founder Christina Stembel. "With expanding our relationships with our growers this past year and having them fulfill directly to our recipients we've been able to leverage favorable pricing on flowers and pass those savings onto our customers."
Farmgirl launched its supply chain with U.S. vendors' flowers only, though has since pivoted to international sourcing. Urban Stems also uses third-party international sources.
Last year, despite the challenge of the pandemic, was also great for these digital challengers' bottom lines.
"At UrbanStems we saw a shift in customer demand as they began using our service as a way of connecting with family and friends they couldn't celebrate with in person for the foreseeable future," said Megan Bailey Darmody, the company's director of brand marketing. She added that the number of customers sending flowers for big occasions like anniversaries dropped during the pandemic, though there was an increase in consumers sending flowers "just because" or even gifting arrangements to themselves.
"While just about everything — from sourcing flowers to getting flowers to your doorstep to figuring out how to run a production floor with every team member more than six feet apart — was about 100 times more complicated than it had been pre-pandemic, the saving grace of 2020 was that business was great," said Stembel. "Like over 100% year-over-year growth great. And we were able to achieve these numbers with all of our digital marketing turned off between March and November of last year."
1-800-Flowers also saw pandemic gains, while operating via a the-bigger-the-better model. In its year end earnings call, CEO Chris McCann highlighted some of the digital investments the company made that year like virtual events, AI chat on site, better on site search, business-to-business services a peer-to-peer chat platform called Connection Communities and a personalization hub for its gifting section. Revenues increased across its DTC cut flower assortment as well as its gourmet gift baskets and wholesale floral efforts.
Shipping challenges present headwinds
However, as shipping and freight delays, supply chain mishaps and uncertainty continue into a post-pandemic 2021, companies are hedging their bets.
"Valentine's Day this year was an unmitigated shipping disaster," said Stembel. "Nearly 50% of our orders weren't delivered on time due to carrier delays caused both by operational failures and then extreme weather in the Midwest made it equally impossible to get redeliveries to our recipients the week following."
Stembel added that these issues are compounded by shipping partners removing delivery guarantees. Thus, when weather or carrier delays occur, businesses, rather than carriers, are responsible for the costs or re-sending an order. Harrouche acknowledges that, despite her company's ability to control the sourcing process from farm to box, "the challenges of delivery in this crazy Covid world are unfortunately in the hands of our third-party carriers."
Despite these challenges, however, Harrouche isn't worried about launching her e-commerce brand in the uncertain and newly-opened in-store terrain of 2021.
"I believe in the online market," said Harrouche. "There's only room to grow. This is a gifting item, so if you live in Florida and want to give some in Georgia the only way to do it is via online."