Why more brands are offering try-before-you-buy options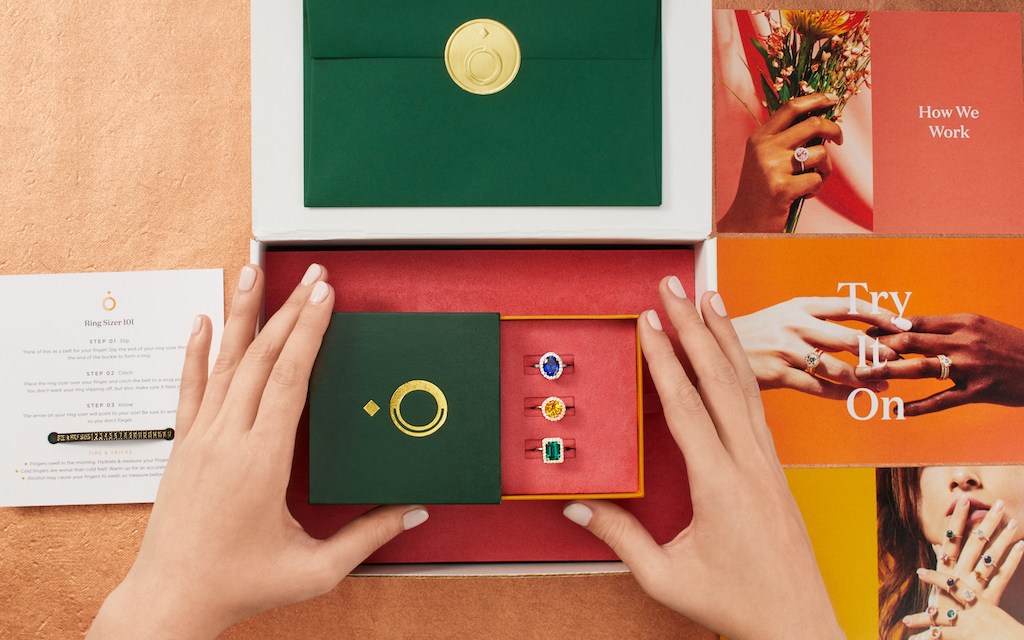 Image via Gemist
Some fashion startups are adopting the Stitch Fix model.
For many brands, return rates can create waste and added costs. As a result, some luxury companies are adding "try-before-you-buy" capabilities to their listings. Instead of gambling on choices like size and color, customers can pick out a bunch of pieces, have them shipped to try on at home, then return unwanted items and pay for what they keep. In recent years, the model has been popularized by Amazon Fashion's Prime Wardrobe and personal styling startup Stitch Fix. Now, smaller DTC brands Gemist and Nordgreen are investing in a similar e-commerce feature to minimize returns and drive higher conversion rates.
Madeline Fraser, founder and CEO of DTC jewelry brand Gemist, said the idea of offering pre-purchase trials was decided ahead of the company's February 2020 launch. "I envisioned us being the Warby Parker of jewelry," Fraser said of Gemist, referring to the free pair try-on the eyewear brand offers.
The company offers customizable made-to-order rings and earrings, which can be ordered in several metal finishes and stone colors. Because customers are typically hesitant to buy large ticket items like engagement rings items online, Gemist sends them cheaper fashion jewelry counterparts to try out for two weeks, Fraser said. "To keep costs low, we created these replica pieces which are identical to the real thing to the naked eye."
The Los Angeles-based Gemist, which runs production and fulfillment in-house, partnered with Swarovski on the replica stones. For example, a Gemist fashion version of a ring is gold filled, features Swarovski stones and costs about $228, as opposed to $572 for the identical solid 14 karat gold with a diamond.
"Soon after launching, we started getting requests to sell these affordable versions on the site," Fraser said; Gemist now sells alongside the custom versions.
The try-on program is currently limited to rings, but the company plans to add earring styles next. Customers can choose three samples to try for two weeks, and are charged a $45 deposit — which is refunded once the pieces are returned to Gemist. From there, customers can either keep the pieces or order the high end version of their chosen ring. Fraser said that this model has helped keep return rates at less than 1%. 
Last fall, DTC watch brand Nordgreen tested out a try before you buy option on its U.K. site. The company said it saw the percentage of shoppers keeping at least one item go from 60% before it offered try-before-you-buy to 88% with the use of the feature. The total number of customers choosing the try-before-you-buy option has also increased in the past three months, according to the company.
Christopher Day, Nordgreen's director of e-commerce, said that with watches, "customers often want to try several styles before settling on one." The company allows online shoppers to select up to three styles to try for free during the seven-day trial. After that, customers return any unwanted pieces and are charged for the ones kept. This spring, Nordgreen will add the try-on program to its U.S. site, said Day.  
For years, this model has been utilized by clothing service Stitch Fix, whose stylists curate a box of items that ship to subscribers. Since launching in 2011, the company relied on this method to drive higher revenue by selling multiple items at once, as well as retain subscribers. During its second quarter earnings in March, Stitch Fix reported that its nearly 3.9 million active customers spent $467, on average. While the model may be good for growing companies, Stitch Fix recently began adding a "direct buy" component, which allows users to directly shop from a limited range of assortments.
Some brands are using vendors to facilitate this feature. One tech company providing retailers with try-before-you-buy solutions is BlackCart. The startup launched when the coronavirus first hit in early 2020, and has since added several fashion brands to its client list including clothes brands City Chic and Dia, along with Nordgreen. 
Merchants using BlackCart can integrate the tools via Shopify or Magento, and customize them based on the brand's needs. For example, a brand can personalize the amount of items a customer can try, along with the trial period, required deposit and automated refund amounts. Brands, however, handle their own shipping and returns for try-ons. CEO Donny Ouyang told Modern Retail that the verticals that saw the most growth so far in 2021 were watches and shoes.
For Gemist, the brand's try-on program has improved conversion and increased cart sizes, said Fraser. For customers making everyday fashion jewelry purchases, those that tried the item before purchasing spent an average of $400; those splurging on finer gems who used the same feature averaged between $1,200 and $2,000 per order. This, Fraser said, is typically due to customers' attachment to their temporary purchase.  "We've found that once a customer spends time with the piece, they're more likely to keep it," she said.