Why Gopuff and Instacart are testing out meal delivery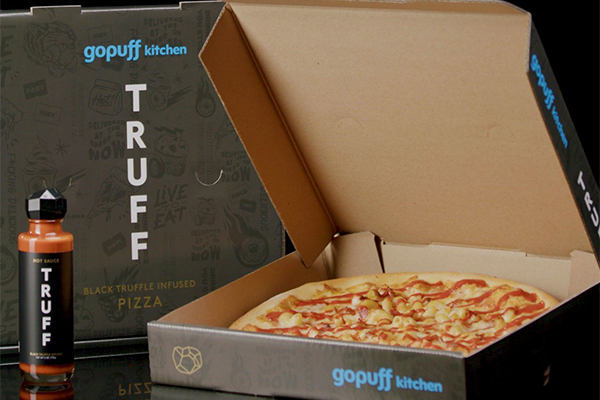 Gopuff is launching three of its own branded pizzas — among the first original offerings in its new line of private-label prepared food products.
The new pizza is made in collaboration with hot sauce brand Truff, and it is joining an assortment of Gopuff-branded fresh meals that includes coffee, sandwiches, chicken tenders and more. That move signals that the virtual convenience store, which has raised $3.4 billion to date, is focusing more on prepared meals.
Gopuff isn't alone: Instacart is preparing for a foray into prepared foods, too. This month, it announced the acquisition of a software called FoodStorm, which is used by "more than a dozen" grocery stores to manage fresh food and catering orders. Meanwhile, Instacart has also been adding a fresh meals category within its app, with the meal-kit company Sunbasket becoming the first to set up a storefront in Instacart.
At the same time as these companies are shifting into meal preparations, other delivery platforms — like Uber Eats and DoorDash — that first made their name on fresh meal deliveries are struggling to turn profits. But for Instacart and Gopuff, the shift into fresh meals is a way to reach more customers and to increase existing order values, potentially offsetting the costs of the delivery itself. As competition heats up in food delivery, the platforms are betting that the way to become customers' platform of choice is to offer a little bit of everything.
"Retailers and delivery platforms want to have the most comprehensive offerings possible in order to win over customer loyalty," said Blake Droesch, an analyst at eMarketer. "That's the common thread here."
Gopuff and Instacart are similar, but not entirely comparable, in their ambitions. Instacart operates through partnerships with existing retailers, whereas Gopuff creates many of its products in-house and ships them directly to customers out of its micro-fulfillment centers. Its meal offerings fall under the umbrella of Gopuff Kitchen, its ghost kitchen service that has been preparing in-house, Gopuff-branded meals since July.
Max Crowley, Gopuff's vp of business expansion, said that what makes Gopuff unique from competitors is the fact that it is vertically integrated. "We control the inventory, have direct relationships with suppliers and can offer a unique, localized and seasonal selection of products to meet our customers' needs," he said.
For Instacart, said eMarketer's Droesch, the driving factor appears to be that it "wants to become a full-service food provider in order to drive customer loyalty." Even if delivering fresh meals is a difficult financial proposition without the volume to go with it, it is a way to keep more customers on the platform, and it isn't hard to see customers eventually bundling orders for groceries and fresh meals to make the economics of delivering each order work better.
Yet the interest in delivering meals is especially notable given that, at the same time as Instacart and Gopuff are experimenting with freshly prepared meals, the traditional meal delivery companies are forging even more partnerships with grocers and convenience stores, in the hopes that adding a greater assortment of products for delivery will boost sagging profit margins.
DoorDash, for instance, recently brought its DoubleDash service — in which customers can bundle together meal orders and grocery orders — to Albertsons. Uber Eats has tested rapid grocery delivery in France in partnership with Carrefour, and it has even eyed delivering beauty products to consumers, too.
On the other side, grocery delivery remains a thriving startup category, with 15-to-30-minute delivery services popping up in major cities and raising billion dollars on the promise that they can undercut the likes of Instacart and Gopuff. Even brick-and-mortar grocery stores themselves are trying to sell meals — Sam's Club, for instance, announced a partnership last month to deliver prepared meals to customer's homes.
Yet those competing trends — where grocery delivery platforms focus on fresh meals at the same time as meal delivery platforms focus on grocery — are just a reflection of the fact that delivery platforms are focused on becoming everything to consumers. Profit margins are by nature slim across the delivery sector, so the path to earning money on same-day or same-hour deliveries might be general ubiquity.