Why DTC furniture brand Sabai uses Instagram stories for product development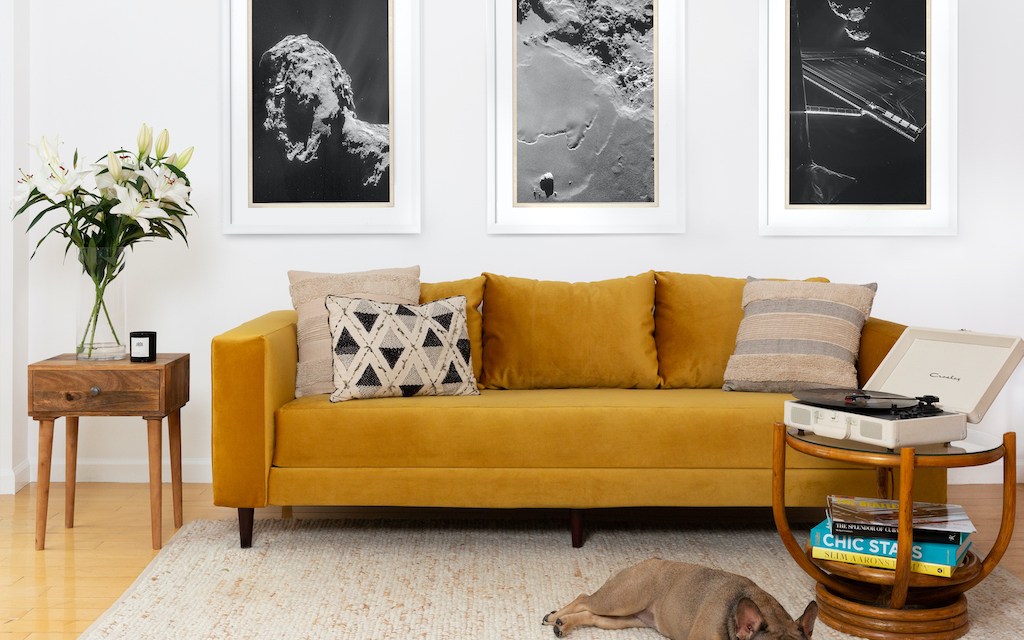 When Sabai Designs co-founders Phantila Phataraprasit and Caitlin Ellen set out to debut their online furniture brand two years ago, they decided to crowdsource their ideas from the get go. 
Before officially launching their first line of products in January, the duo turned to Instagram — not only to build an audience but get customer feedback while still designing the initial collection. For Sabai's first collection — which consists of a sofa and sectional — the founders used Instagram Stories' poll feature to survey customers about the pieces. They asked for feedback from their nearly 5,000 followers on features like arm width, leg styles and fabrics. These steps, they said, helped the young company avoid early production mistakes; Ones they likely would have made had they based all decisions on the founders' personal preferences.
For the brand, the polls presented a clean way to get instant feedback from core customers, and helped the founders hone features and messaging. "We do Instagram polling because we find it minimizes the risk of failed launches," said Phataraprasit. "Lots of consumers are dying to give their opinions — it's a missed opportunity to not take advantage of their enthusiasm." Phataraprasit described it as "the easiest format" for crowdsourcing ideas.
The furniture brand's pieces range from $295 for an ottoman to $1,395 for a sectional. This week, the company transitioned from the pre-sale phase to traditional e-commerce orders — and has been using social media to grow its core base over the last 12 months. Sabai said its Instagram audience has grown 800% year-over-year, as of last October, thanks to partnerships with influencers and other organic marketing campaigns. The company wouldn't disclose sales figures.
Instagram has been an indispensable tool for the startup — especially as a way to amass customer data. Pre-launch polling for the latest Sabai colors was conducted last May. After the initial poll on Instagram, the team did a second round of crowdsourcing to nail down the colorways. The ones that Instagram users liked best were also parallel to those with the most pre-sales. For example, 'seafoam' colored pieces made up 25.49% of the site's overall pre-sale revenue and was the most popular choice in the polls. Meanwhile, 'mustard' colors accounted for 23.53% and 'dusty rose' for 21.57%. The company then moved forward with those three shades, axing unpopular ones like lavender, which 71% of respondents said they didn't like. 
When it comes to taking public opinion into consideration, there are also limits, the co-founders admitted. "Design can often-time be divisive," said Ellen. While for the most part, many people have the same aesthetic requests out of a sofa, more complicated products, such as a lounge chair, can be harder to plan with endless input.
"The suggestions from the community are a big factor, but we have to balance them with production constraints," she said. For example, committing to non-toxic fabrics, non-chemical treatment and foregoing glue means that making pieces stain-proof is off the table. 
However, the initial set of suggestions also helped shape the brand's sustainability mission early on. "We got a lot of inquiries about toxicity from young moms, which wasn't a focus for us at first," said Phataraprasit.
For many retailers, listening to the community is important in launching new offerings, said Greg Petro, CEO and founder of retail analytics platform First Insight. "It's particularly valuable in the furniture sector, where lead times are longer and the investment in each unit of inventory is higher," he explained.
Petro said that utilizing Instagram's vast user base is also a clever tactic for drawing relevant inspiration. The social network has been launching new tools to help brands connect with followers — including 3D design tools — which Facebook has been rolling out this year. Using Instagram, said Petro, allows brands "to get customer feedback earlier than ever in the design and development process." This way, startups can cut underperforming designs "before investing in detailed design and physical samples." 
These days, brands have to separate the signal from the noise in an ever-crowded field, Petro said. More brands are trying to find new ways to easily gather intelligence about their customers. Examples include retailers like H&M, which has increasingly tapped into their Instagram following for product ideas and new releases.
"Instagram is a great place to test people's preferences on a large scale," Ellen concluded. In fact, Sabai just solicited followers' feedback on colors for a chair to launch later this year.
"We had a lot of success designing the first sofa with our community's help," she said. "Now we get nothing but compliments about the design, so we really trust their taste."