Why discount stores are one of the fastest growing retail sectors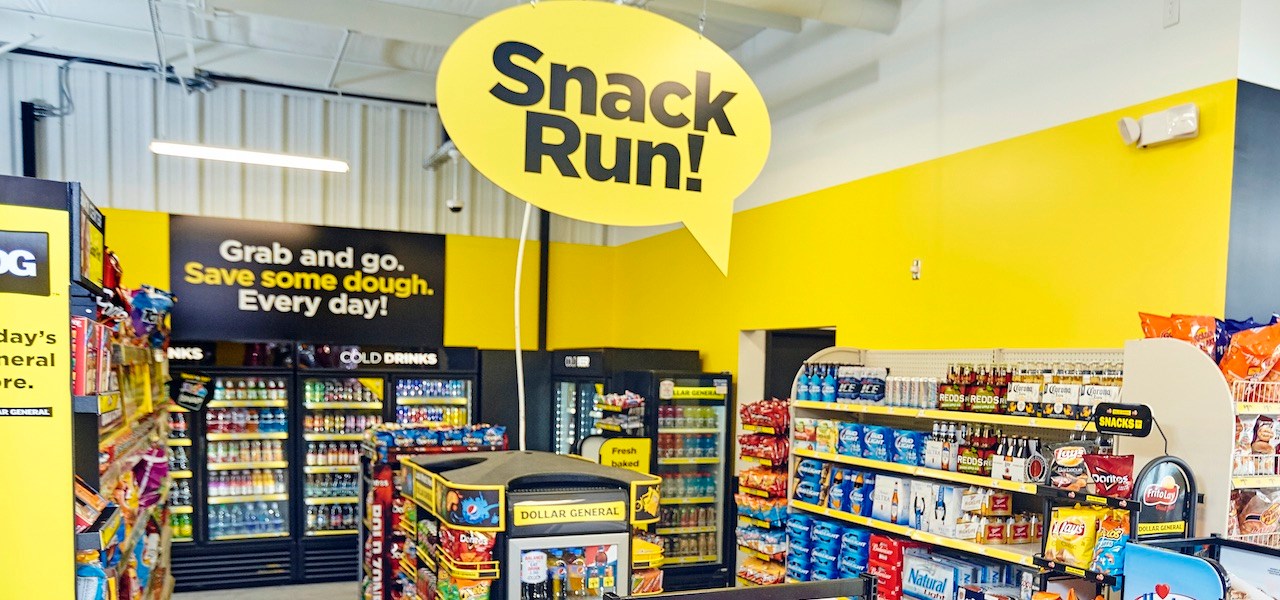 Dollar General
American consumer patterns are changing, and discount retail has been riding the wave.
While the economy has been good overall — the unemployment rate fell to a 50-year low in September — Americans have changed the way they spend money. Last month, for example, retail sales decreased by 0.3%. Meanwhile, data from the Food Marketing Institute said that grocery store shoppers were making more trips on average in 2018 than in 2012. At the same time, non-store retail sales have seen strong year-over-year growth. In response to these slight consumer habit tweaks, discount retailers like Dollar General and Aldi have been growing in the U.S. at a fast clip, as well as making an investment in building out their digital infrastructure. Even Amazon over the last year has made nods at targeting discount retail, with changes to Prime's subscription structure and item eligibility.
Data from e-commerce analytics firm Edge by Ascential show that discount retail stores have been growing at a faster clip than other retail environments. Non-food value-based or discount retailers, like Dollar General, are expected to grow at an annual rate of 5.2% through to 2024. Food discount stores, like Lidl, are expected to grow at 4.9%. Conversely, supermarkets are forecast at 4.4%, and superstores at 2.7%.
In the meantime, Dollar General's financials have grown significantly. At its most recent earnings report the company said it $6.98 billion in revenue in the second quarter of the fiscal year 2019 and announced that same-store sales had risen by 4%. That's up from $6.44 billion the year prior.
As a result of its growing business, Dollar General plans to up nearly 1,000 new stores this year, while investing in new programs like e-commerce functionality and in-store pickup. Others too are seeing expansion opportunities; Lidl, which began its U.S. expansion two years, said it plans to open 25 new U.S. stores this year as well as 40 new locations in the U.K.
What's driving this ramp-up is twofold: a shifting consumer mentality and retailers' realization that they need there's an untapped market. "Consumers are shopping a little differently now," said David Gordon, research director at Edge by Ascential. "They are shopping a little more often and perhaps picking up slightly smaller baskets." Discount stores are usually smaller and with a more limited assortment, which meshes well with these changing behaviors.
The underlying economics
The economics of dollar stores make the model ripe for quick and easy scale. The stores are cheap to open — often only around $250,000 — and don't need to serve as many people as, say, a large Walmart Superstore. "They are able to open up a lot more stores than most other grocery formats," said Simon Johnstone, the director of retail insights at Kantar. "The actual stores they put up are relatively low [capital expenditure]" he said. Put together, the model works so that retailers like Dollar General or Aldi can capitalize on untapped markets in more rural areas — with fewer people — and open low-margin locations.
This has been the model for decades, but consumers' appetite for discount stores only seem to be growing. This is likely because the U.S. economy has been in a stalemate. "Although the economy is doing well," said Neil Saunders, managing director of GlobalData Retail there are still some areas that have faced headwinds; "Wages have stagnated and there hasn't been a rise in income levels," he said. Indeed, numbers from Pew show that despite healthy employment numbers, when taking into account inflation, the average wage "has about the same purchasing power it did 40 years ago." As a result, said Saunders,"this has forced a lot of consumers to become more value-savvy."
Beyond mere money-saving, retail private labels have been flourishing — which is another nod at consumers' interest in discount items. Target has launched a new brand called Good & Gather, which takes cues from Whole Foods's 365. Dollar General too launched its own private label beauty line in partnership with a company that has worked with the likes of Walmart and Target. This is an example, said Saunders, of Dollar General "going beyond being cheap to being great value for money." It's also indicative of more consumers being more okay with unbranded, cheaper items.
For many consumers, this is a reaction to the 2008 financial crisis. "When we emerged from that," said Saunders, "a lot of customers had become a lot more value conscious." As a result, more consumers began seeking out discount outlets, thus helping bring about this low-priced retail boom.
Seeking out expansion
What's driving the future growth isn't just a cheap model to scale and cash-conscious consumers. Many big players are seeing opportunities for growth — especially in the online space.
Dollar General, for example, is piloting a new program for customers to buy items online and then pick-up in store. Aldi too has forged partnerships with companies like Instacart, making it possible for people to have their cheap goods delivered to their house.
Even Amazon is trying to find a way to enter the low-priced good space. The e-commerce giant has been quietly lowering the price threshold for individual items eligible for free Prime one-day shipping. It's a clear shot at discount brick and mortar retailers, as before customers would have had to purchase many bigger ticketed items to have the cheap products shipped to them.
For Amazon, the intent is clear: It wants to get more people roped into its Prime business. While it may be losing money by footing the bill for shipping cheap items, "it's about increasing customer share," said Saunders.
Even so, discount retail online is a difficult match to make. "Once you start introducing complexity into the discount channel," said Edge's Gordon, "it starts to break the economics." More fulfillment options require more labor and technology. "This adds cost and complexity," he said.
Still, both discount and online retailers are seeing growth opportunities by focusing on cheap goods, and are rapidly building a scalable model. It's not only about low-income people but also cost-conscious middle and higher-income consumers too. Many of the leading dollar stores, said Saunders "have been very successful in drawing in new customers segments."
This creates an opportunity. "The middle part of the market is very saturated," said Saunders. Meanwhile, the value side of retail, he said, is "not oversaturated overall… There's still a lot of scope and opportunity."