Why buy now pay later startups like Afterpay are focusing on physical retail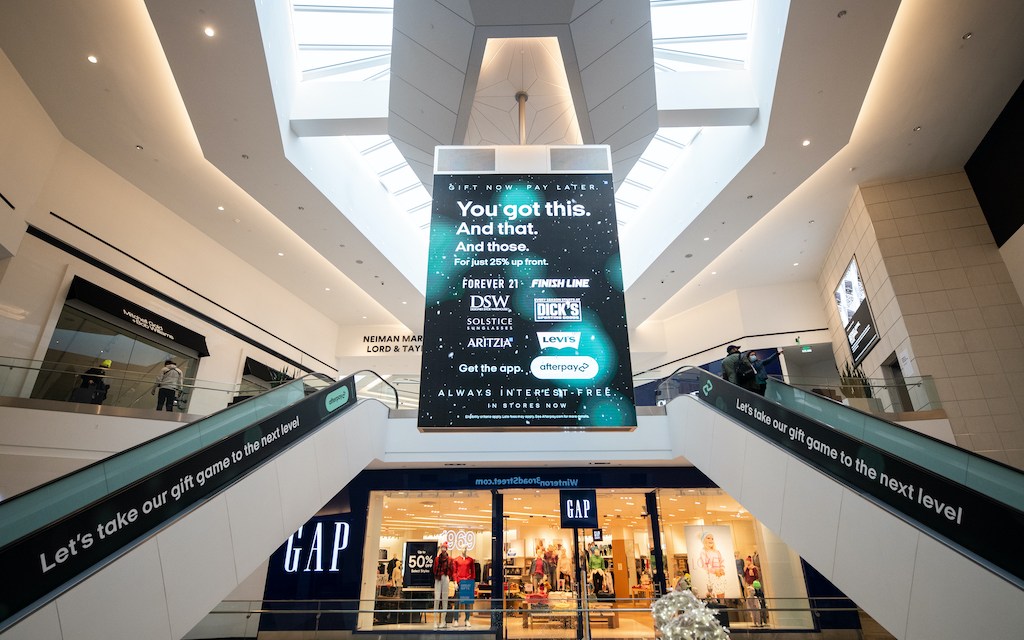 The buy now pay later wars are entering brick and mortar. 
Historically, these payments services mainly catered to e-commerce checkouts — offering online shoppers the ability to pay for their purchases in interest-free installments. Now, as the space becomes more crowded and competitive, more companies — like Afterpay, Affirm and Klarna — are targeting physical retails and touting their in-store marketing capabilities that will help draw traffic and increase basket sizes.
Many of these services began testing out brick and mortar services last year and are now doubling down. Afterpay, for example, has announced new partnerships with both retailers and malls in an attempt to get the attention of more in-store shoppers. Others, like Affirm, have made similar moves.
These payments startups have seen a huge boom over the last year. A recent report from Bank of America said that it expected buy now pay later services to 10-15x by 2025 to. Meanwhile, consumers are increasingly relying on them as a payments option. As of the end of 2020, 44% of consumers said the option to use a BNPL service is somewhat or very important in determining how much they spend during the holidays, according to data from Cardify.ai. The survey of 6,500 adults reported that 48% of respondents said installment payments will allow them to spend an extra 10% to 20% during the holidays than while using a credit card.
Australian-based Afterpay first launched in the U.S. in mid-2018, via e-commerce partnerships with retailers like Urban Outfitters and Anthropologie. But it's spent the last few months building out in-store services. Since the company launched its in-store checkout program last October, it added new features to get customers to go into partners' retail stores. For example, Afterpay's app began featuring an explore map of nearby retail locations that accept Afterpay. The company also began sending targeted email and push notifications encouraging shoppers to go to these retailers, said Alex Fisher, vp of retail at Afterpay. This new in-store program, she said, "was born out of the demand from consumers."
Starting last fall, Afterpay began rolling out its services at fashion retailers' brick and mortar locations, including Aritzia, Fabletics, Crocs and Forever 21. It also forged a partnership with Simon Malls at the beginning of the holiday season; in November, Afterpay began running digital and print media at more than 30 Simon shopping centers across the country. Some of these signs featured headlines such as "25% up front, 100% under the tree" and "On the sixth week of Christmas…Everything was paid for." According to the company, this holiday campaign generated over 25 million impressions nationwide throughout the 2020 period, and participating retailers' holiday period basket sizes increased by 30% as of the end of 2020.
As Afterpay doubles down on in-store marketing, other BNPL competitors are making similar moves. For example, in late 2020 Klarna launched a national in-store campaign with one of its flagship partners, H&M. The rollout included digital and traditional signage, telling customers they can use Klarna at checkout via H&M's official app.
To date, Affirm has run in-store marketing campaigns with partners like Audi, Warby Parker, Walmart, The RealReal and Dick's Sporting Goods, with some including exclusive interest-free offers. The strategy includes merchandising signage and display screens, among other marketing material. 
The move to in-store marketing isn't just about customer acquisition but also about explaining the available services, said Greg Fisher, Affirm's chief marketing officer told Modern Retail. "We partner with retailers in our network to educate consumers before they arrive at check out, both in-store and online, so they know they can pay almost anywhere using the Affirm app on their smartphone," Fisher said.
All this points to the ever-growing buy now pay later increasing turf wars. Last year was huge for the industry, said Vidya Peters, chief marketing officer at digital credit card issuer Marqeta. Flexible payment solutions were already growing in popularity prior to the pandemic, but their use spread to older and more affluent U.S. demographic groups, according to Marqeta's recent state of payments report. 
Retailers claim the rollout of these services often lead to more sales. Levi's, one of Afterpay's retail partners, recently began using the startup's in-store services. "Levi's shoppers are excited to hear that we offer Afterpay, whether through our store signage or from our associates," Anisa Kumar, managing director of direct-to-consumer at Levi Strauss & Co., told Modern Retail in a statement. "It's also leading to measurable business results, including an increase in average order values."
It's worth noting that these buy now pay later services have faced mounting criticism from financial experts. According to a recent Credit Karma study, almost 40% of U.S. shoppers who used BNPL services last year missed more than one payment, with 72% seeing their credit score decline. 
Still, these startups say they're only beginning. Over the next year, Afterpay plans to launch large media placement in high traffic malls like King of Prussia and Houston Galleria, as well as New York's Roosevelt Field and Los Angeles' Del Amo, among others. Afterpay's messaging, including escalator wraps, large ad placements, sky banners, and highly targeted digital messages, can be found outside of key anchor tenants and other partner merchants throughout each center.
Other players in the BNPL space — even those that still focus on e-commerce checkout — are planning for eventual physical presence. Splitit chief commercial officer Melanie Vala told Modern Retail that the company is currently working to expand its retailers roster beyond its original mattress financing offers; Splitit is a partner of DTC mattress brands Purple and Eight Sleep, and is rapidly moving into other home and fashion categories. 
"While the buy now, pay later movement began online, we'll eventually have to evolve and offer omnichannel services for our partners," Vala said.