Why bath towel startup Weezie has invested in self-fulfillment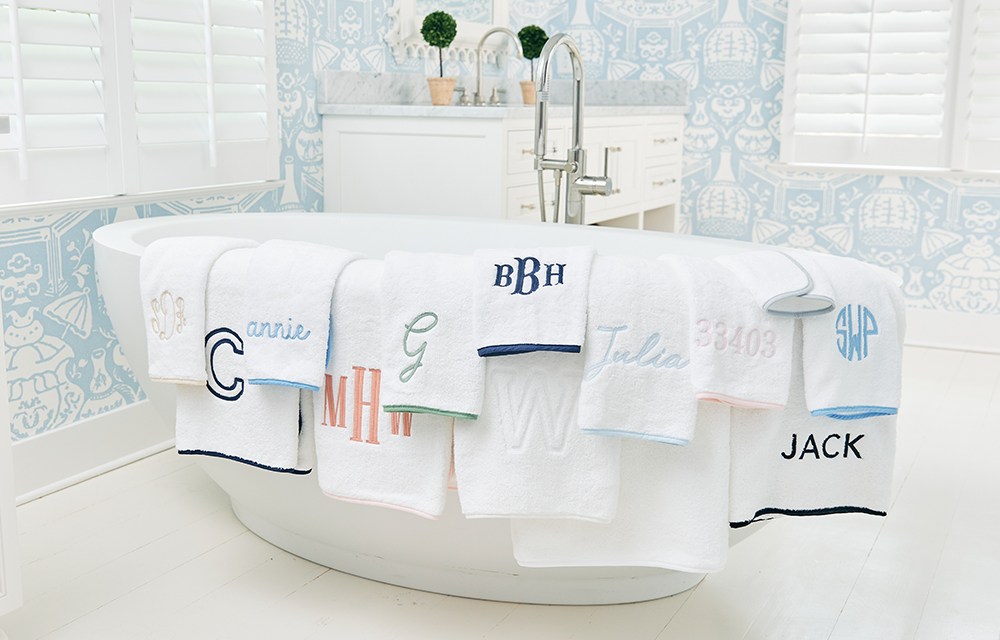 Weezie
Amongst industry-wide supply chain issues, direct-to-consumer towel brand Weezie has invested in self-fulfillment and its own 40,000 square-foot warehouse.
Weezie launched in 2018 out of a Savannah, Georgia storage facility with two embroidery machines and three employees. Just three years later, the brand's new factory in Atlanta is 10 times the size of its old facility, with 30 employees and dozens of machines. While both small startups and major retailers alike are experiencing unprecedented supply chain issues, Weezie co-founder Lindsey Johnson said her brand has instead "gotten much faster" at getting product to consumers after the factory investment. For personalized products — 70% of the orders at Weezie — self-fulfillment helps ensure quality control across the brand's thousands of product options and avoid 3PL holdups that many other startups are facing.
Investing in a factory was a big decision for the "scrappy" brand, explained Johnson. Weezie is on track to "hit eight figures in revenue this year" and has been profitable every year since launch. Johnson attributes this success to unique product and a conservative mindset.
"I'm just a conservative person by nature and I didn't want to start a business where we were spending more money than we were making," said Johnson. "There are tons of times when I think we would have loved to spend more money on something — whether it be a marketing effort or product development or payroll or a beautiful office space — but we have chosen the scrappy and nimble route."
Still, while a factory purchase was "daunting" for the small brand, Weezie's customized product made outsourcing quality control difficult. The brand has what amounts to thousands of different product options. Within the bathrobe category, for example, a consumer could choose between eight robe styles, six colors in each style, ten embroidery fonts and fifteen colors for that embroidery. The brand's robes range from $135 to $185 and personalization costs an extra $15.
"The options are endless and we don't have the luxury that [another brand might have] of outsourcing fulfillment," said Johnson. "Over 70% of our products are customized. Embroidery is a labor-intensive process and it requires, in some cases, up to six different humans to get an order out the door."
Moreover, over the course of 2021, the brand will have added ten new products or styles to its site and plans to launch 20 new products or styles next year. Five of next year's launches, added Johnson, will be complete category expansions — though, she declined to share what types of products the company would expand to.
Investing in a new, larger fulfillment facility has helped Weezie ship its wide array of products faster than any year prior. "If you were to order a [non-customized] product from us today, it'll ship today," said Johnson. "If you order an embroidered product you can either pay expedited shipping and get it within one week or pay for standard shipping and get it within two weeks."
Traditionally, self-fulfillment is rare for a small DTC startup. Many instead go for the lower cost option of a third-party logistics provider (3PL) who can handle anything from inventory management to warehousing product to fulfillment.
Some 3PLs even offer product personalization services from embroidery to screen-printing. However many personalization-first brands try to keep their larger scale personalization efforts in-house, citing similar quality control concerns: DTC suitcase maker July, for example, told Modern Retail that it handles its screen-printing process with its own machine.
Supply chain delays are changing brand behavior rapidly. Major retailers like Costco, Ikea, Home Depot and Walmart have all chartered their own container ships to get their offshore product to their stores and factories more quickly. Smaller, more nimble companies, meanwhile, are also shifting strategies: Peloton, for example, invested $400 million to build its first U.S. factory in Ohio after months of delayed product shipping from offshore factories.
With this, every brand and retailer is receiving a master class in supply chain planning. "Supply chain management isn't just about reducing costs — it's also about decreasing risk," said Daniel Stanton, author and CEO of Mr. Supply Chain. "Doing more work in-house definitely gives you more control over a process, and can reduce your transportation costs and your supplier risks. But it also means that you need to spend more money on labor and equipment and you have a lot more processes to manage internally."
What's more, while Weezie has been able to cut down its own in-house product processing time, it is still experiencing delays getting product to its factory. "The vast majority of our product comes from Portugal which is extremely fortunate in that it's relatively close," said Johnson. "Typically we would see a four week freight time and I'd say now we are seeing sometimes double that."
While large companies may be able to lease their own cargo ships, added Stanton, today's supply chain crisis is a particularly "tough environment" for small businesses with small budgets. With that, it behooves startups to try and pay closer attention to their "upstream supply chain" to learn about delays and disruptions as soon as possible. This, he said, will help them improve "planning, execution and visibility of their supply chain."
For companies like Weezie, owning a big chunk of the process helps with just that. "By and large the whole pandemic has really accelerated the adoption of supply chain technologies, and has given a real boost to tech-savvy retailers," said Stanton.