Why Affirm is courting lower-priced retailers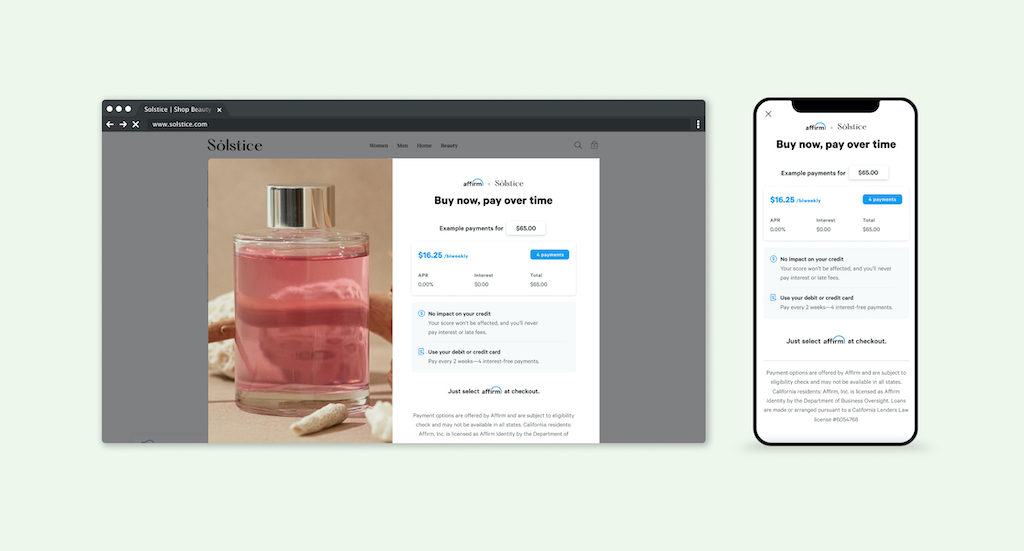 The buy now, pay later race continues alongside the pandemic. 
In recent weeks, installment lender Affirm added a new feature aimed at smaller purchases, as low as $50, allowing customers to pay loans back on a bi-weekly basis.
Previously, Affirm offered repayment plans with interest as low as 0% for three, six or 12 months. "Now customers have more flexibility," chief marketing officer Greg Fisher told Modern Retail. One of the biggest pieces of feedback the company heard from retailers, he said, was for ways to help them increase average order value. Lowering the purchase threshold, the idea goes, is one way to do that because it makes day-to-day usage more flexible. So far, the bi-weekly payment feature has been popular among fashion retailers, confirmed Fisher.
Affirm, which also just announced a $500 million series G funding round, first went about growth by going after higher-priced items with long term payment plans. Now the eight-year-old company also going for financing more affordable items that attract a wider cohort of users. For Affirm, this is a strategic change as the crowded field of checkout lenders gets increasingly competitive.
Given widespread economic and health uncertainties, many brands selling non-essential products like apparel and footwear have struggled converting shoppers. Some have turned to steep discounts as a way to try and reel customers back in. Affirm, which was founded in 2012, says it has experienced exponential growth in the past year compared to the previous decade. It currently has 5.6 million active customers and 6,000 retailers, including Peloton and Adidas, as partners. Following widespread lockdowns this past spring, Affirm also saw usage spikes across relevant categories, such as 163% in home fitness category and 200% in home office furnishings. Since the pandemic hit, the race to add buy now, pay later has given the space a boost, even among retailers specializing in low ticket items. 
"Right now people, particularly the Gen z and millennials that make up more than half of our users, are looking for something new," Fisher said. "And as the price point drops, we offer more ubiquity," making Affirm an appealing alternative to daily credit card usage, he continued. The 2-week window, he went on, also coincides with the way many people get paid. 
That's not to say Affirm has altogether given up on high-end purchases. In fact, over the last month the company added a mix of luxury brands, including David's Bridal and Callaway Golf. On the more affordable price-point front, it's added brands like Bonobos, Urban Stems and Nutribullet. With this, Affirm now realizes lower-priced transactions are just as important in attracting online shoppers, especially as competitors like Klarna and Sezzle have continued scooping up fashion and beauty retailers. As CEO Max Levchin told Modern Retail last October, Affirm's plan has always been to continuously launch new products. 
According to CB Insights' most recent fintech research, Affirm stands as one of several startups currently transforming retail for businesses and consumers. Others include Klarna, Checkout.com, Deserve and Paidy. Most of these companies, he said, have experienced "a tailwind." These fintech providers experienced an 11% e-commerce penetration rate between 2019 and 2020.
Affirm's move to smaller transactions makes sense, said Conor Witt, fintech analyst at CB Insights. "It's meeting a broader customer need at this time," Witt said. "It's very much aligned with catering to millennials, which they've done a really good job of over the years."
As it stands, the one hurdle that installment payment apps still lag behind private label credit cards on is rewards. However, Witt noted that even points-based and bank cards have been on a steady decline in recent years, with new types of payments services on the rise. He said that "even big banks are taking notice of this shift" among millennials and Generation Z customers. American Express, Citi and J.P. Morgan Chase — along with challengers like PayPal — have recently announced "pay later" products.
For Affirm, this move is part of a bigger plan to become a more dominant payments player. Tapping into the low-end transaction pool, he said, is all about building a diverse set of offerings that encourage long-term customer retention. "They're developing an ecosystem that grows with their customer base," he said.