What Mirror got right leading up to its acquisition by Lululemon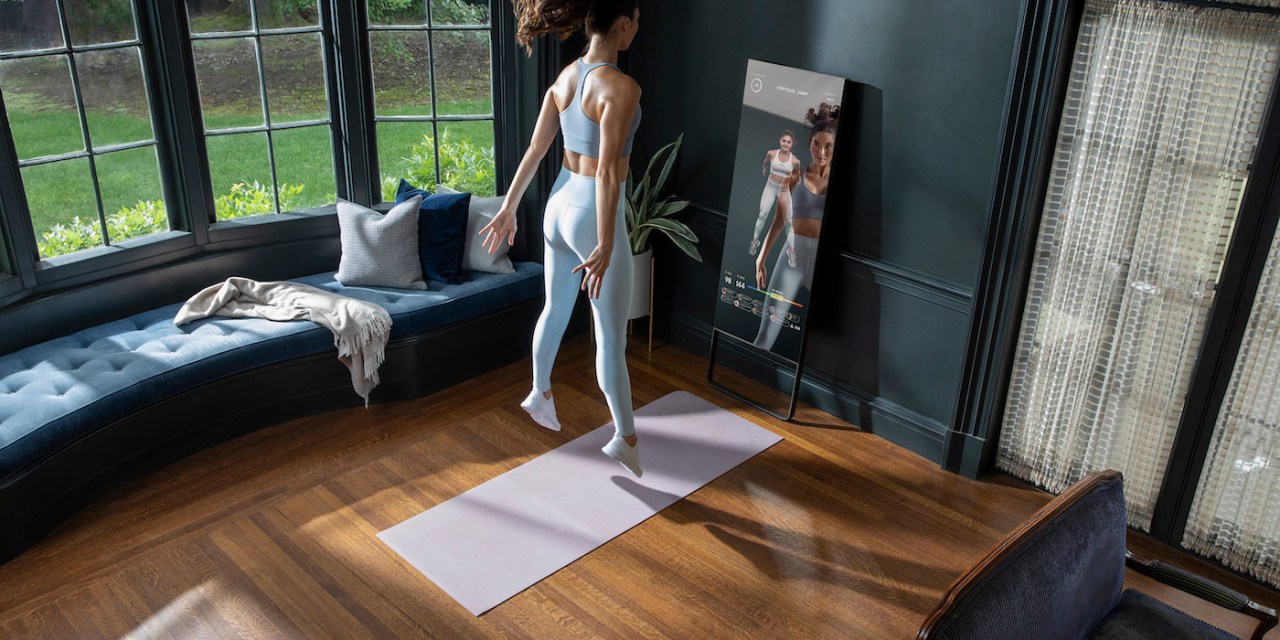 Image via Mirror
At-home fitness has been having a moment particularly over the past few months, and startup Mirror was able to cash in big on it.
On Monday, Lululemon announced that it was acquiring the connected fitness company for $500 million. Mirror had raised $72 million to-date, and is projecting over $100 million in revenue this year. The company hasn't released exact customer numbers, but CEO Brynn Putnam told the New York Times that the company has "tens of thousands of subscribers." Putnam also told Modern Retail in April that "sales have more than doubled" since the advent of the coronavirus in the U.S.
"This isn't just about getting guests to buy apparel," Calvin McDonald, chief executive of Lululemon, told the Times. "This is about strengthening our community and our loyalty and our relationship with our guests and memberships, and it's going to be its own revenue stream model, which we're excited about." Lululemon and Mirror declined to comment further for this story.
There's a number of lessons DTC brands should take from Mirror, both in terms of what it takes to build a fast-growing startup and what potential acquirers are looking for. Gone are the days when retailers are willing to spend $100 million on a startup just to gain their e-commerce experience. Instead retailers like Lulelemon — particularly those in activewear — are looking to acquire new revenue streams that would be more cost-intensive for the to build out on their own. What's particularly attractive to them are new experiences like Mirror, that can help them capture unique data about their existing customers.
"I think this should be considered one of the big wins in the direct-to-consumer space," said Web Smith, founder of e-commerce newsletter and website 2pm Inc. Here's what Mirror got right in the lead up to its acquisition by Lululemon.
Offering the potential for multiple recurring revenue streams
Although subscription boxes have faded in and out of popularity, what hasn't changed is that having a recurring revenue stream on top of a one-off product is a powerful tool to get loyal customers to spend more. Mirror's product costs $1,495. But, customers also pay $39 a month to live stream or access on-demand a variety of exercise classes, like yoga and boxing sessions. Customers can also pay $40 for a personal training session with a Mirror instructor.
There will likely be other opportunities for Lululemon to upsell Mirror's users. "I expect that they will outfit all instructors in Lululemon, and I eventually expect them to offer in-app purchases," said Smith.
Acquisitions have to be built on the potential to lower customer acquisition costs
The achilles heel of most all venture-backed direct-to-consumer startups is high customer acquisition costs. It's also what will ward off potential acquirers, if a brand is going to have to continue to spend millions on customer acquisition costs for the foreseeable future.
Lululemon has a pretty straightforward way to potentially lower customer acquisition costs for Mirror — by displaying the product in its stores. Lululemon can also leverage its ambassador network — a network of yoga and running enthusiasts who spread the word about the brand in exchange for discounts — to highlight Mirror to its customers. Before the acquisition, Mirror already had some classes available through its platform, like meditation, that were taught by Lululemon ambassadors.
'[Lululemon] is building a new marketing vehicle, and a new sales channel," said Smith.  "I think that any time a retail organization finds ways to build community and to build media channels, it is going to be worth their while — it becomes a marketing flywheel."
Finding the right strategic investor
It's unlikely that Lululemon would be spending $500 million to acquire Mirror today, when at-home fitness is booming, if the company hadn't already invested in Mirror in November.
Mirror hasn't released detailed demographics to-date about who is buying its products. But, it's not hard to see there being some overlap between the typical Mirror and Lululemon customers. Lululemon is known as a more upscale athleisure brand, selling women's leggings that start at $88. And while Lululemon started as a yoga-inspired women's brand, last April it released a new strategic plan called "power of three" that outlined the brand's plan to expand its core constituency. In particular, the company outlined plans to double its men's business by 2023, to invest more in newer product categories like running, training and selfcare.
"Lululemon has been expanding itself into a lifestyle brand, and trying to get into every part of that consumer's world, and this should help with that," said Jessica Ramirez, retail research analyst at Jane Hali & Associates.
Unlike Peloton, which is primarily geared towards cycling enthusiasts, Mirror isn't geared specifically towards enthusiasts of one particular type of workout. That puts Lululemon in a better position to upsell the Mirror customer on a variety of products across activewear categories. As McDonald previously put it during Lululemon's most recent investor day, the goal is to "understanding where our current guests sweat, and what our assortment is in the activities where they sweat."
Proprietary tech advantage
In the activewear category in particular, retailers have proven willing to spend hundreds of millions of dollars on tech companies that will help them build unique online experiences for their customers. In the early 2000s, Nike's acquisition strategy was to acquire brands like Converse and Hurley. Now, its goal is to acquire tech companies. Nike's recent acquisitions include Invertex, a 3D-scanning company  that it acquired to build an experience within its mobile app that customers can use to measure their shoe size, as well as Zodiac, a data analytics that purports to better forecast customer lifetime loyalty.
Meanwhile, Under Armour, between 2013 and 2015 spent $710 million on a suite of connected fitness apps which included MapMyFitness, MyFitnessPal and Endomodo, to help the company gain access to new customers. The company though, has struggled to successfully leverage those apps to grow its direct-to-consumer business.
But in both of the cases above, Nike and Under Armour didn't just get new customers or a new product, they got a new experience for customers. And that's similar to what Lululemon is betting on with Mirror.
"Lululemon has had their workout classes in store..and now they have new capabilities to embrace the customer in their home," Ramirez said.