How Nike is boosting its direct-to-consumer business with tech acquisitions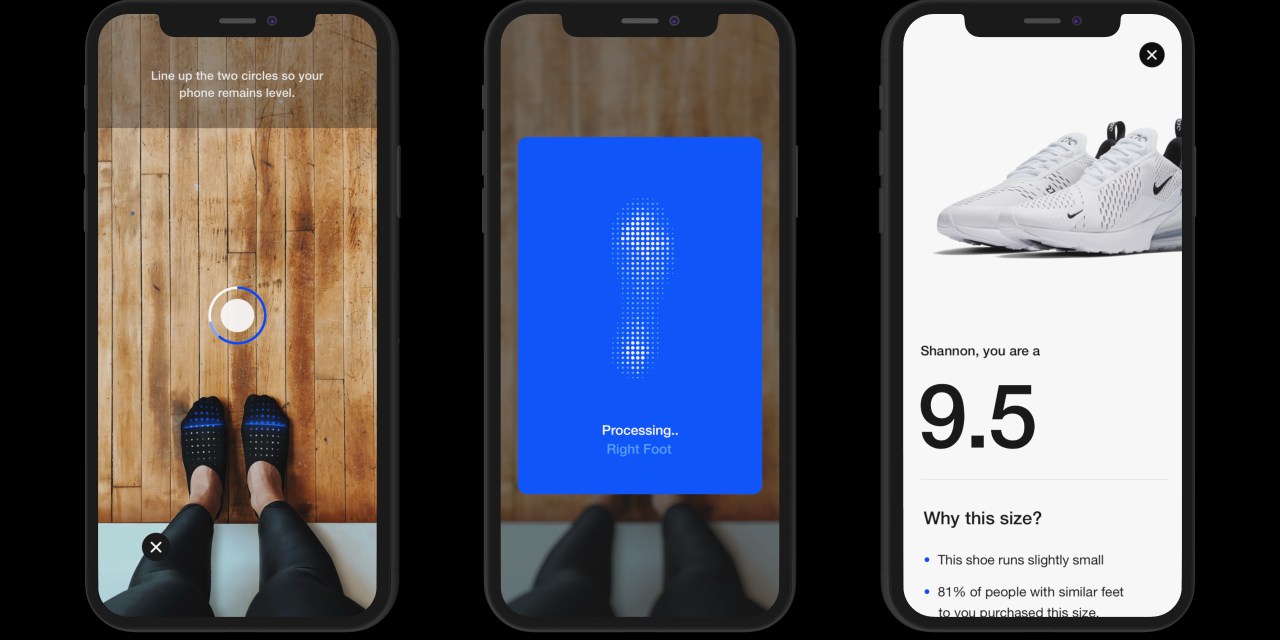 One year after acquiring two technology startups, Nike is using them to increase memberships and improve its personalization efforts.
Yesterday, Nike unveiled Nike Fit, a new scanning technology that uses computer vision and machine learning to fit customers for shoes. The feature will be added to Nike's mobile app in July, and used in select retail stores in the U.S. In the Nike app, customers will be prompted to use a smartphone camera to take a scan of their foot. The app then spits out a recommended size range for that customer — information that is stored with that customer's Nike+ profile, and is used to suggest sizes when a customer shops for shoes online or in-store.
The app was built using technology from Invertex, a 3D-scanning company that Nike acquired last March that specializes in using automation technology to build consumer and medical devices.
The Invertex team works within Nike Direct's digital team, the team at Nike that works on digital efforts to grow its direct-to-consumer business, including app features for Nike+ loyalty members, which have hit 150 million. Zodiac, a data analytics company Nike acquired last April, also works within Nike Direct's digital team.
The integration of the acquisitions into Nike Direct speak to the brand's priorities to build its direct-to-consumer sales and rely less on wholesale revenue, in order to have more control over brand positioning, pricing and customer data. Nike has projected that its DTC business will reach $16 billion in sales by the end of fiscal year 2020. Nike Direct did $10.4 billion in sales during fiscal year 2018. 
Nike's belief is that developing unique tech features will make it easier for customers to shop in Nike stores and on Nike's site, and also provide Nike with data to better personalize the customer experience in the future. With in-store and online customer experiences, like Nike Fit, tied directly to Nike+ memberships, the goal is to use these features to increase memberships. So it prioritizes buying startups that can assist with that.
"I will say that at least from organic data we've seen, in the early testing from this, [Nike Fit] may be one of our strongest values yet that we've been able to provide for our members," Michael Martin, global head of digital products for Nike, said at a demo for Nike Fit last month. Martin added that when Nike was testing Nike Fit in three stores earlier this year, "even people who hadn't heard about membership were asking us about [how to store sizing information]."

New technologies only boost the profile of Nike+. Martin said in a follow-up email that Nike looks for "teams and technologies," that will improve Nike's ability to solve specific problems when looking at startups to acquire. He also said that Invertex in particular "had capabilities in areas like computer vision, machine learning and artificial intelligence that were completely complementary to what we were already testing and iterating."
Before Nike acquired Invertex and Zodiac last year, its last acquisition was Virgin Mega in 2016. A tech startup that sat within Richard Branson's Virgin Group, Virgin Mega developed mobile shopping features, and was acquired by Nike at the same time that it redesigned its app.
Aside from Nike, the most acquisition-happy athleticwear company in recent memory is Under Armour, which spent $710 million on a suite of connected fitness apps from 2013 to 2015, which included MapMyFitness, MyFitnessPal and Endomodo. All of these acquisitions served to help Under Armour gain access to new customers — MapMyFtiness had about 20 million registered users when it was acquired in 2013, while MyFitness Pal and Endomodo had 80 million and 20 million, respectively, when they were bought in 2015.
"[With its acquisitions] Nike did not acquire customers — it acquired capability to enhance the experience for the Nike customer," said Jason Goldberg, chief commerce strategy officer for Publicis.
The computer vision and AI capabilities that Invertex has can be leveraged for Nike more than just Nike Fit. But, Martin declined to say how else they'll be put to use, other than that it wants to focus on "solving very specific problems."
"We made the strategic choice to focus on solving one problem first and moving onto the rest, versus potentially diluting our focus and not solving all the problems to the same degree," Martin said of the development of Nike Fit. 
Nike Fit will also help Nike contend with some of the logistical headaches that come with selling DTC: Martin said that the hope is that Nike Fit will help the company cut down on returns, as it more accurately measures a customer's foot size than the traditional Brannock device. It will also give Nike more data about what sizes, shoes and styles are most popular to help better manage inventory.
As for Zodiac, Nike hasn't been as forthcoming about what it's been using the startup to do since acquiring it last year, but its core offering can be easily connected to a membership program: Zodiac develops predictive models that purported to better forecast the average lifetime value of a customer.
"What Zodiac was good at was helping companies understand the true value of each customer to the brand, and then you can make much smarter decisions about how much to invest in each customer," Goldberg said.
Ultimately, the value of both Invertex and Zodiac depends upon whether or not they will help Nike achieve what it says is the ultimate goal of its Nike Direct initiative: to build one-to-one relationships with customers. With Nike Fit, Martin said that the ultimate goal is to use the app to eliminate sizing for footwear.
"If you buy a pair of shoes online, [our goal is that] rather than have a number and a gender, it will just have your name," Martin said.
—
Sign up for the Modern Retail Briefing to get retail news, analysis and insight delivered to your inbox every morning.