Earnings
// February 19, 2021 ■ 3 min read
As growth slow, Walmart+ becomes the retailer's longterm e-commerce strategy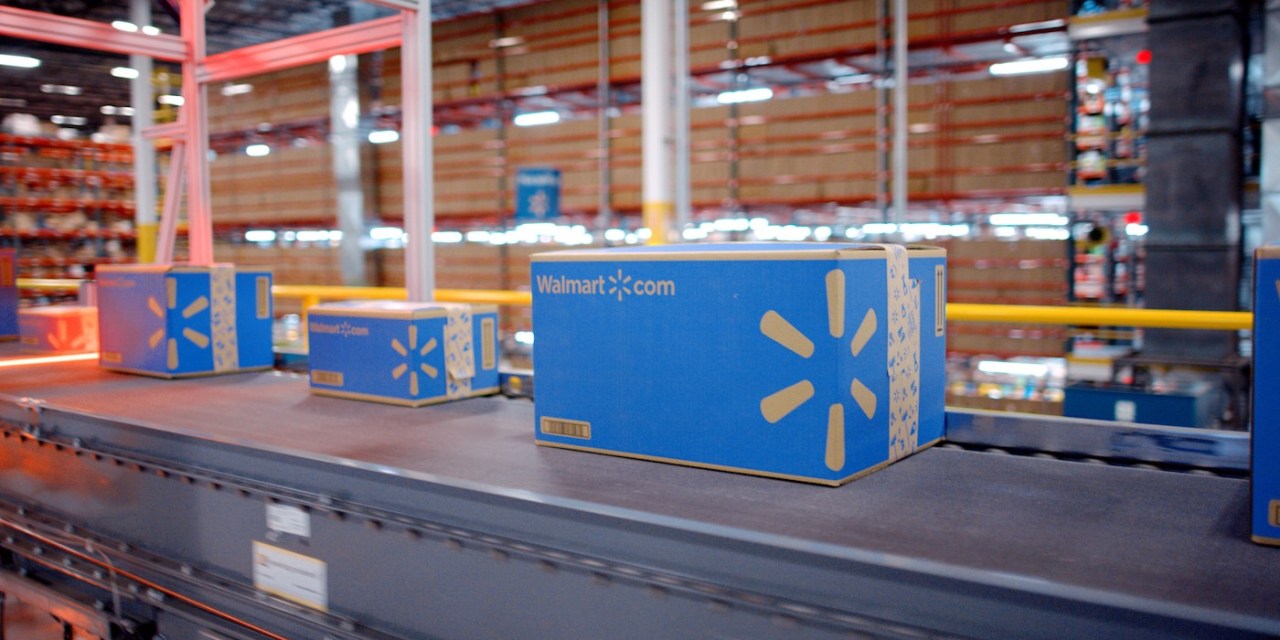 Image via Walmart
Walmart's subscription program, Walmart+, remains one of the big-box retailer's business bright spots.
The program, which was announced last year as Walmart's answer to Amazon Prime, has seen a healthy reaction from consumers. According to a Consumer Intelligence Research Partners report, released earlier this month, Walmart+ has gained between 7.4 million and 8.2 million members since it debuted last September. As of this month, 13% to 14% of total Walmart.com shoppers are enrolled in Walmart+', which offers perks like free, no minimum shipping, mobile scan-and-go, along with discounts on fuel for an annual fee of $98.
The service is expected to continue being a driver of existing and new customer growth, Walmart CEO Doug McMillon said on its most recent earnings call. "Given that delivery is a key driver of Walmart+, we need more capacity to grow Walmart+ with a high net promoter score," he said. He also confirmed that over time, the retailer will "add more benefits to the membership to broaden its appeal."
Despite the subscription program's growth, the retailer's growth began to slow down last quarter. The company reported that e-commerce sales increased by 69% in the fourth quarter of 2021, down from 74% in the first quarter, 97% in the second quarter and 79% in the third quarter. Despite the deceleration of both e-commerce and in-store sales, one of Walmart's bright spots continues to be its subscription program, which the company is hoping will help retain customers and increase online order value. 
Tom Caporaso, CEO of loyalty program provider Clarus Commerce, expects Walmart+ enrollment to continue increasing throughout the year. He noted that of 23,586 Americans surveyed, 11% had already enrolled by October 2020, according to a recent Piplsay survey. Meanwhile, 45% of Walmart+ subscribers surveyed are also Amazon Prime members, and 14% have migrated away from Prime.
With many Americans acclimated to ordering groceries and essentials online, Walmart+ has the potential to compete with Amazon Prime for users, said Caporaso. Memberships also have the added benefit of built-in auto renewal. Amazon Prime, for example, has reported a 97% renewal rate year-over-year. 
Still, the program may need to be improved. "If Walmart wants to capitalize on its quick growth and retain its customers while also gaining new ones, it'll need to expand its rewards to more facets of the Walmart umbrella," Caporaso said. Unlike Prime, Walmart+ does not include added perks like Amazon's video streaming platform. Walmart does have some competitive advantages, however, including its physical store presence across the country, along with amenities like gas stations and various equipment rentals.
Peter Hanks, analyst at DailyFX, told Modern Retail that Walmart's latest earnings also signal efforts to transform its business for the post-pandemic world. Hanks noted that its continued e-commerce sales are an encouraging step forward for the retailer, especially as it continues to duke it out with Amazon in an attempt to become the leading online retailer. "Online sales from subscribed customers will also provide insightful data, potentially helping Walmart tailor the user experiences," Hanks said. These tweaks to build on the existing membership can continue to boost average orders and drive retention as the pandemic winds down, he said. 
Given the tumultuous and ever-changing landscape, Walmart may face unforeseen hurdles down the line. "The company will have to display consistent progress before the program can be deemed a resounding success," Hanks said.