Podcasts
// January 27, 2022 ■ 3 min read
'Unapologetically loud and fun': Ghia's Mélanie Masarin on the sober curious movement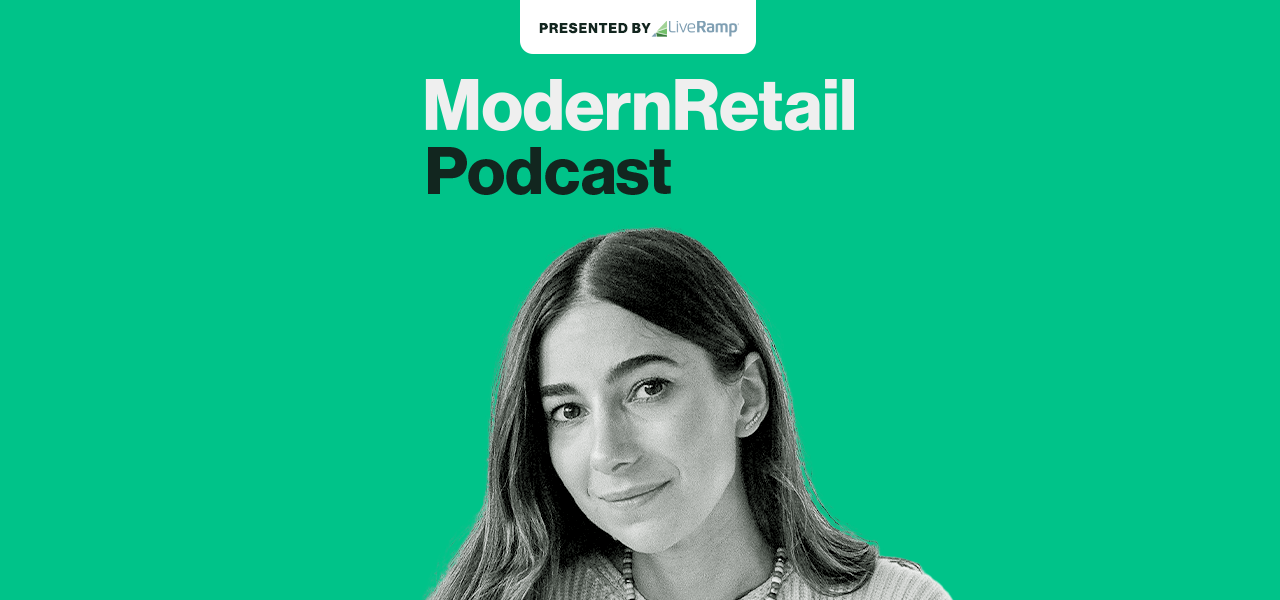 Subscribe: Apple Podcasts | Stitcher | Google Play | Spotify | RSS
Ghia is trying to make going out more fun for the sober-curious.
The non-alcoholic drink, which launched in 2020, tastes similar to a European apéritif. And, according to founder and CEO Mélanie Masarin, there's growing demand. She joined the Modern Retail Podcast this week and spoke about Ghia's journey thus far.
One of Ghia's big markers is its branding. Ghia is available in the U.S. in both cans and bottles, and has a very retro eye-catching look. This was all by design. "I really wanted Ghia to not be another pastel-colored millennial brand," Masarin said. Instead, she focused on the looks and feels of more analog iconography, like old restaurants. "We had to be unapologetically loud and fun."
This look has helped the company grow. It launched at the beginning of the pandemic, and was initially sold only online. But even so, Ghia was able to grow. Sales, Masarin said, have nearly tripled year-over-year. Now the focus is on getting more people aware of the drink. Some of that may include a foray into more physical retail stores and restaurants, she said, but that also comes with its own costs.
"Everything is more expensive," she said. "We are just being really thoughtful and trying to basically build redundancies with every single vendor that we can."
What's more, she's confident that there will be continued interest in non-alcoholic spirits. "This is not just wishful thinking," Masarin said. "I do believe there's a shift."
Here are a few highlights from the conversation, which have been lightly edited for clarity.
On making a brand stand out
"I really wanted Ghia to not be another pastel-colored millennial brand — and as someone who's coming from Glossier, [I have] the most respect for that. But I'm very inspired by brands that are cross-generational and [can] stand the test of time. And I'm very inspired by hospitality signage, which is often not designed for the internet. It's very much an in-real-life product. I feel like we have been conditioned for decades to think that alcohol is the life of the party. So I didn't want a brand that was like a lesser version of an alcoholic brand. I felt like we had to be unapologetically loud and fun, because we really wanted to compete with alcohol."
Seeking out restaurant ambassadors
"The channel that we have barely scratched the surface on is offline, and we'll be getting to that this year. Seventy-five percent of our businesses is still online, but we are on over 100 menus in America, which is really exciting given that we are 18 months old within many months of pandemic in that… We're spending about 30-40% of our marketing resources [on] reaching out to chefs and sampling the product and doing tastings. And it contributes to about 4% of our revenue. So it's very much a long-term play for us."
Ghia's retail footprint
"[We're at] Erewhon and we're at Foxtrot, and we love them both. They were really early supporters. I think Foxtrot especially has really changed our business outside of New York and LA, which we're so grateful for. And we are in Fairway as of two days ago. We're slowly but surely growing. We are still self-distributing, so that's definitely a challenge. But now that it's 2022, and we're entering our second year of life, we are actually going to be onboarding a distributor to be in more places."