Tophatter is bringing gamified commerce to the U.S.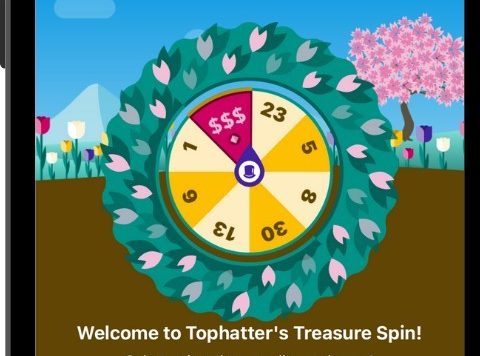 Tophatter PR
To boost engagement rates, e-commerce companies are adding games to their platforms.
It's a strategy straight out of China, which has seen many major e-commerce companies — including Alipay, Alibaba's Taobao and agricultural marketplace Pinduoduo — add mini-games to their apps over the last several years in order to draw in repeat customers.
Now a company called Tophatter is trying to take the phenomenon to the U.S. Earlier this month, live auction app Tophatter  introduced several new gaming-oriented features to its platform. It's part of a larger push, the company said, to turn the experience of visiting the app into a more engaging leisure activity. (It has pursued a gamified strategy since at least 2018.) The company's new features include one called Treasure Spin, where customers spin a wheel in order to accrue points. Those points can be spent on in-app "skins," which are special effects, like fireworks or a dancing llama, that accompany the act of placing a bid on a product on Tophatter. Or they can spend it on different virtual cards, like a "Snipe Card," that gives customers an advantage while bidding. Most importantly, some points can be exchanged for monetary rewards ranging from $.50 to $20 that are redeemable at purchase.
Gamification features along those lines are still incredibly rare in the U.S. — but given their success overseas, Tophatter is betting that there is a future for e-commerce companies that evolve to become not just shopping hubs but also sources of entertainment.
Taking cues from China
Tophatter's games are reminiscent of the mini-games that have appeared for the past few years on Chinese e-commerce apps. One of the earliest examples is Alipay's "Ant Forest," which was launched in 2016, and gives users points that they can use to plant virtual trees each time they pay for, say, public transit. Most other mini-games, however, have a more direct commerce tie-in. Since 2018, Pinduoduo has hosted the popular game Duoduo Orchard, where customers who regularly water virtual trees are rewarded with a free real-life box of fruit. In exchange for playing, customers get small discounts that they can put toward buying Pinduoduo products.
Tophatter's approach doesn't exactly mirror that of, say, Pinduoduo's. Players of Duoduo Orchard, for instance, have to regularly log in to water their tree, forming a routine. "When I think about mini games in Chinese e-commerce apps, it's actually just to get you to come back to the app," said Rui Ma, a tech analyst at Tech Buzz China.
Ma pointed, for instance, to Pinduoduo's step counter, which gives shoppers small amounts of money — equivalent to just a few cents in the U.S. — for every 10,000 steps they take. "They're very simple, and they're not meant to be amazing games you build up skill at," she said. Instead, they're meant to build repetition, plus give customers benefits that are tied to actually buying products. "All of them have the same common hook, where you can log in every day, to perform a certain action or get an award," she said.
In an email to Modern Retail, Allison Malmsten, the China market analyst at Daxue Consulting, said that, in the case of Alipay's Ant Forest, "I have observed that the game increases user stickiness," noting that users planted over 100 million trees in 2019.
She also pointed to the supermarket chain CP Lotus, which added a game to its platform in 2019, as an illustrative example of the power of a mini-game. "In two months, its sales reached 18 million in total, and consumption per person increased by 280%," she said.
A different focus
Tophatter was first launched in 2009, with a homepage that was very different from a traditional, Amazon-like search tool. On most e-commerce sites, customers type in the product they want; on Tophatter, they scroll through the available auctions, many of which see steep discounts. The company now claims around 35 million customers, up from around 20 million in 2018.
Andrew Blachman, president of Tophatter, said the company isn't interested in building a routine, so much as it wants to become a marketplace that feels more fun for customers. "We want to be the app you open up when you're waiting in the car for your kids," he said.
The new gaming features are integrated into the experience of browsing. The Treasure Spin appears at the top of a customer's feed in the Tophatter app, and the skins they win are visible to all of the bidders on a particular product. "If you have time to spare and you're looking for what to do in that time, we want to be top of mind in terms of a shopping experience," he said. "The gaming features for us are not so much around hooks that'll bring you back at a certain point in time." The company is instead looking at the use of points on the platform to measure success. Already, the company reports that about half of daily users "interact with" points.
Blachman said that gamifying e-commerce does not work for every company. The success of these features comes down to whether they fit with each company's value proposition. With Amazon or Walmart, Blachman said, customers don't log on looking to be entertained (although Amazon is trying to change that). Rather, customers want products that can be bought and shipped with ease. "The Amazon buyer proposition is super strong, but it's not about entertainment, it's about prices and fast delivery," he said. Tophatter, by contrast, has already tried to position itself as a more interactive marketplace for bidders.
The backdrop for Tophatter's new approach is gaming's overall rise in the U.S., which has pushed retailers and brands to experiment with gaming-adjacent platforms like Twitch. (Twitch has nearly tripled the number of monthly broadcasts it has hosted since 2019, bringing it up to 9.7 million monthly streams today.) In-game transactions, called microtransactions, have morphed into a multi-billion-dollar business, and over half of all gamers now say they have made microtransactions in the past year. Skins — specialty costumes or actions that are designed for gamers to show off — make up a large portion of those purchases.  
Tophatter might be one of the first companies to import a version of the e-commerce gaming phenomenon to the U.S., but Blachman said he is expecting much more to come. "We see it as early days here in the U.S.," he said. "We want to stake out our position now because more and more people are going to shop that way." He compared it to going to the mall: people used to visit malls not just to shop at a particular store, he said — but also, "a large part of it was also entertainment oriented."