To see the future of post-coronavirus retail, look to China and Hong Kong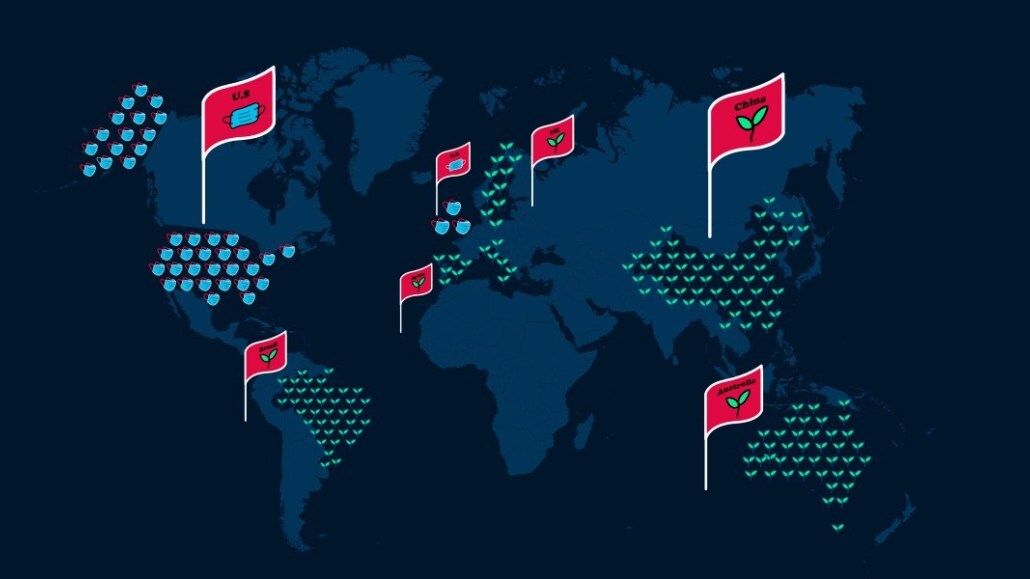 Coronavirus isn't going anywhere — but retailers in China and Hong Kong are growing more and more adept at coping with the lurches in and out of lockdown.
Hong Kong is currently experiencing its third outbreak of the disease; Chinese cities such as Xinjiang have been placed under strict containment issues to prevent spikes in infection from becoming more entrenched.  "The waves keep coming back and forth," said Tiffany Lung, an independent retail analyst based in Hong Kong, "but with each wave, we're already quite accustomed from the previous, so we're able to just trudge through."
Superficially, many aspects of retail look much as they did before, with the critical addition of compulsory mask-wearing. Conditions remain volatile and unpredictable, she said, but people increasingly want to get out and spend: retail sales in June were down 1.8% year-on-year, compared to 2.8% in May.
With the US.. still very much in the clutches of the pandemic, it's hard to imagine what a return to normal could look like, let alone an entirely new normal. But retailers in China and Hong Kong, which have both been in some stage of reopening for a matter of months, have managed to tease out some kind of normalcy — using a variety of new, old and updated tricks. All the while, they're likely leading the way for the rest of the world. 
Getting customers to spend again
With little clarity about how much longer the pandemic may last, customers are loath to start flashing their cash, particularly when it comes to luxury purchases or other big ticket items. "We're talking about maybe half a year to one year, before recovery can come, so basically customers are planning ahead, and they're reflecting that in their purchases," said Terence Ng, a Hong Kong-based retail analyst for Tofugear. 
To encourage spending, retailers are turning to a raft of different strategies, including vouchers, discounts and experiential offerings. Chinese local governments have actively worked with internet giants such as Tencent and Alibaba to develop online vouchers and coupons, amid other promotions to bring in customers, said Lung. "The government works with their e-commerce platforms to try to offload these deals and pass on the savings to the customers, so in this way they will be more enticed to be spending at different retailers, at different establishments and so forth," she explained. Beijing's own scheme has so far cost the local government 12.2 billion yuan (about $1.71 billion). Other outlets have simply bitten the bullet and established deep discounting. With dine-in retail currently suspended in Hong Kong, restaurants are offering cuts of up to 50% on take-out, said Ng. 
Experiential retail is back, too, with safety measures in place. Brick-and-mortar stores in Hong Kong and other Chinese cities have long looked to experiential offerings to draw in customers, including high-tech flagship stores and other flashy pop-up offerings, such as interactive gaming. These are also back, said Lung, albeit with mandatory temperature checks and other public health initiatives. "Instead of just walking in and experiencing the pop-up, you have to book a time slot in advance to visit, to limit the amount of people that there are," she said.
Other retailers have turned to social media-friendly gimmicks, reeling shoppers in by capturing the current mood. Some Hong Kong bakeries featured PPE into the designs on their bread or cakes, including human figures wearing masks, said Ng. While he doesn't know the precise sales figures, they appear superficially very popular, with shoppers snapping photos of these pandemic-chic pastries, he said: "It definitely creates quite some noise on the social media platforms."
Instead of aggressively hawking goods, some retailers have shifted to a softer marketing approach, communicating solidarity and even love for struggling consumers. "If you communicate to consumers that you're with them, and you're making sure that they're safe when they're shopping, it's quite a good way to stay relevant in terms of brand loyalty," said Ng. Companies, such as the multibillion dollar Erdos group — known for its cashmere — have made large donations to support healthcare workers or provide PPE, vice president Feng Hua Song told McKinsey.
A flexible approach
Other retailers are working to fulfill the needs of shoppers in whatever way they can, including taking on products outside of their usual mandate and upping their delivery options. 
Stores considered more specialized have expanded their product offerings; health and beauty retailer Watsons, which has thousands of stores across Asia, is one of the many now selling packaged foods, said Ng; "To adapt themselves to the pandemic, they are also selling some groceries, for instance, they're selling rice, noodles, even chips." 
Others have focused their attention on making it easier for customers to obtain their goods and delivering better online service. Home appliance retailer Suning, for instance, asked salespeople from 1,000 stores across China to work online. WeChat has also been put to use as an online sales tool, while smaller retailers have turned to streaming and short-form videos to sell products. 
Many smaller businesses have partnered with established third-party delivery platforms rather than develop their own, said Lung. "Supermarkets in Hong Kong that did not have an online presence," he said, often partnered with third-party logistics companies like FoodPanda. "While people were not going out and there was lots of rationing going on," he said, "[this was] the quickest way for them to create an online presence with the logistics covered."
Unmanned retail has also grown in popularity. Starbucks is among the retailers to introduce contactless pick-up, where customers can order via mobile to minimize contact and allow a swift transaction. Meanwhile, "smart courier cabinets"  — a kind of locker from which customers can retrieve their goods — have proven exceptionally popular with customers during the epidemic, according to a report from Kearney: "Among the fresh-food e-commerce retailers, Suning Caichang, which primarily focuses on the self-pickup model, doubled its user base in Nanjing and Shanghai, achieving six to eight times more in sales."
Exporting the model
U.S. retailers have already taken some of the same steps as their Chinese equivalents, including embracing contactless options and broadening their items. Without China's extensive mobile payment infrastructure, however, the US may struggle to replicate such success stories as its government-aided voucher scheme or local equivalents to WeChat's selling platform. Other key developments such as streaming video as a way to drive sales are yet to make significant inroads with US customers.
Still, China's current state of play may serve as a blueprint of sorts for the U.S., as it learns to manage the surges of infection ahead of a vaccine becoming readily available. But if recovery is a year off for China, it's still more distant for the U.S. — giving China still more time to get even further ahead.