The pandemic could have helped Barnes & Noble beat Amazon. That's not what happened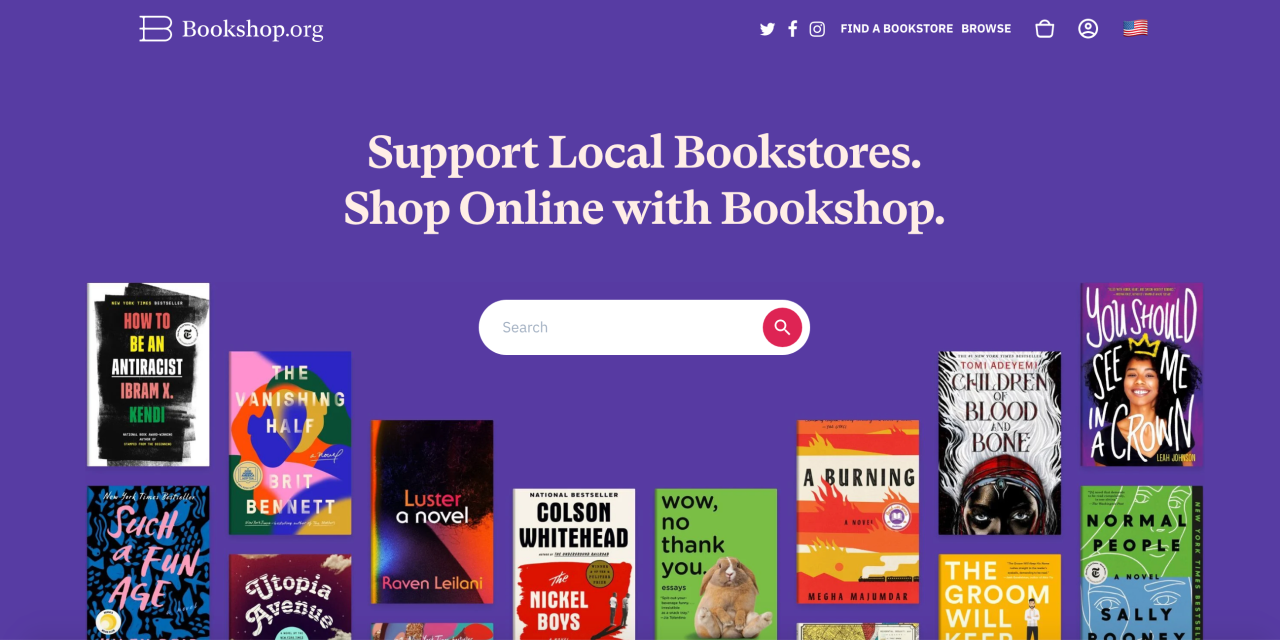 Bookshop.org
The pandemic was independent bookstores' time to go up against Amazon.
In March 2020, Amazon — which controls around half of all book sales — began prioritizing only the most essential shipments because of a rush of orders at the beginning of lockdown. As a result, books fell to the end of the priority list; some book orders took months to ship.
That could've been a moment for another major bookseller, like Barnes & Noble, to step in and make its pitch to book buyers. Instead, Barnes & Noble saw a slide. Despite being private and not disclosing quarterly sales, the company recently said that revenue was down 50% in major cities, driven in large part by a collapse of its physical stores. Many Barnes & Noble locations are in malls, which faced significant declines in foot traffic. In some ways, it was a case of bad timing: in the months before the pandemic, Barnes & Noble had invested significantly in revitalizing its physical stores. And it wasn't ready to make the e-commerce jump.
In its place, book sales moved to big retailers like Costco — as well as to new online channels. An online bookselling challenger to Amazon called Bookshop.org rose out of obscurity. Before then, Bookshop, which launched with the support of the American Booksellers Association in January 2020, had attracted only a small amount of attention. But small booksellers were trying desperately to set up their own online stores to deal with lockdowns. Customers and booksellers alike turned to Bookshop, and its share of the print market rose from virtually nothing to 1.6% of all online book sales in the U.S. in April, according to data from the industry research organization Codex Group.
Bookshop pitched itself as an anti-Amazon challenger — an e-commerce company created in partnership with indie bookstores that intends to share profits with them. A year in, its market share in the book business remains minuscule, but the fact that it has made an impact at all is notable. Meanwhile, players like Barnes & Noble, which got caught flatfooted during the pandemic, are now rebranding themselves on the model of independent bookstores.
Now, as of February 2021, Bookshop accounted for 1.1% of all online book sales in the U.S. (When broadened out to all book sales, including in-person purchases, that share was .4%. A total of 750.9 million print books were sold in 2020.) It's a tiny number compared to Amazon, which had 65.5% of the online print market last month.
But the share of the market that Bookshop has achieved in a little over a year is notable if only because "it's really hard to start a new online seller," said Peter Hildick-Smith, president of Codex Group. He added, "This is a pretty mature retail category in which shopper format and retailer preferences are quite well established."
Barnes & Noble's missteps
While Bookshop's prominence rose during the pandemic, Amazon's biggest challenger in the books space, Barnes & Noble, has floundered.
Prior to the pandemic, B&N's annual sales have steadily declined since 2012, dropping from $4.16 billion in 2016 to $3.55 in 2019. As losses continued over the past year, that extra market share seemed to flow toward big-box stores, indie bookstores with a strong e-commerce premise, as well as to Bookshop.  
"Right before Covid, there was a resurrection of the independent bookstores," said Barbara Kahn, a marketing professor at the University of Pennsylvania who studies retail. Even as Barnes & Noble struggled, independent bookstores saw their marketshare increase before the pandemic, she said.
Coming out of the pandemic, B&N seems to be re-committing itself to the localized strategy — which involves encouraging, for instance, booksellers to feature books according to the community they serve, rather than the rigid standardization the company had previously attempted. Kahn said she sees its future, at least in the best-case scenario, as taking on the approach of a Lululemon — a large, national chain store that, she said, captures a sense of local zeal.
"Lululemon's model is a decentralized yoga shop in town," she said, noting that Lululemon hires local gym trainers as brand ambassadors and displays local art in order to ensure that "each store is very community-minded." She said, "That would work for B&N if they can get their act together."
How smaller bookstores stayed afloat
Actual independent bookstores, meanwhile, are increasingly investing in their own e-commerce storefronts off of Amazon. Last year, Oregon-based Powell's announced it would stop selling on Amazon, instead funneling online sales predominantly through its own online store.
Smaller bookstores, meanwhile, have increasingly turned to Bookshop for help. On the front end, Bookshop looks a bit like Amazon: customers search a book, select a bookstore to buy it from, and process their payments all without leaving the site. Bookshop handles the shipping and fulfillment — but when a customer places an order on Bookshop, indie stores can earn 30% of the list price of a book. In exchange, those bookstores direct customers to Bookshop's site for e-commerce orders.
Bookshop generally works most closely with the smaller bookstores that don't necessarily have the money or staff to setup and maintain a sophisticated e-commerce business. During the height of the pandemic, "it provided an additional revenue source for smaller sellers that didn't have the funding the capital to build their own online platform," said Hildick-Smith. The large and medium-sized indie bookstores, by contrast, often don't use Bookshop to the same extent, because they have the resources to set up their own e-commerce stores, and "they didn't feel the need to play and they didn't feel the need to export any revenue or profit," he said.
Bookshop is not without its critics. According to a report in the New Statesman in December, some booksellers say that, when one of their customers buys from Bookshop, they make 13% to 20% less than if the customers purchased directly from the store. Bookshop is certainly more friendly to bookstores than Amazon is. But the concern from the booksellers interviewed by the New Statesman is that the average Bookshop customer is someone who is already concerned about supporting indie bookstores — and instead of buying directly from that store, buying from Bookshop gives the stores less profit.
Still, small stores seem to be taking to it — and even after a year, so are a small set of customers. "I do think Bookshop.org is here to stay," said Hildick-Smith. (But he noted that, for the time being, its influence will likely stay "constrained to the smaller indies" because "the bigger ones do have their own platforms.")
One reason for this shift might be that the rosy perception that book buyers have had of Amazon has begun to slip over the past year, according to his research. While customers still view Amazon far more favorably than all of its competitors, its favorability has dropped "at a fairly good rate." In the eyes of book buyers, "at the end of the day Amazon has indeed lost a lot of their infallibility," he said.