The coronavirus is accelerating Foot Locker's plans to move its stores out of malls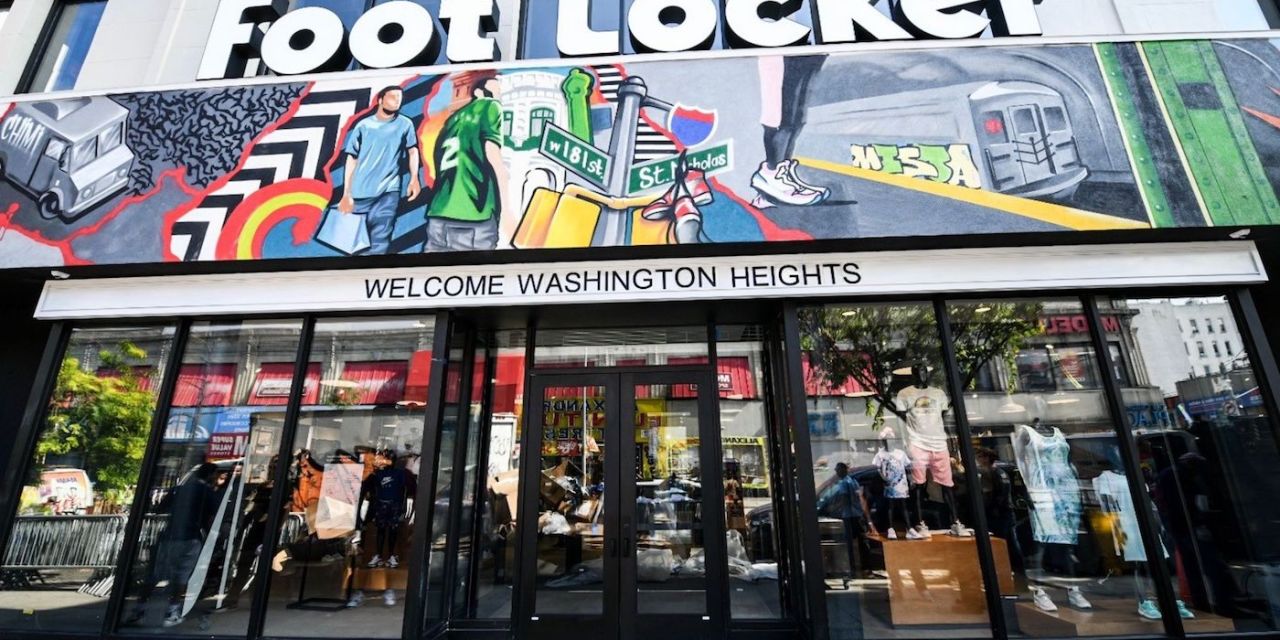 Foot Locker has long been a staple of the mall, with an estimated 80% of its stores being located in malls as of 2018. In the golden age of the mall, that presence in shopping centers was valuable, particularly during high traffic periods back-to-school season. But, with fewer people turning to malls do to their shopping, Foot Locker has been looking to move more of its stores out of enclosed shopping centers.
Now, the coronavirus is accelerating those plans, CEO Dick Johnson said during the company's first-quarter earnings call. Foot Locker's strategy for the past two years has been to open more Power Stores, its name for its off-mall stores. These stores are four times the size of a typical Foot Locker store in the mall, and are meant to serve as community events centers in addition to stores. But right now, in-store events are out of the picture, and larger store formats could risk losing the company more money if customers aren't showing up.  So Johnson said that the company would also be looking into more "nomadic retail, or pop-up retail."
Foot Locker has had to rethink its physical retail strategy over the past couple of years, not only to lessen its reliance on malls, but also to give its customers new reasons to visit the store. As some of its most important vendor partners like Nike and Under Armour invest more in their own direct-to-consumer businesses, Foot Locker can no longer rely just on goods from vendors in order to get more customers in-store. So it's been trying to instead position its stores as being hubs of sneaker culture, where shoppers can attend events, find products from local artists, as well as browse products designed from that market from important vendor partners like Nike. That was the goal of the Power Stores — of which Foot Locker planned to open 20 of in 2020.
It's also worth noting that, moving its stores away from malls won't totally be a panacea. Foot Locker doesn't break out how many of its sales come from e-commerce. But, net sales were down 43.4%, a clear indicator that Foot Locker's investments in e-commerce aren't anywhere close to offsetting the company's store sales declines.
"Generally, Foot Locker needs to make its digital experience more engaging," Neil Saunders, managing director of GlobalData Retail said in an email. "The current site works well but it can be overwhelming as it focuses on displaying volume rather than showcasing product and creating a great experience."
Roughly 1,400 locations or approximately 45% of Foot Locker's store fleet are now reopened, Johnson said. Of the stores that have re-opened, he said that the company's street-level locations are by and large performing the best, while stores in locations that depend heavily on tourist traffic are performing the worst.
"One of the things we've learned is that when malls go away, the customer in that mall doesn't go away," Johnson said. He also said that the company has found that off-mall shoppers "are not direct to consumer shoppers, they're a higher propensity of cash, [and] not necessarily willing to have product delivered to the front door," which he believes puts Foot Locker in a good position to win them over.
He added that Foot Locker's ability to recapture customers in opening off-mall stores depends on "how quickly the competition that might be in a mall either makes their decision, or leaves the mall, or closes."
That does present one potential problem for Foot Locker — and all mall-based retailers — as the coronavirus is expected to lead to the permanent closure of some malls. That could lead to a rush of retailers battling for the most lucrative spots in a select few number of strip malls.
Saunders hat the current crisis has also highlighted Foot Locker's over-reliance on footwear, and that when it's in a place again to reinvest more in stores, "investing in some of the existing stores to make sports apparel more of a focus will be important," as will be "adding in better departments for women in some stores."
"Its store strategy has been blown firmly off course," Saunders said.