Target is increasing its health and wellness offerings with help from DTC brands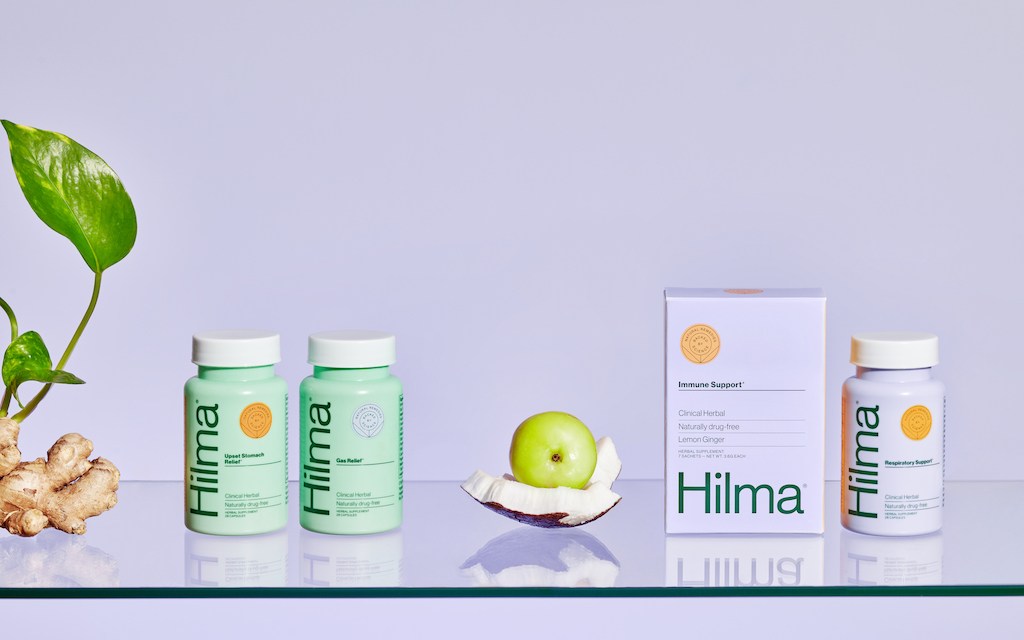 Image via Hilma
Target is rapidly expanding its health and wellness offerings with the help of digitally native brands. 
In recent weeks, Target has added multiple wellness-focused DTC brands to its shelves. They include vitamin brand Care/of, feminine care brand Proof and Sugarbreak, a gummies supplement aimed at curbing sugar cravings. And this week, medicine cabinet-focused brands Hilma and Beekeeper's Naturals launched in Target stores and on Target.com.
Collectively, these partnerships signal a major foray for Target into the alternative health and wellness category. The retailer has partnered with numerous DTC brands in the past, but mostly in other departments, like beauty and grooming. Now, with other retailers targeting startups that fit their merchandising goals, Target is expanding these partnerships into new categories.
Hilma, which is launching at 750 Target stores, will be featured in the over-the-counter (OTC) aisles — specifically the cough & cold and digestive section. Target's in-store Hilma assortment will include four products, with plans to have all of the company's eight products available online in the coming months, according to the company. The in-store assortment includes the recently-launched Gas Relief and Respiratory Support products, along with two of the brand's best-sellers: the Upset Stomach Relief and Immune Support. With so much focus on health at the moment, introducing people to more OTC alternatives is timely, said co-founder Hilary Quartner.
Hilma's products will sit next to national brands like Sudafed, Tums and Pepto-Bismol, co-founder and chief brand officer Lily Galef told Modern Retail. "From a marketing perspective, it was very important to us to be merchandised in this aisle, rather than the beauty or vitamin aisle," she said. Galef said that the company wants to reinforce the products' immediate relief promise, as opposed to being perceived as a supplement or vitamin brand. 
Target has long been the ultimate goal partner for the brand, Galef said. When the retailer approached the DTC startup, "the decision was a no-brainer."
Recent growth likely piqued the big-box store's interest in the brand. Hilma's sales have nearly tripled quarter-over-quarter since launching at the beginning of 2020, "so there's strong momentum heading into this partnership," Quartner said.
This week also marks the Target debut of Beekeeper's Naturals, which makes Propolis-based cough and cold remedies. The launch will feature the brand's best-seller — the B.Immune Propolis Throat Spray — in over 500 Target stores across the country, as well as on Target.com and the Target Circle App, said founder and CEO Carly Stein. Customers can find the spray in the cold aisle next to other immune-supporting products, like gummies from Olly, Airborne and Emergen-C.
This is the company's first foray into a major physical channel, Stein said. For the Canada-based company, moving into Target presents an opportunity to expose more consumers to its concept. "This is huge in helping share our nature-powered medicine with as many people as possible," she said. 
Another health-focused brand Target recently added is Sugarbreak, which makes non-prescription supplements for blood sugar management. The company's line will be featured in the health test and diabetes care section of every Target store, co-founder and CEO Scarlett Leung told Modern Retail. The gummies will sit alongside blood glucose monitors, at home diagnostic tests and protein shakes. The company will sell six different products at Target, including the original adult line and the newly-launched kids line.
This presents a chance for the company to help "create a new category of natural products for blood sugar, which are traditionally managed through pharmaceutical drugs," Leung said. Sugarbreak's Target shelf presence will feature a customer information box for passersby and browsing customers.
Sugarbreak launched via its own website and on Amazon last September, but this is its first physical retail foray. "We've seen significant growth month-over-month," said Leung. "Now, with our retail rollout, the business has multiplied overnight, which is very exciting and rare to see at this early stage." 
Meanwhile, in the past month, DTC period underwear brand Proof debuted at Target. Proof's founders also operate shapewear brand Belly Bandit, which is also available in Target's undergarment section. "We've been working with Target for years, so we're excited to move in their feminine care aisle," said Proof co-founder Jodi Caden. 
Increasingly, larger retailers are seeking out partnerships with hip and growing DTC brands, said Mohit Mohal, managing director at Alvarez & Marsal Consumer Retail Group. For example, Walmart continues to aggressively court digitally-native brands, especially in the beauty and personal care departments. Meanwhile, Amazon has also managed to attract DTC brands in launching storefronts on its platform. 
This isn't a new strategy at Target. Over the last few years, Target has started tapping personal care DTC brands, said Mohal. "It began with collaborations with brands such as Quip and Harry's," he said. "More recently, the focus shifted to the clean beauty and skin-care categories." Some of Target's recent launches in this space include skin-care brands Cocokind and Megababe.
Now, the big-box store is looking to new, young companies to revamp other aisles, including the health and wellness section, he said.
"Specific categories — including health and wellness — are especially primed to be disrupted by newcomers at this time," Mohal said.
For the startups, a big-box partner means quicker national expansion — and customers seem to be responding. Hilma co-founder Nina Mullen said that "this consumer interest shows no sign of slowing down."