State Bags plots brand refresh in time for back-to-school shopping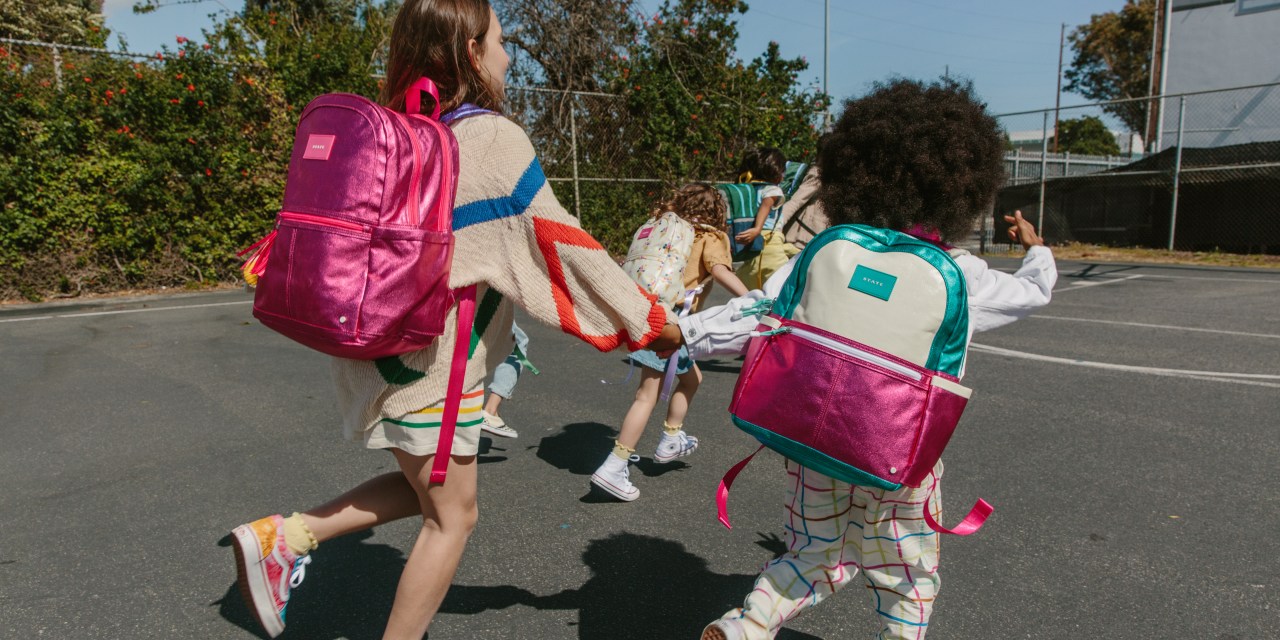 State Bags
This back-to-school shopping season, direct-to-consumer brand State Bags is going for a refreshed look.
State Bags — which sells backpacks, totes, fanny packs and luggage — is rolling out a brand refresh which includes a new website, photos, logo and a new tagline. The company also ventured into a new marketing channel along with the refresh, sending out direct mail catalogs for the first time.
Its 2022 effort marks State's first brand refresh since 2016 in a bid to redefine the brand's image and be inclusive of different family dynamics. The initiative comes around the same time as the back-to-school shopping season, which State describes as its "Super Bowl." State's back-to-school sales have doubled in 2021 from 2020 and is projected to more than double again this year.
In addition to the brand refresh, State is also launching a new back-to-school collection, which will be available by July 7 on the company's website and in some of its physical retail partners, like Nordstrom and Maisonette. It also just recently released its travel collection in collaboration with LoveShackFancy.
"The brand has evolved quite a bit, not only on the business and product side but also our mission has evolved," said Jacq Tatelman, State Bags CEO and creative director. "We did start as a backpack company, but we have evolved very proudly into a family lifestyle bag company." 
The company was founded in 2013 by a husband and wife duo with a mission to donate a backpack to American kids in need for every backpack sold. As the brand has expanded to include other merchandise, State's mission has evolved beyond the one-to-one model and expanded to donating to American families and kids in need "in the ways they need it most" for every product sold. State said its revenue has grown over 100% year-over-year in 2021.
To match the company's new mission, the company has changed its tagline from "Give.Back.Pack" to "The Giving Company." In addition to the company's website, State products can be found in retailers like Target, Bloomingdale's and Saks Fifth Avenue. 
Meghan Holzhauer, State's chief marketing officer, said that the company began initiating the brand refresh late last year. Just recently, the company launched the full brand identity online, including all the changes in the font, color palette and the art direction. 
"Our visual identity and our messaging, up until this refresh process, didn't fully allow us to share our story and really who we are," Holzhauer said. "Being able to really hone in on what our look is, that really is a demonstration of who we are as a brand. It's really game-changing." Initially, some of its photos were based on what creators would send the company as well as studio shoots and its color pallet was more muted tones like black and cream with a pop of navy and gray. Now, the company has photos from on-location photo shoots that showcase the inspiration behind the bag. Its new color palette now includes various shades of green to symbolize how the company works with recycled materials.   
Holzhauer said the company will be updating its website in a few phases this year, starting with a reskin featuring some of the design updates. After that, the company plans to hone into personalization on its website, such as having a personalization landing page.  
The brand's new identity will also be highlighted in its new direct mail marketing strategy. State launched its first direct mail campaign in April to highlight its spring collection and new brand aesthetic. The company said this initiative builds on its other marketing efforts like its email and SMS programs, and it also allows the brand to reach a new segment of consumers who may not have purchased products with State in the past couple of years. 
"Print is a very effective tool for driving up repeat purchase, revenue per customer," Polly Wong, president of DTC marketing agency Belardi Wong. "In order to have a high growth business, you have to be marketing in all channels: online and offline. It can't all be online. When you contact consumers across channels, you increase their response rates."
DTC brands, Wong said, are seeing diminishing returns in their digital marketing efforts because the channel has become more competitive, saturated and expensive. Other DTC brands like furniture seller Article and bedding brand Brooklinen have both said that the marketing channel was an essential part of their advertising strategy.  
A brand refresh, like that of State's, is necessary to reinvigorate people's interest in a company, Wong said. However, some of the major risks of any sort of rebrand include the possibility of alienating core customers and failure to execute the brand messaging across all channels, she added.
"One of the definite trends we've seen emerge in the last five years even before the pandemic is that consumers want something fresh," said Wong said. "That's why you've seen so many of the legacy brands struggle. It's because consumers want something new."