Startups are feeling the heat over rising raw materials costs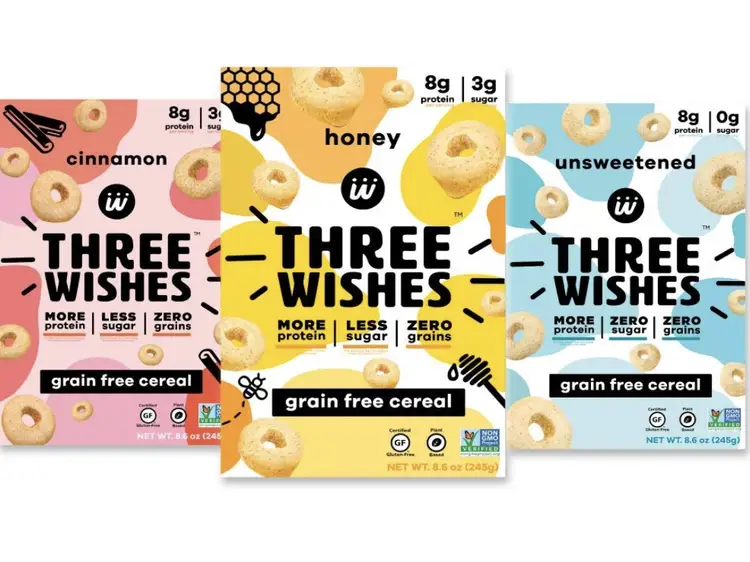 Image via Three Wishes
The rising cost of raw materials is forcing brands to make hard choices.
When producers announced an increase on paper last year, Three Wishes cereal was finally forced to raise its prices from $5.99 per box to $6.99. Co-founder Margaret Wishingrad told Modern Retail the decision was a last resort, and made after months of attempting to eat increased production and distribution costs. 
"Since we're targeting the millennial family and competing with other premium cereals on the shelf, an accessible price point was always important for us," she said. Before announcing the increase to retail buyers — Sprouts, Whole Foods Market and Wegmans — Wishingrad said the startup tried exploring different packaging and transport methods. "But with air-filled cereal boxes, you can only pack so many on a truck." Warehousing logistics and freight costs have also increased, thanks to high demand and major delays during the pandemic. This time last year, the company's cross-country freight costs were $3,000 per truck. "Now it costs us about $10,000," Wishingrad said. 
What Three Wishes experienced wasn't an anomaly. Many of the raw materials that startup food and beverage brands rely on have risen in price. According to the World Bank's most recent Agricultural Price Index, prices of agricultural commodities increased more than 9% in the first quarter of 2021, compared to the previous quarter. Overall, rates are currently 20% higher compared to a year ago — an almost seven-year high. Similarly, the prices of metals — including copper, tin and iron ore — reached 10-year highs in March, according to the World Bank's Haver Analytics. 
Kenneth Barry, retail associate partner at Infosys Global Consulting, said that brands that are experiencing a rise in costs of materials often have to cut costs elsewhere. This includes marketing spend and potential new product releases. The other option is to pass the costs on to customers — but some brands are hesitant to do that out of fear that they might alienate price-conscious customers. 
Overall, commodities' costs are expected to stabilize by the end of the year. However, upstart brands still have had to make some changes based on current rates. 
To avoid any more surprises on the production side, Wishingrad said Three Wishes is increasingly placing orders ahead of time. The brand is also stocking up on certain hard-to-source or trendy ingredients, like monk fruit and pea protein. "Chickpea production is often adjacent to soy, which is at a five-year high," Wishingrad said. "But I'm hopeful packaging costs will go down."
Cutting costs elsewhere
Material costs are causing growing pains for other packaged goods brands. In the past year, beverage startup Swoon has faced challenges sourcing everything from aluminum cans to monk fruit — the main ingredient in its zero-sugar simple syrup.
The brand launched in 2015, and has since expanded to canned drinks and cocktail mixers. Since last summer, Swoon has seen both the materials for its packaging and ingredients for its recipes rising in costs, said head of supply chain Andrew Guard.
Raw materials such as fruit and sugar are usually purchased on a harvest cycle-based contract. This means that companies like Swoon negotiate new prices annually, which are then in place for the entire cycle, Guard explained. "So while they've been fixed, we expect rates to increase by the fall." 
To keep overall costs leveled and avoid raising retail pieces, Swoon's R&D team has gotten creative with sourcing. "Our strategy is to eat costs where we can, because we believe this will pass," Guard said. For example, lemon juice for Swoon's lemonade line is increasingly being sourced from South and Central America, Guard said, as opposed to solely relying on its U.S.-based citrus suppliers.
On the packaging front, sourcing glass and aluminum has been a challenge over the past six months. "Finding enough quantity of our uniquely shaped glass bottle has been tough," Guard said. Aluminum cans — which Swoon uses for ready-to-drink lemonade and teas — have also had a shortage in North America, with manufacturers putting customers on allocations. "Luckily, we have a broker who has a strong relationship with overseas suppliers," Guard said, who has helped them secure enough cans.
Furthermore, paper supply is constantly fluctuating "by the week," Guard said. Last October, four of the U.S.' largest containerboard and corrugated box companies announced price increases of 8-11%, which took effect in November.
These costs have resulted in Swoon losing some points on gross margins. However, Guard said the company is communicating with retail partners — including Whole Foods and Wegmans — to keep prices stable. "We want to work with them on a fixed margin to avoid passing the cost onto the customer," he said. The company has implemented order quantity minimums, giving retailers that request less than one truckload a longer lead time — an increase from one or two-day delivery to six or seven days — Guard said. 
Innovating out of necessity
Another beverage brand that's grappling with its ingredients becoming more expensive is DTC electrolyte mix Hydrant. Specifically, similar to the other brands, monk fruit has gotten more expensive over the past year. "We've felt the ebb and flow of the supply chain," co-founder John Sherwin told Modern Retail. "Currently, we're being squeezed across packaging, ingredients and even manufacturing capacities," he said.
To retain customers who buy its products on a subscription basis, Hydrant isn't planning to raise prices. However, the company is making changes around packaging design and R&D strategies. To keep the product taste consistent and improve profitability, "we've modified recipes by combining cane sugar and monk fruit in some SKUs," Sherwin said,
Hydrant's beverages mixes and juice powders are made of real fruit juice that's been dried, which it sources on a seasonal basis. "Our suppliers tell us what to expect in terms of pricing, based on the upcoming harvest," Sherwin said. "So signing long-term agreements is one way to keep prices fixed."
Though long-term agreements can help stabilize costs, direct-to-consumer startups won't be stuck in this reality forever. Historically, material inflation tends to be cyclical, said Chris Tang, professor at UCLA Anderson School of Management. "It will likely stabilize as demand subsides."
With that, these brands will just have to wait. Assuming vaccinations are effective long-term, the rates of logistics and raw materials — like paper and aluminum — will level off. "After all, there is only so much toilet paper people can use," said Tang.