Office clothing brands face a bleak future where nobody goes to offices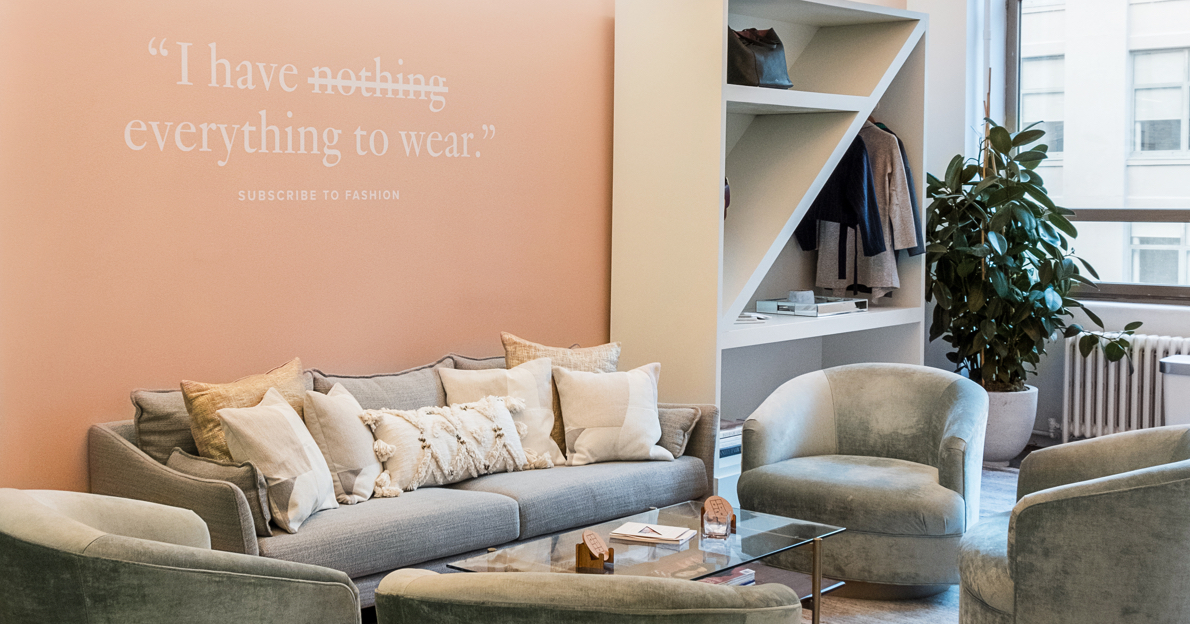 Rent the Runway
Rent The Runway's woes are a harbinger of things to come.
The apparel rental platform announced last week that it discontinue its unlimited-clothing rental program. Instead, customers would have to choose a select number of items they can rent per month, maxing out at 16. It's a notable change, given such an option was core to Rent The Runway's offerings for the last seven years. As the company's chief merchant Sarah Tam, told Glossy in an interview last February, the option "got customers interested and, to be honest, it got brands interested as well."
Overall demand for both formalwear and workwear has plummeted. Menswear arrivals online have dropped 5% since July and womenswear went down 10%, according to Edited. Looking at Google Trend, search interest in Rent The Runway cratered the first month of March and continued apace until now. Meanwhile, since that same period, the company's job listings growth took a nosedive, as did its App Store ratings growth, per data from Thinknum.
It's an industry-wide phenomenon. "When you look at what's happened this year in terms of changes in growth," said Neil Saunders, managing director of GlobalData Retail, "clothing as a whole has shrunk dramatically." According to numbers from the U.S. Census Bureau, clothing sales were down 20% this past August year-over-year (although spending has been slowly resuming month-over-month).
And it may spell the end for certain brands and platforms that sell only that kind of apparel. A number of companies have built their entire business by selling clothing for nice events. J.Hilburn, which sells customs menswear, filed for bankruptcy last June. Ditto Ascena Retail Group, which owns Ann Taylor and Lane Bryant, last July, adding that it will close 1,600 of its 2,800 locations.
"It doesn't matter who is servicing that demand," said Saunders, "it could be a department store, it could be subscription — anyone who touches on formalwear will hav seen a start downturn," he said. "It doesn't seem to be getting any better."
"When few workers are going into the office, traveling or attending events, there is not really a need for workwear," wrote Sucharita Kodali, principal analyst at Forrester, in an email to Modern Retail. "The delays in the wedding and graduation space have reduced the need for formalwear." Indeed, numbers from Edited show that suiting and tailoring — as part of retailers' overall autumn assortments — fell by 14% year-over-year.
All of these companies in this retail space have been in trouble for months, she wrote, "and will continue to be as there is no clear end to this pandemic in sight."
That puts newer brands that have catered to young professionals in a bind. They can either wait and pray for the pandemic to end; "preserve cash, keep inventory in a warehouse for the foreseeable future," wrote Kodali.
Or they could try a product pivot. But such a business repositioning would be hard, to say the least. A company like Rent The Runway makes expensive, rarely-worn items more accessible. Conversely, more leisure-focused apparel — which is one area that's seeing an increase in demand — is less expensive and worn more regularly. "You can't do the same with casual wear," said Saunders. "[Consumers] don't rent it nearly anywhere as much as formal."
It presents a big question mark — both for large stores that long relied on selling and renting out nicer items, as well as growing startups. Rent The Runway's consolidation of offerings is just the beginning.
"If we are not going back to work in the way that we did," said Saunders, "that opportunity in the longterm dries up."