Q&A
// February 17, 2022 ■ 4 min read
'New York will always be our flagship': Stadium Goods remodels Soho store to highlight apparel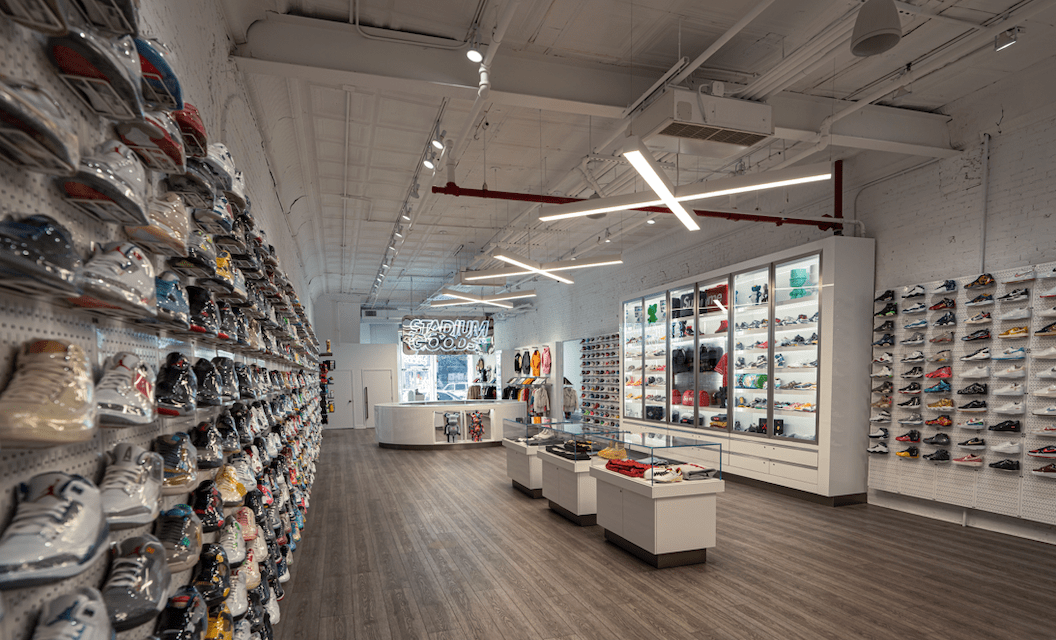 Stadium Goods
Stadium Goods is openings the doors to its newly renovated and expanded Soho store this week.
The now-2,860 square feet store features a modified 360-degree circular cash wrap, a fitting room, a "Sock Bar" that showcases a wide selection of socks and a newly upgraded "Trophy Case" — its public collection of rare sneakers. Additionally, Stadium Goods expanded its space dedicated to apparel with a particular focus on its owned brands, Stadium Goods and Stadium. 
Stadium Goods was founded in 2015 specializing in reselling sneakers and streetwear, but over the years, began expanding its offering to include apparel lines — a shift the company wants to reflect in its physical stores. Farfetch acquired the company for $250 million in 2018, but doesn't break out Stadium Good's revenue in its earnings.
"This was really always a part of our initiative to add additional footprint to our retail space for merchandising purposes," Phung Truong, Stadium Goods' vice president of retail and geographic expansion, said. "We're really big on just storytelling and merchandising plays a huge part in of course the customer and retail experience." The company first opened its Soho location in 2015, then opened its Chicago store in October of 2020.   
Truong spoke to Modern Retail about how Stadium Goods' store expansion plans embody the company's strategic direction. This interview has been lightly edited for length and clarity.
The store renovation came 18 months after Stadium Goods opened its Magnificent Mile location in Chicago. Why is it that you're betting on physical stores?
Retail has always been a huge part of the Stadium Goods DNA. Our 47 Howard Street [location] was our first brick-and-mortar store when the company first started. It's where we not only [meet with] our retail customers but also [took in] pieces for consignment. 
Community is a really big part of what we do. And I think we always want to make sure that we're in touch with our community, and there's no better way to do that than having a physical touchpoint.
What opportunity do you see in providing these new in-store experiences?
For sure the biggest one is to tell the story of our Stadium in-house brand… and being able to give it that merchandising effect that we know the consumers are looking for. We're adding a fitting room for the first time ever, which of course represents our expansion and moving into that apparel world so that our customers can try on the product especially our new apparel as we expand that.
What we really want to do is optimize that in-store experience for our customers and give them something that feels different, that feels elevated and premium because we pride ourselves in being the premium destination for sneakers and streetwear.
Socks are also a huge part of our apparel line. We have these really comfortable fun colored socks and we carry them in over 50 colors. We really wanted to create something that was interactive for our customers… so you'll see our Sock Bar there.
We really just wanted to continue to expand [our sock] offering and really be able to merchandise our apparel as well as other collectible pieces that are an important part of our business. 
Why did Stadium Goods decide to expand merchandising space for apparel and put a particular focus on its owned brands?
At the end of the day, our Stadium brand really represents the evolution of Stadium Goods. For us, it was a really huge launch last year in March because we always knew that there was an intersection between luxury and streetwear. I think that's become more prevalent over the last few years when you see those worlds merge together. 
Understanding our consumers, we want to be able to give them what they're ultimately looking for. I think what we really set out to do with Stadium is continue to be that one-stop-shop.
What role do you think this specific store has for Stadium Goods' overall strategy and brand?
New York will always be our flagship. We are a New York company. We were founded and built in New York.
Our Soho locations specifically will be the epicenter of everything that we do. So I think for us it was super important to reinvest in our location and really upgrade it and uplevel it to the direction that we're moving in as a company.
That objective is always to give the customer an elevated experience in order to differentiate us. Customers seek us. And what we want to do is make sure that when they walk into our store, whether they came there intentionally and walked by us on the street that they're receiving an impeccable service that they might not find when they're shopping at other retailers.