Modern Retail Research: 82% of brands are expecting higher DTC holiday sales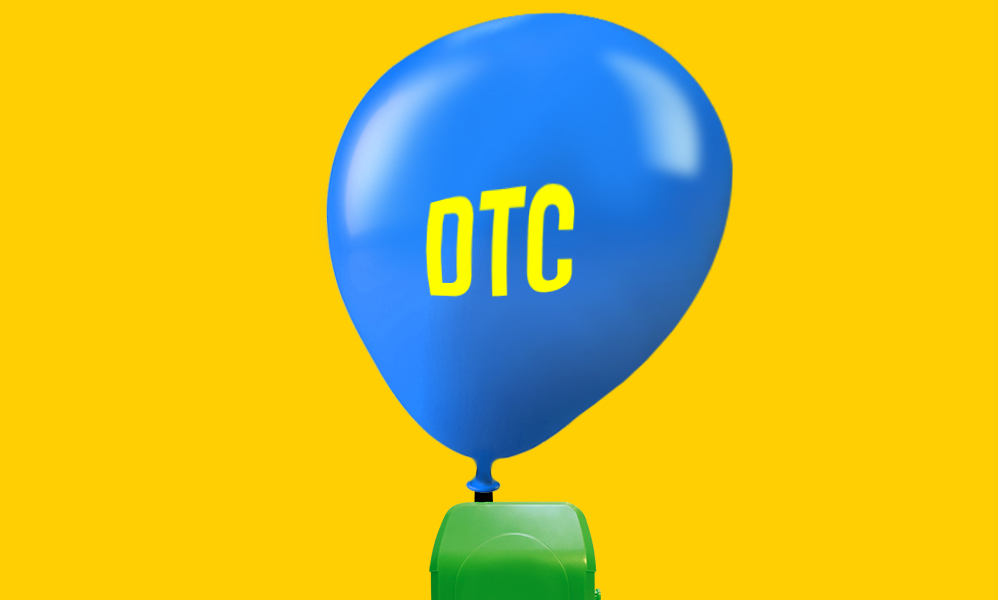 2020 will be the DTC holiday season.
This year, retailers and brands are focusing on building out their digital fulfillment programs and are expecting record e-commerce sales, according to new research from Modern Retail and Glossy. As such, they are forecasting a digital windfall. What's more, the brands surveyed said they are implementing a bevy of services and offerings to better facilitate. Here are some takeaways from our most recent November survey.
The respondents are all banking on big e-commerce sales. For example, 46.43% of those surveyed said they expected e-commerce sales on their owned sites to be significantly higher than 2019, and 35.71% said the digital channel would be slightly higher. Meanwhile, 33.33% said they expect holiday store sales to be significantly lower in 2020 compared to 2019.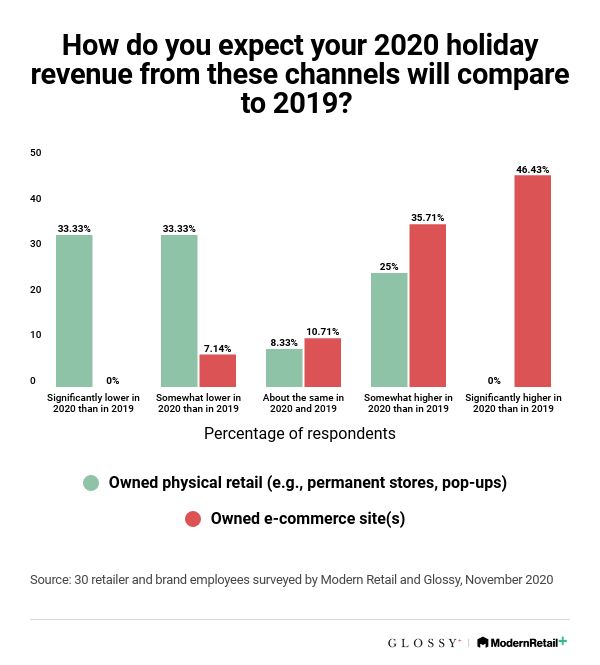 As part of this shift to digital, these brands are trying out new types of programs and services. Half of the respondents, for example, said they planned on using third-party logistics services this 2020 holiday season, up from 43% in 2019. And 7% reported plans to use last-mile delivery programs like Postmates this year, up from 4% in 2019.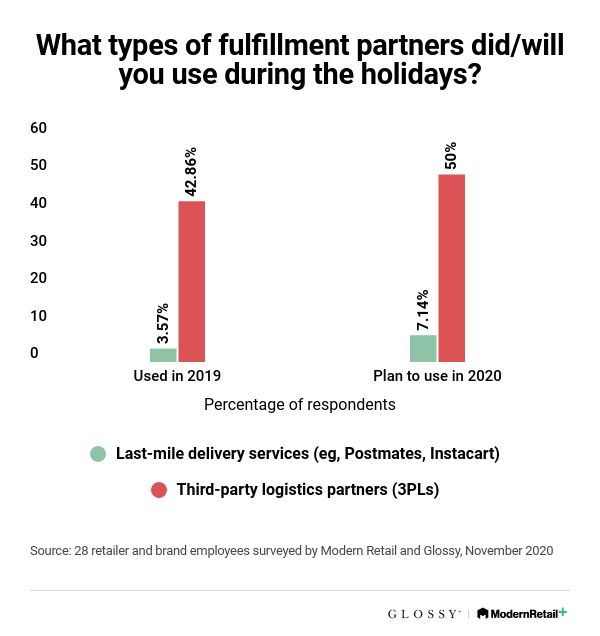 What's driving the demand for these new services is customer expectations. More people are shopping online for their holiday gifts — and many are trying to get their gifts delivered early, rather than wait for the holiday rush.
Brands and retailers too are trying to make the upcoming crunch as seamless as possible. For example, 89% of the respondents are offering shipping this year, up from 79% the year before; 25% are adopting curbside pick-up options, compared to 4% in 2019; And 39% of the employees who took the survey said they planned on offering in-store pick-up too, up from 18% the year before.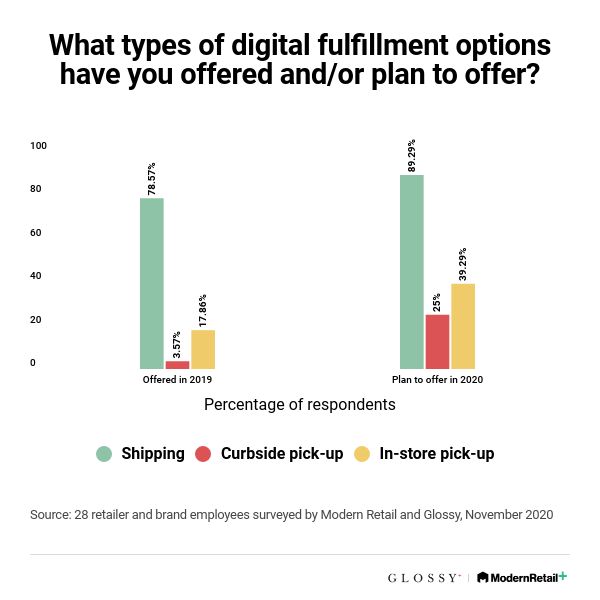 To deal with all these types of digital fulfillment, the brands are also investing in physical locations. While most (57%) said they expect the number of digital fulfillment centers they have in 2020 to remain the same compared to 2019, 25% said they are using either somewhat more or significantly more digital fulfillment centers this year compared to last. Conversely, 28.57% said they are relying on fewer brick and mortar retail locations in 2020 compared to 2019.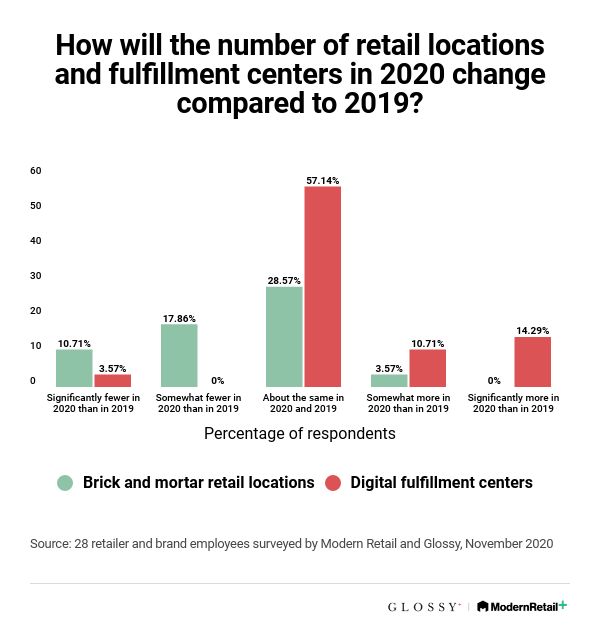 This distinct shift also signals changes in staffing. More brands are leaning on customer service and warehouse/fulfillment staff; 46.43% reported hiring more customer service employees in 2020 compared to 2019; And 42.86% reported hiring more warehouse and fulfillment staff for the holidays this year. What's more, 28.57% said brick and mortar holiday staff hiring is lower in 2020 compared to 2019.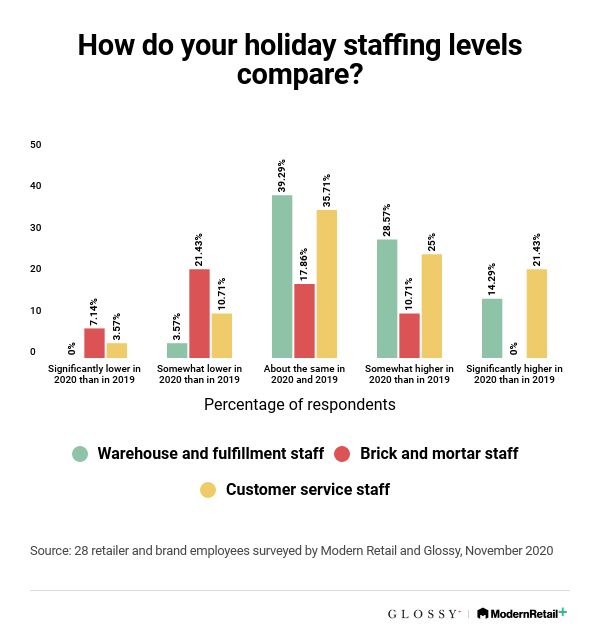 Put together, there's a growing realization that e-commerce is here to stay. More brands are investing in their DTC channels, and are doing their best to deal with the influx. The question remains whether or not digital channels' acceleration will be able to make up for all the lost retail sales.