Merrell is betting on women to drive sales of hiking shoes in 2022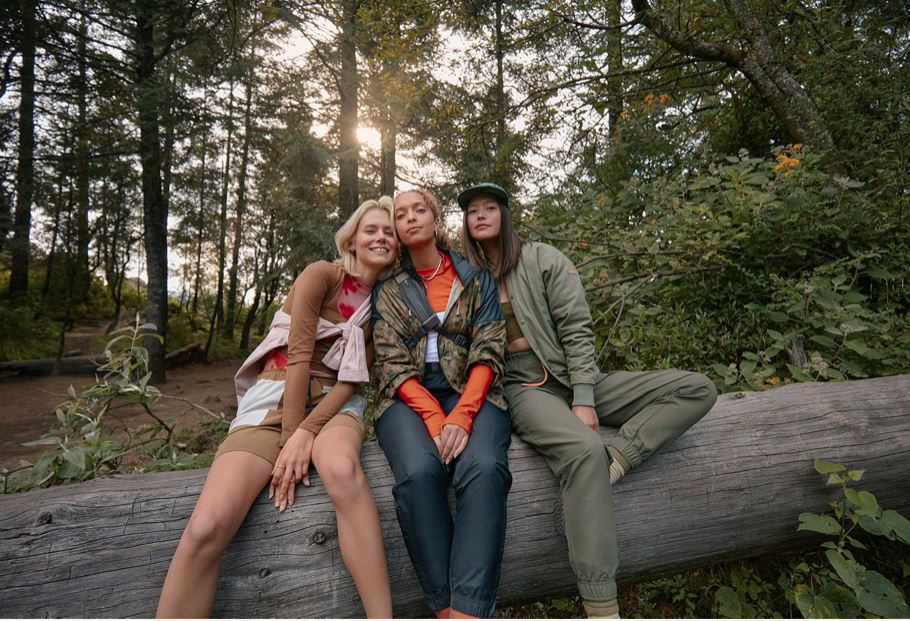 Merrell
Hiking and outdoors brand Merrell is focusing marketing, product development and retailer partnerships on women in 2022.
This month Merrell has unveiled a multi-year, multi-channel campaign aimed at getting more women outdoors. Throughout the rest of the year, Merrell will expand colorways of preexisting women's boot styles and release new women's shoe styles in the summer and winter. The brand first launched a women's hiking boot — specifically shaped for women's feet and arches — 20 years ago, and now has over 70 women's footwear styles.
But over the last two years, Merrell's brand marketing director Lindsey Lindemulder told Modern Retail that women's sales are taking on a higher share of total sales "as more women are getting into the outdoors."
Hiking boot sales were up 28% year-over-year to about $900 million in 2021, according to the NPD Group. Women's sales made up only 24% of those sales, however, women's hiking boots grew more than double the rate of men's at 42%. Moreover, the Outdoor Industry Association found that the majority of new outdoor participants during the pandemic were more female, younger, more likely to be living in an urban area and ethnically diverse.
Merrell's new customer
Merrell's new advertising campaign, 'Less is More,' takes aim at the female-focused wellness industry, ridiculing the rise of products like vibrating masks and gold dumbbells that are marketed as being important to self-care. The ad instead tells women to "take the self-care industry outside." The new campaign videos will run on social media and on television. On YouTube, one ad already has over a million views.
"There's this huge, multi-billion dollar industry that… feels like women need to continue to chase and try things in order to reach self-care as a destination," Lindemulder said. "[But] there's the outdoors — which is literally just right outside — that that can offer you actual benefits to your mental health, to your physical health."
Merrell was founded in 1981 and acquired in 1997 for $17 million by Wolverine Worldwide, a footwear manufacturer founded in 1883 that has since transformed into a holding company. Wolverine Worldwide is now home to Saucony, Chaco and Sweaty Betty as well. Wolverine Worldwide doesn't share revenue breakouts by its individual brands like Merrell. However, CEO Brendan Hoffman said the brand grew sales 22% year-over-year during the company's fourth-quarter earnings presentation in February.
Alongside the campaign, Merrell will be releasing many new women's footwear styles this year including a cross between a hiking boot and sneaker called Bravada 2 this spring, as well as a winter version of that shoe.
"In the industry, for so many years, it was 'shrink it and pink it,' that's how you address the women's space," said Lindemulder. "[But] women have higher arches, narrower heels, and we've taken a lot of these things into consideration when designing shoes."
Matt Powell, vp and senior industry advisor for the NPD Group, said that overall hiking boots sales are currently "much more heavily weighted to men." However, Powell believes the growth of women's products and women-focused brands is highlighting the opportunities of the demographic to industry players.
Last year, Merrell was the first brand in the Wolverine Worldwide portfolio to sell at newly-acquired sister brand Sweaty Betty. Along with selling preexisting products at Sweaty Betty, the two brands partnered together for an exclusive colorway collaboration of Merrell's Moab shoe. Merrell has also collaborated with other women's brands like Outdoor Voices and Madewell.
"A lot of Madewell shoppers might not consider themselves traditionally outdoorsy consumers," said Lindemulder. "But they've discovered a love for the outdoors over the last couple of years, and [the partnership] provides a really nice space for us to be introduced to a new consumer."
Stanley, a company that sells drinkware and cooking gear designed for outdoor activities like camping, has employed a similar strategy in the past year, partnering with retailers like Urban Outfitters. While a younger apparel brand like Madewell may not offer the sales reach of REI, it does hold more weight with the urban, young, female shopper that many outdoors brands are hoping to win over this year as the category changes.
Powell said that as the outdoor footwear category attracts more shoppers, preferences are changing, pointing to the blur between outdoor and athletic apparel. "Hiking boots are lighter, they're more breathable, they're showing up in more athletic colors," said Powell.
Michael Prendergast, a managing director at Alvarez & Marsal Consumer Retail Group, suggested that the outdoors has moved into something resembling lifestyle, and that "[the pandemic] opened up this entire outdoor lifestyle space to everyone."
In turn, Prendergast said that outdoor brands are following a playbook of expanding in a hero category — like hiking boots — and then building outwards to new demographics and categories. Using Yeti as an example, Prendergast said  "I think Yeti actually did a great job of leveraging their core categories first… bright blue and bright pink coolers that they've made clearly targeting women versus the traditional men's customer."
Prendergast added that as brands go about expanding into new categories, "I do think it is very important [to have] brand authenticity."
"It sounds elementary, but nothing could be more important," he said. "You have to do the work before jumping into these categories."