'Mega-category': Why subscription fitness is the next battleground retailers and tech companies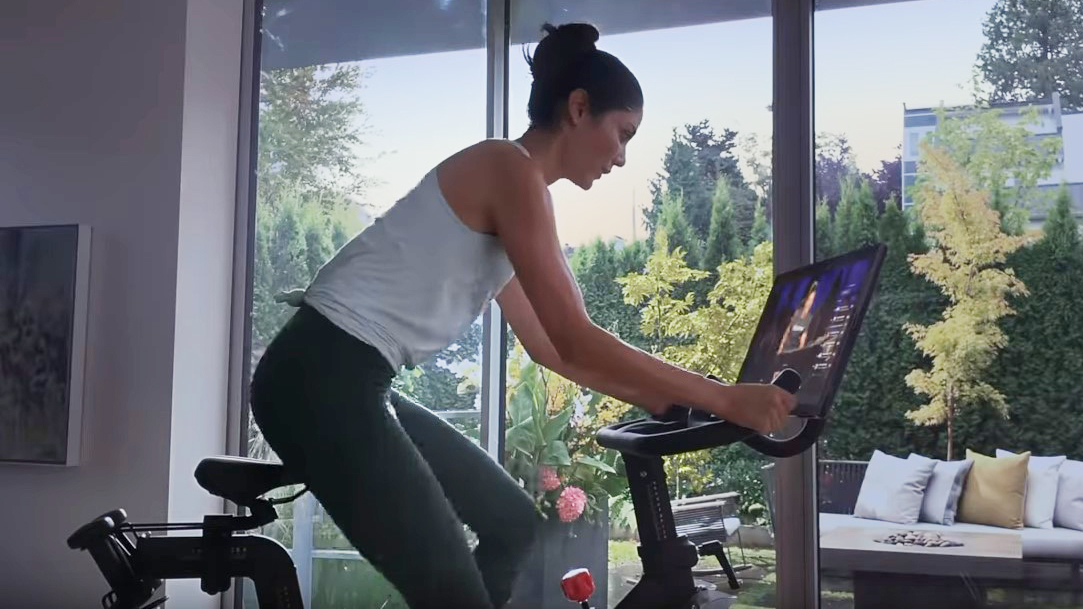 Peloton
Retailers and tech companies are breaking a sweat trying to outgun one another in the red-hot subscription fitness space.
Apple became the latest entrant on Tuesday, announcing at a product event that it would be launching a new service for Apple Watch users called Fitness+ by the end of the year. At a price of $9.99 per month or $79.99 a year, subscribers get access to a variety of workout classes that they can stream on other Apple devices.
A growing number of startups have been trying to prove the thesis that subscription fitness is set to be a longterm and lucrative revenue driver; A big tech company like Apple entering the space brings a greater air of legitimacy to that idea. Recent news proves it even more. Peloton reported astronomical growth, with revenue up 172% year-over-year during second quarter earnings. Meanwhile, Lululemon spent $500 million in July to acquire connected fitness startup Mirror, which sells a $1,495 smart screen through which users can stream a variety of workout classes, at an additional cost of $39 per month.
For retailers, the subscription fitness space is enticing because many of them are eager to create a new recurring revenue stream at a time when customers are visiting stores less. By selling a subscription to workout videos and/or a high-end piece of workout equipment, it increases the potential that their customers will think of them on a daily basis. Furthermore, it gives them a chance to upsell the most engaged customers later on, by encouraging subscribers to buy apparel or a private training session. It's a crowded space — especially now that Apple has entered the game.
The upside is that the subscription fitness space is only poised to grow. As long as the coronavirus pandemic continues, more people are working out at home instead of the gym. The NPD Group reported in March that fitness equipment sales were up 130% year-over-year. Peloton's breakneck growth during the pandemic, have helped assuage some fears from Wall Street that its expensive price tag would prevent it from achieving widespread growth.
"Digital health and fitness is the next mega-category in retail and commerce. I can't overstate that," said Andrew Lipsman, e-commerce analyst at eMarketer.
The players
The biggest players in the subscription fitness space are retailers, connected fitness startups and publicly-traded tech companies — all of whom have some unique motivations for entering the space.
"The health category is one of the biggest chunks of a consumers' wallet, and increasingly it is taking up more of the share and squeezing the amount of discretionary dollars that consumers have to spend on traditional retail items, like apparel," said Jason Goldberg, chief commerce officer at Publicis.
Among retailers, Lululemon and Nike have made some of the biggest investments in the fitness subscription space. Lululemon CEO Calvin McDonald projected during the company's second quarter earnings at the beginning of September  that Mirror will bring in upwards of $150 million in revenue this year, and the company plans to start displaying Mirror for sale in 10 to 15 stores by the end of the year. Meanwhile, a core part of Nike's efforts to grow its direct-to-consumer business have centered around getting more people to download its apps, including fitness-specific ones like Nike Run Club and Nike Train Club.
Nike reported in June during its fiscal fourth quarter earnings, more than 18 million workouts were logged through Nike Run Club and Nike Train Club. Meanwhile, over 100 million people have become members of Nike+, its shopping app.
For retailers like Lululemon and Nike, subscription fitness can become a recurring revenue stream worth tens of millions if not hundreds of millions of dollars, if Mirror's early success is any indication. Eventually, if they get enough subscribers, they can also create new revenue streams within that subscription model by say, selling ads to its connected fitness subscribers. It also gives these retailers valuable data on what types of workouts their customers are doing most frequently, which can inform future product development.
For connected fitness startups like Peloton and Tonal, they are betting that customers are increasingly going to want to work out at their home instead of the gym, particularly so long as the coronavirus pandemic is still a threat. That's evidenced by fitness studios like SoulCycle increasingly releasing their own at-home workout equipment. Compared to old school fitness equipment businesses like Bowflex, these newer connected fitness startups have more of a social component, as users have the ability to livestream workouts, have their results displayed on a leaderboard, and connect with other users. Even older fitness companies like NordicTrack have taken a page from Peloton, adding the ability to livestream classes to its bikes from a combination hardware and software service called iFit.
"The hardware is the thing that makes the experience sticky or the lock in for the customer, but it is the content and the recurring nature of the content that is actually appealing," Goldberg said.
Meanwhile, Apple, whose growth was built on the sales of hardware products like computers and phones, is increasingly looking to sell content in order to both create a newer revenue stream, as well as to lock in its hardware users. That's evidenced by making Fitness+ available to only Apple Watch users at launch.
The possibilities
Which companies win the subscription fitness space is going to come down to which companies have the best combination of content and hardware. The entrance of a competitor with serious hardware chops like Apple could raise the bar in terms of what functionality users expect from newer fitness hardware.
The success of content, meanwhile will come be determined by subscribers' affinity for the brand, the brand's instructors, and the quality of the workout. In the announcement for Fitness+, Apple said that the service, will feature "a team of celebrated, charismatic, and passionate trainers who are specialists in their fields."
"The challenge for the other brands is that Apple has really deep pockets and they probably can spend as much as they want on talent," said Lipsman, saying that he wouldn't be surprised if Apple signs deals with fitness influencers to create videos for Fitness+
Additionally, how many subscribers a fitness service accumulates will determine how much further companies can monetize this service. For example, companies looking to sell ads within their subscription fitness services will likely be able to charge more for ads if they have more active app users. In this case, Apple and Nike may have the early lead, given that Nike has tens of millions of app users, while Apple sold an estimated 30.7 million Apple watches during 2017. Peloton, meanwhile reported during its most recent earnings that it had 3.1 million members.
Furthermore, the entrance of Apple further signals that the subscription fitness space could very well be dominated by the existing biggest players in the next few years.
"If you were Nike, you probably look at Apple, and go 'we are as strong of a brand as Apple, we can fight for the hearts and minds of customers with Apple,'" Goldberg said. But for smaller entrants, "it becomes less appealing of a white space."