Mall-based brands like Gap and Abercrombie are having a 'renaissance' on TikTok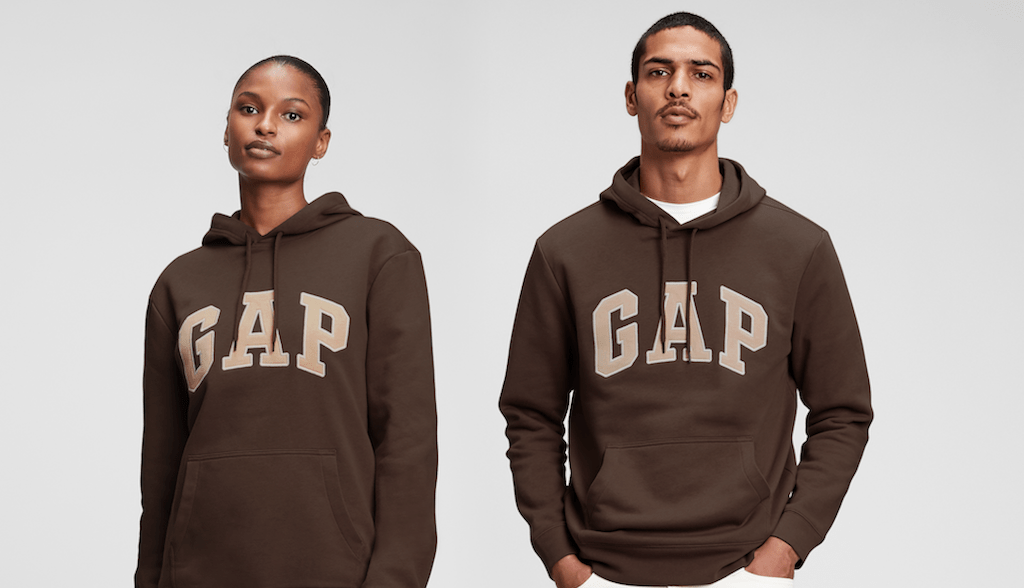 Image via Gap
Look up well-known mall brands like Gap or Abercrombie on TikTok, and the search results will be flooded with videos of teens showing off their Abercrombie haul or dancing to popular sounds while wearing a Gap hoodie. 
On the short-form video-sharing app, #gaphoodie currently has 9.3 million views. Meanwhile, #abercrombie has 197.7 million views on TikTok and #abercrombiejeans has 53.7 million. Thanks to teens digging up long-forgotten fashion trends from the 2000s — along with rebranding efforts — several traditional mall-based retailers have been harnessing their newfound TikTok fame to grow after years of losing the favor of young consumers. 
"There's a renaissance for a lot of things on TikTok… and that includes brands," said Danielly Netto, director of solutions marketing at Emplifi. "This is a really big opportunity for brands if they are paying attention to how their brand is being mentioned on TikTok."
Abercrombie & Fitch's image took a hit in 2016 when it was named America's most hated retailer, according to the American Customer Satisfaction Index. And for several years, both Gap and Abercrombie have been listed among the top 10 brands upper-income teens no longer wore, Piper Sandler's semi-annual survey of U.S. teens indicates.  
It seems like those brands aren't planning to let their notoriety on the app slip past them this time — and are seizing viral moments whenever they can. For example, last year a brown Gap hoodie went viral after influencer Barbara Kristofferson posted it. This resulted in a surge in demand for the product, so much so that the hoodie started appear in resale sites for as much as $300. Gap then re-released a limited edition version of it last summer in partnership with Kristofferson, which kept the TikTok momentum going.
Abercrombie's recent popularity, on the other hand, was the result of a massive rebranding effort that involved scrapping its massive logos and oversexualized marketing strategy for more muted color palettes and inclusive messaging. 
TikTok has been a key tool for brands that want the attention of Gen Z consumers. Products that have gone viral on the platform — such as the heart-shaped bag from Kate Spade, Ocean Spray's Cran-Raspberry beverage and the high-waisted leggings from Aerie — saw subsequent spikes in sales. Aeropostale, an apparel retailer that filed for Chapter 11 bankruptcy in 2016, was one of the beneficiaries of increased mentions on the app after its "tiny tops" went viral on the platform last year. 
"This short video format, 60 seconds long, really forces content creators and therefore businesses to get really creative and be able to deliver really powerful stories in a very short period of time," Netto said. "On other social platforms, brands can position themselves in various ways tell different kinds of stories. But on TikTok, it has to be quick, has to be entertaining, very often has to be funny."
Meanwhile, a growing number of retailers have also been using the app to inform their merchandising decisions — including what product to launch, which influencer to team up with and what product to bring back. 
When its website relaunched in late 2020, Juicy Couture, whose iconic tracksuits were once sold at upscale department stores before it shuttered stores in 2014, has focused much of its marketing on TikTok and Instagram. On the app, #juicycouture has 225.6 million views on the app. Meanwhile, Hollister in May teamed up with TikTok stars Dixie and Charli D'Amelio for a new brand called Social Tourist.
TikTok, however, isn't a universal solution for all retailers' financial issues. While total net sales for Abercrombie in its recent earnings increased up to 10% year-over-year from 2020 and 5% from 2019, Gap is still struggling financially. Gap's Q3 net sales were down 1.3% from 2020 and 1.4% from 2019.
Understanding what Gen Z wants
Jacquie Kostuk, director of creative strategy at Fuse Create, said Gen Zers are not as receptive to highly orchestrated marketing tactics, so teaming up with creators that consumers can relate to is crucial. As a result, a lot of brands have abandoned partnering with traditional models in favor of micro-influencers. "These are the type of people who really value peer-to-peer interaction and that sort of testimonial or review."
Retailers such as Walmart are already seeing positive results from leveraging peer-to-peer interactions. Walmart first launched a livestream event on TikTok in late 2020 featuring influencers like Michael Le. The event was such a big hit, receiving seven times more views than anticipated, that the company decided to hold another livestream on the app three months later. Since fall 2020, the company has also been experimenting with a program that turns Walmart employees into micro-influencers.
Kostuk said Gen Zers also tend to support brands that align with their beliefs, whether that means transparency towards how their products are produced, inclusivity or having planet-friendly initiatives. 
It took brands a while to understand how to use TikTok, said Hana Ben-Shabat, founder of research and advisory firm Gen Z Planet and author of "Gen Z 360: Preparing for the Inevitable Change in Culture, Work, and Commerce." While some brands have started considering TikTok as an essential part of their marketing strategy, others are still slow to respond. On some occasions, brands jump on trends after it has already passed.
"If you want to talk to Gen Z, you've got to be where they are. So you have to be in places like TikTok, and it's not about just kind of posting on TikTok," she said. "It's about being there and really understanding what's happening." 
As for how brands can make a product go viral, there's still no exact playbook. Ben-Shabat said. "I honestly think it's the holy grail question."
Correction: An earlier version of this story misstated Abercrombie's net sales increase during its most recent earnings. The story has been updated to reflect the correct figures.