How Abercrombie is reinventing itself to become a digital retail leader in 2022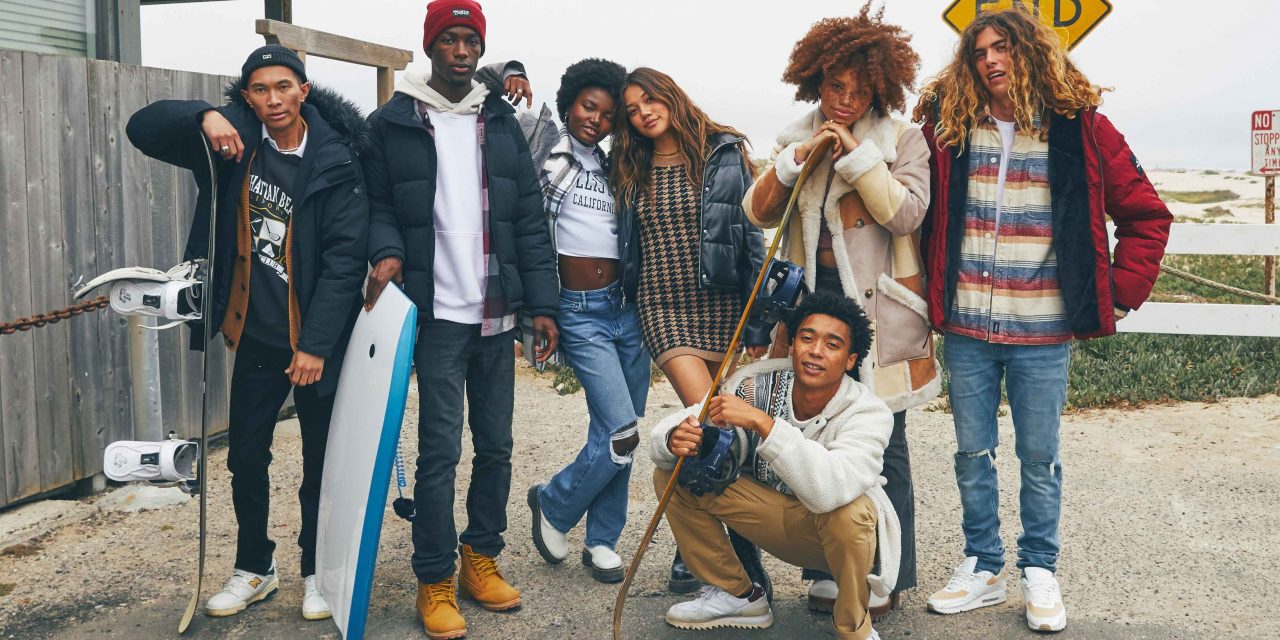 Abercrombie & Fitch
After a years-long rebrand, Abercrombie is investing in digital sales and data analytics.
Over the past five years, Abercrombie & Fitch has been working to create distinct identities for its Hollister and Abercrombie brands and embrace more modern styles and messaging.
In the early aughts, Abercombie was known for shopping bags adorned with images of shirtless models, polo shirts prominently featuring the Abercrombie logo and stores drenched in cologne. That brand image helped propel Abercrombie to $4.5 billion in sales in 2012. However, after five years of consistent year-over-year revenue decline, Abercrombie decided to rebrand in 2017. The brand hired a new CEO, Fran Horowitz — as well as changed gears and started focusing more on inclusive sizing, and releasing modern styles and silhouettes geared toward young millennials.
In 2019, the brand began to rebound: comparable sales grew 8% in the fourth quarter of 2019 and were up 3% at the end of fiscal 2019. After a brief lull in sales during the pandemic, the brand is back on track in 2021: Abercrombie's sales were up 10% year-over-year and up 5% compared to 2019 in the company's most recent, third-quarter 2021 earnings.
To continue growth in 2022 and beyond, the company is focused on data analytics and digital sales. This summer, the brand created the new role of chief digital and technology officer, hiring former Equinox executive Samir Desai to fill it. The brand is hoping to train more of its employees — not just its tech team — on how to use data analysis to assist with clothing fit and tighten up its brand site's search and browsing functionalities to better serve its new customer base.
The digital era
Year-over-year, digital sales were up 8% at Abercrombie in the third quarter of 2021 to a total 46% of sales. In early 2017, by contrast, digital sales only accounted for 28% of sales of the mall-hangout Abercrombie of the past.
"We've got a target customer that really values and appreciates the ability to transact — whenever, however and wherever they choose to," said Desai. "How do we create a journey that helps facilitate that entire experience?"
The answer, explained Desai, is multifaceted. Alongside adding features like buy online, pickup in-store, the brand has also been focused on making "small tweaks" to its website to make it easier for customers to find the right product. As an example, Desai pointed to the retailer's assortment of "100 +" pairs of jeans — among them, the company is working to highlight the right eight or ten pairs above the fold for each customer. Implementing features like predictive search or highlighting the styles that a user browsed in the past will hopefully help to "elevate the experience" and "remove friction."
"Speed matters," said Desai. "So how do we get the customer to the right product in the fastest amount of time possible?"
Alongside external-facing site changes, Desai is working to update its internal digital technology and data analytics processes. For example, Abercrombie added a customer insights team in 2015, and the company plans to grow this team in 2022. "Four or five years ago, the business was operated from intuition and gut," said Desai. "Now it's very maniacally focused on 'What is the customer looking for?'"
Desai is also building what the company calls a "data academy," which the company will launch in 2022. The goal, explained Desai, is to train employees in all roles on data analytics skills, rather than center analysis in the data team alone.
"Different parts of our organization — outside of technology, outside of data and analytics — are being trained… to be able to answer their own questions and do their own analysis," said Desai. "You remove the bottleneck of the data and analytics team now having to serve up everything, and people are able to get their questions and answers, almost in real-time."
Much of this data is focused on what their customers want, a more diverse set of needs compared to their customers in the early 2000s.
The new Abercrombie
In 2013, Abercrombie came under fire from comments made by then-CEO Mike Jeffries in a 2006 Salon profile. Jeffries said he hired "good-looking people" that could "attract other good-looking people."
"We go after the attractive, all-American kid with a great attitude and a lot of friends," said Jeffries. "A lot of people don't belong [in our clothes], and they can't belong. Are we exclusionary? Absolutely. Those companies that are in trouble are trying to target everybody: young, old, fat, skinny."
Many noted at the time that, underlying this statement, the company then didn't sell clothes beyond a size large and came under fire for recruiting sales associates from predominantly white fraternities and sororities. The new Abercrombie, however, is hoping to radically rebrand.
Global brand president, Kristin Scott, said that, now, "inclusivity is everything" for the brand. In-store, the brand is working to make layouts inclusive to people with disabilities. In marketing materials, the brand is trying to highlight more racially- and size-diverse models. In products, the brand is adding a wider range of sizes and testing fit on a wider range of bodies. Now the brand's pants usually range from size 23 to 37, while tops run-up to XL or XXL depending on the style.
The company is also partnering with a more diverse set of influencers, a strategy that seems to be paying off on TikTok. #Abercrombie and #abercrombiehaul have 158.3 million and 16.5 million views, respectively, on the platform. Mikayla "Mik" Zazon or @mikzazon — an Ohio-based influencer with close to 1.6 million followers on TikTok — focuses on body positivity and recently ramped up her partnerships with Abercrombie.
"I partnered with [Abercrombie] so many times in the past year and a half because they have taken initiative and learned from their mistakes," Zazon told Glossy in April. "They used to say: only this body type, only cool kids with a certain size are fitting in our clothes, no one else. Now I am working with a company with completely different management and completely different morals, and they are learning from me."
Indeed, Gabriella Santaniello, founder and CEO of consulting firm A Line Partners, said she views the rebrand as "successful" though "it's been a long road."
"They're featuring different body types and more diversity," said Santaniello. "That's something that Gen Z and millennials — a younger sort of consumer — demand."
Beyond new customers, the retailer is also focused on a new aesthetic. In the past, said Scott, "essentially, both [Hollister and Abercrombie] were the same." After implementing monthly customer feedback sessions, weekly store visits and incorporating in-store associate feedback, distinct brand identities began to emerge.
"What we what we landed on [for Abercrombie]… was really around this idea of a young millennial, and we'll call it a 25-year-old," said Scott. "We were known for quality and soft comfort [already], but how do we become more relevant?"
Scott added that a focus emerged on the idea of young millennials "living for a long weekend" and needing clothes that suited long-weekend activities like weddings, travel, side gigs or relaxation at home. Marketing and product design ultimately shifted toward this. Moreover, apparel brands have since followed Abercrombie's lead in long-weekend focused design. Madewell, for example, launched a loungewear line in October 2020 called "Make Weekends Longer," while Target, meanwhile, has its own apparel basics brand entitled "Weekend Soul."
To pilot these new styles, Abercrombie has increased investment in fit testing. In July, for example, the brand released its "Denim Your Way" ad campaign and line of jeans ranging from size 23 to 37 in four different leg lengths. The release came after a year of testing and incorporating customer feedback on issues like gaping at the waist or too tight thighs.
"We build product to fit different bodies and we offer fit solutions, like Curve Love," said Scott.
Going forward, Scott said the brand will continue to focus on customer-centricity and digital platforms. Desai, meanwhile, plans to hire more staff focused on user experience and digital sales, look into how Abercrombie can fit into Web3 or the metaverse and find ways the company can enter "the circular economy" of thrift and rental.
He added that, as the company continues to focus on fit and size confidence, Abercrombie and Fitch's next step is "augmented and mixed reality experiences."
"How do people get a better understanding of a three-dimensional view of a pair of jeans or a t-shirt or a dress?" asked Desai. "Could I get a much richer, more dimensional view of what that product looks like? I think that there's going to be more evolution in that space."