Gap is crowdsourcing its next hoodie re-release via a TikTok competition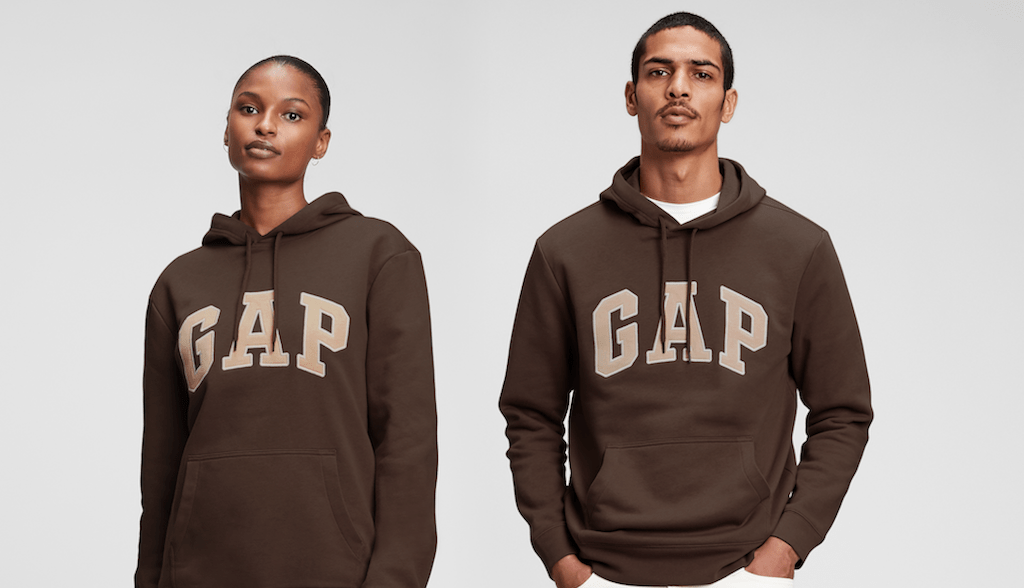 Image via Gap
TikTok's viral content continues to influence brands' marketing strategy.
The latest retailer is Gap, which is tapping TikTok's creators and influencers to extend the life of its recently-viral brown hoodie. The '90s era hoodie hasn't been sold since the early 2000s, but went viral in January after influencer Barbara Kristofferson posted about it — resulting in the #gaphoodie hashtag receiving more than 5.8 million views to date. The trend spurred a hunt for the piece, with some listings fetching up to $300 on resale sites. 
In response to the social media call, this week Gap announced it's re-releasing a limited edition of the brown Gap logo hoodie this summer. Gap is partnering with Kristofferson to promote the launch's pre-order sales, which went live on its website on June 26. The company is also holding a "Color Comeback Competition" in partnership with TikTok, in which it will crowdsource product choice for the first time. Gap is one of a growing number of retailers, including denim brand True Religion, who are using TikTok to help inform product design, including which older, popular styles to bring back. 
Capitalizing on style resurgence
Mary Alderete, global head of marketing at Gap, told Modern Retail that capitalizing on the hoodie's virality is now part of a bigger TikTok strategy for the company. "Our followers are very invested in the vintage brown hoodie revival, and our logo hoodies in general," said Alderete. So the company got sourcing and production rolling to get the brown hoodie back in stock for the revival.
"We've been responding in real time to Gap product trends we've seen on TikTok," Alderete said. "When we reposted Barbara's original photo of her rocking the '90s Vintage Brown Hoodie, we saw amazing feedback from our followers and the media." The aforementioned Instagram repost of the original photo is still one of Gap's top performing posts, with over 24,000 likes to date, Alderete noted.
She pointed to other TikTok posts by influencers, such as one featuring Gap's High Rise Cheeky Straight Jeans, as another example of a post that resulted in a TikTok-induced sales bump because of a particular product. 
Now, Gap is looking to go beyond these organic sales by working directly with TikTok, along with the creators that helped popularize the brand's products on the platform. This also includes working with, and sending products to TikTok creators "to fuel their inspiration" for new outfit posts, said Alderete. 
Hard to find, vintage items are especially popular on TikTok. Denim maker True Religion, for example, is reissuing some of its original styles based on popular demand from Gen Zers on TikTok, where the #truereligion hashtag has over 20 million views, said the company's executive vp of digital, Angela Clark. 
Thanks to the revival of late '90s and early '00s fashion, "younger consumers are discovering brands like True Religion for the first time," Clark said. The brand's upcoming limited-edition, denim styles for women and men will include True Religion's recognizable color pocket stitching, upcycled denim and reconstructed collections. 
Crowdsourcing new product ideas
Gap is also looking at its new found TikTok virality as a chance to gather more customer feedback. The "Gap Hoodie Color Comeback" competition will allow customers to select the next colorway of Gap's iconic logo hoodie, to be released this fall. The competition debuted on June 26 and will run through July 2. Followers can see an interactive poll feature to allow them to provide feedback and select the new hoodie color.
The company is working with a number of creators on the Gap Color Comeback Competition, who will call on their audiences to help pick the next logo hoodie color, said Alderete. These include Chelsie Hill, Brittani Lancaster, Zaya Sosho and Vienna Skye, among others. Each of Gap's TikTok creator partners received all six potential hoodie colors, with each creator tasked with showcasing them in their own style. 
"This competition marks our first effort at crowdsourcing the next Gap design with TikTok," she said. "We wanted to start with our iconic hoodie, and partnered with TikTok to create an innovation in user voting with our own voting tool." 
Alessandro Bogliari, co-founder and CEO of The Influencer Marketing Factory, which specializes in marketing on TikTok, said that inviting users to participate in paid campaigns is a smart way for brands to create a domino effect via user-generated content. This includes re-posts and remixed content featuring the brand's products.
"On TikTok, it's also preferable not to 'cold sell' a product because Gen Zers don't want to be told what to buy," Bogliari said. "But if an influencer is able to embed the product in a funny, entertaining or even informative video, users are more likely to share it."
Brands are realizing that younger consumers can be utilized to give instant feedback on certain products via social media, said Bogliari. "It eliminates the need for expensive and time consuming focus groups and surveys, while collecting creative insights." 
In the future, Gap is open to making these types of social media-driven "drops" a bigger part of its marketing playbook, Alderete said. "We saw this TikTok dynamic as a way to engage our community in their personal style choices."