How Lululemon's store strategy is helping it expand into new markets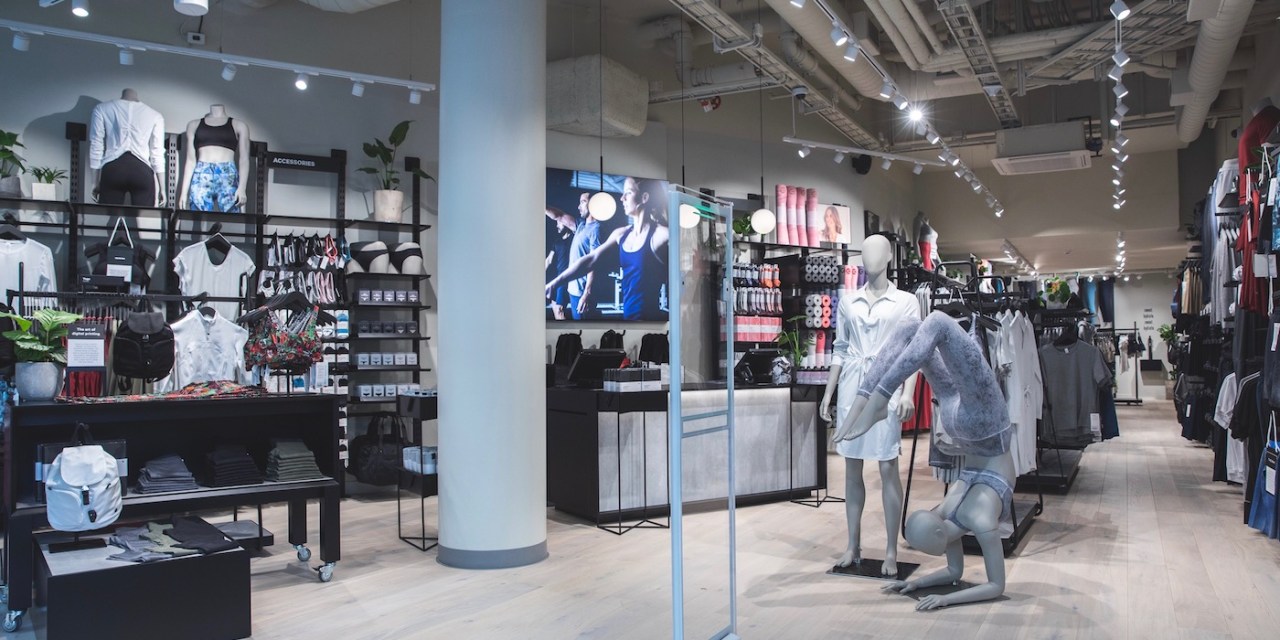 Image via Lululemon
Lululemon's new CEO is rethinking the boundaries of the athleisure brand.
On Tuesday, CEO Calvin McDonald, who joined the company in July, unveiled a new strategic plan that includes doubling the brand's men's and digital revenues in five years, as well as quadrupling international revenue. And on Wednesday, he and other top executives gave more details on how exactly they plan to do so, at its investor day, the first it's hosted since 2014.
While Lululemon is focusing on increasing digital revenue, stores are firmly at the center of its new strategy. The brand plans to invest in a more diverse array of retail footprints, including building larger stores that are more experiential. It's also focusing its attention on remodeling stores to become "co-located" — meaning that they have both full men's and women's department — to cater to more men. Lastly, it plans to open more stores internationally, particularly in China, while investing in digital platforms to drive brand awareness internationally.
"We've done a lot of work in the last few months in understanding where our current guests sweat, and what our assortment is in the activities where they sweat," McDonald said at the analyst day. And in a statement this week, McDonald acknowledged that Lululemon "has a unique opportunity to push beyond traditional expectations." At the same time, it's working to fend off competition from brands like Nike and Adidas, which are trying to make greater inroads in the women's and yoga markets — areas that have traditionally been Lululemon's strong point.
The company reported revenue of $1.2 billion during the last quarter of 2018, up 26% the year prior. But analysts worry that the growth won't last forever.
"Lululemon's clearly one of the strongest retail growth stories," Nomura retail analyst Simeon Siegel said in a note to investors earlier this month. "However, it seems either sales or margins are approaching a peak."
Lululemon is still known predominantly as a women's brand — at the end of last year, about 70% of Lululemon's business came from its women's category. By building out full men's departments in more stores, the company plans to use them as marketing vehicles to promote brand awareness for its budding men's business. But staying on brand will be critical: McDonald also said during that the analyst day that it plans to focus building its men's business by catering to men who participate in the core activities that Lululemon's female customers participate in as well.
"We have no road map to play in baseball, football, hockey, soccer," McDonald said.
To drive foot traffic and revenue, stores are also being reoriented around experiences. Lululemon said that by 2023, about 10% of its stores will be experiential. It's planning to open a new 25,000-square-foot store in Chicago that will have a yoga studio, meditation room and serve food and drinks. It's also planning to open more pop-up stores that run for a few months. Lululemon said that it had 60 of these stores last year.
That store strategy extends internationally. Lululemon said that the majority of the stores that it plans to open abroad this year will be in China. Currently, the brand has 22 stores in China, and McDonald said during the company's last earnings call that a "disproportionate" number of the 40 to 50 stores it planned to open next year would be in China.
To drive brand awareness in the Chinese market, chief operating officer Stuart Haselden said at investor day that the company plans to invest more in building up a WeChat channel as well as its own China domain. The company currently has a Tmall store. He also said that Lululemon would invest in community events.
"We're going to leverage the tried and true community strategies and adapt them to regional tastes and opportunities, and amplify them via new investments in digital," Haldsen said.
—
Sign up for the Modern Retail Briefing to get retail news, analysis and insight delivered to your inbox every morning.