Instagram and Shopify are poised to join the new affiliate link wars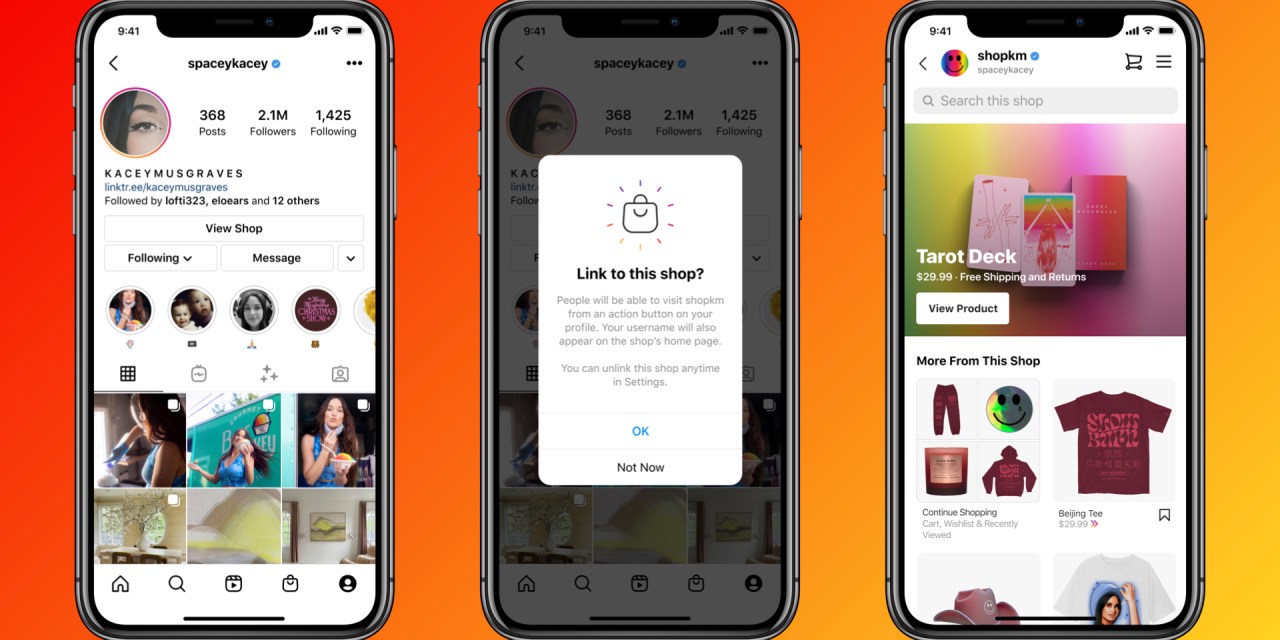 Instagram and Shopify appear to be entering the affiliate commissions race. It's a sign that the two companies are trying to disrupt Amazon's dominance over product affiliate links.
Earlier in June, Instagram rolled out more details of its planned affiliate system, whereby influencers promote — and earn commissions on — products already embedded in Instagram Checkout, the company's in-app payment system where users make purchases directly on Instagram. At the same time, The Information reported this week that Shopify has also begun to pitch an affiliate-link system of its own to several major publishers, including Buzzfeed and Vox Media, which would allow them to earn money by including buy links to products on Shopify stores instead of to products on Amazon.
Together, these forays represent potential challenges to Amazon's dominance among affiliate linkers. Although retailers like Target and Walmart have their own affiliate programs, Amazon's is the most well-known and boasts over 900,000 influencers. These moves may also broaden the reach of affiliate linking in general — turning potentially anyone into a product affiliate influencer.
"There is huge untapped potential in social commerce for retailers and creators across the spectrum," said Natalie Silverstein, chief innovation officer at the influencer marketing agency Collectively. In light of the Instagram and Shopify announcements, "we'll likely see more competitive commission rates and even more retailers experimenting with offering affiliate programs," she said.
Before these developments, Amazon decided to cut its affiliate commission rates last April, slashing rates by more than half in some product categories. It was an ominous move that left both publishers and individual influencers — both of which rely heavily on commissions from Amazon — with less-than-expected revenues.
The way the Instagram affiliates system works is that influencers can select products that have been uploaded into the Instagram Checkout ecosystem (though Instagram is only testing it within a small group of creators and companies right now) and they can earn commissions in exchange for referring direct sales on Instagram. TikTok has also been testing an internal affiliate commissions system, which, from the early info that the company has released, seems to function along similar lines to Instagram's.
The advantage of these is that they function natively within each social app. Whereas Amazon's program relies on external links — in order to earn a commission, influencers post links to Amazon products they recommend in the descriptions of a YouTube video, a blog post or in a link-in-bio page on Instagram or TikTok — Instagram and TikTok would let people purchase directly from affiliates. That could potentially lead to higher conversion rates, and give influencers credit for a larger proportion of the sales they refer.
For Instagram, said Tanner Rankin, CEO of the Amazon influencer platform Referazon, it could be a way to ensure that more brands adopt Instagram Checkout. "From the perspective of the brand, what they're going to want to is to make sure their products are [loaded] into their Instagram Shops," he said.
Shopify's system, according to a report in The Information, seems more targeted to publishers: The company has struck deals with media companies like Buzzfeed, offering them a larger share of affiliate revenue in exchange for linking back to Shopify stores than if those same publishers had linked back to Amazon. According to SimilarWeb, third-party publishers refer a not-insignificant amount of traffic to Amazon: About 2% of Amazon referral traffic comes from SlickDeals.net, another roughly 2% from Yahoo and so on.
But there are reasons to think the value of an Amazon affiliate link will stay high, at least in the near term. Amazon remains the easiest checkout system on the internet. Because Amazon controls, according to one estimate, 40.4% of all e-commerce sales in the U.S., customers are much more likely to have their payment information loaded into Amazon than into Shopify or Instagram. This makes an Amazon affiliate link especially geared toward high conversion rates.  
Rankin said that he didn't expect these newer affiliate programs to take much away from Amazon's. If anything, "I actually think it will help them, the reason being that, number one, it will bring in more people to the affiliate marketing space," he said. "I'm of the mindset that this is almost a gateway situation for people."
That could start to shift as Instagram Checkout gains wider adoption — and since buying on Instagram means one fewer click, it could especially become an attractive option for Instagram users. But affiliate programs are not all-or-nothing, and Rankin said that the smart influencers will probably use both Instagram's affiliate program and Amazon's, through their link in bio.
From the influencers she's worked with, Silverstein said, "they're not just an Instagram creator, they may have a YouTube channel, they may have a TikTok." For now, she said, "I think the third-party links will still have a place."
The big change she expects is the broadening-out of who, exactly, is an affiliate influencer, opening these systems up not just to self-identified influencers but even to passionate consumers with small followings. "I think the thing that's really interesting to me is the opportunity for a much broader scale of influencers or content creators and even potentially much more nano-creators to get involved to help brands communicate their value online," she said.
For now, there's plenty of room to grow; "it's not like every single creator is participating in an affiliate program by any means."