Inside DTC weighted blanket Bearaby's hyper-local marketing strategy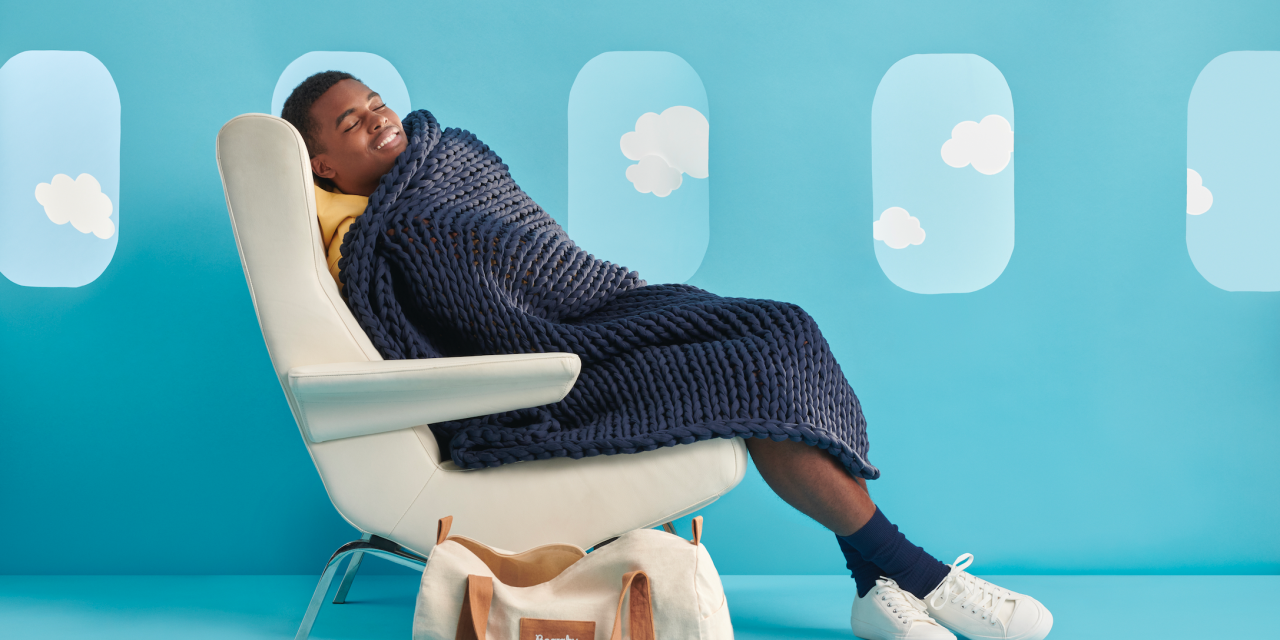 Bearaby
Weighted blanket brand Bearaby's hyper-localized digital advertising helped the brand increase revenue by 600% in 2020.
Sleep-related products — especially weighted blankets — became a hot commodity during lockdown. Indeed both home furnishings and wellness digital revenue shot up $6.6 million and 19.2 billion respectively during 2o2o year-over-year. During this period, Bearaby, however, wanted to hone its messaging to better highlight the medical benefits — not just the aesthetics — of its products to cut through the increasing wellness brand competition. This led Bearaby from working in-house towards pursuing a more involved agency campaign that focused on hyper localization. According to the company, this program drove 142% more product pageviews while decreasing cost per purchase by 53%. Going forward, this hyper-targeting work is helping Bearaby prepare for the new privacy ecosystem on the horizon.
Bearaby was founded in 2018, and focused primarily on selling direct-to-consumer. It partnered with furniture retailer West Elm in 2019 to test out having an in-store presence. However, the majority of Bearaby's sales came from its website, particularly during the pandemic, said founder Kathrin Hamm. Hamm wanted to quickly convey both the aesthetics and the medical benefits of her blankets online; some studies have shown that weighted blankets can help with sleep disorders and anxiety.
"[In the past] we've always struggled to get the message across of 'it's not only a knitted blanket, it's not only a home decor, it's functional.'" said Hamm. "At the core, it's still a medical product."
The pandemic, said Hamm, increased interest in anti-anxiety products and home goods, but, at the same time, made messaging to cut through the wellness noise even more important. To solve this, Bearaby brought in advertising firm Constellation Agency. The firm specialized in both automatized creatives (that could easily be adapted digitally into thousands of different versions of the same ad) as well as audience segmentation (that highlighted where consumers lived, their language preferences and interests).
"How do we find the most effective audience that's most relevant based on what we need to target with that brand?" asked Diana Lee, co-founder and CEO of Constellation Agency. "Instead of doing three to five ads, we're going to do [thousands of versions] of the ads and [target] hyper local audiences based on the demographics… [of] different parts of the country." Lee said that audience segmentation by region was particularly important given language and interest differences in different regions, even within the US.
Hamm said that this strategy didn't result in Bearaby increasing advertising spend on any one particular channel. Instead, it represented a shift away from Bearaby doing most of its marketing work in-house, with teams focused on one specific platform, to working with an agency that could work on marketing across multiple platforms.
Hamm declined to share specific costs of the new strategy, but said she ended up spending the about "same amount in isolation as before" and saved money in customer acquisition.
Looking toward the future
This hyper-targeting has helped Bearaby revamp its overall marketing and brand strategy. Going into 2021, one focus for Bearaby is to rethink its marketing messaging and products to cater to customers who are starting to travel more outside of their homes again. Another is updating its digital marketing strategy in light of Apple's iOS14 app tracking update.
For example, the brand has upped its travel marketing; Bearaby launched a ten pound "travel napper" blanket this week catered towards car and plane travelers. Meanwhile, the brand had its first in person event in Brooklyn, New York this month where it up-cycled consumers' product packaging into a work of art.
Keeping up with privacy updates is a bit more complicated. Since Apple's iOS 14.5 update, only 5% of US consumers have opted into activity tracking across apps on their smartphones. This tracking is key to any ad targeting strategy, giving brands and agencies the data about consumers' online behaviors needed for audience segmentation.
Apple and online security rights activists say the update is necessary to protect users' security and privacy online, while companies like Facebook said the new policy will harm small businesses' ability to advertise and produce less relevant ad content for users.
Meanwhile, some smaller businesses are somewhat worried about future Apple updates and how they will effect marketing going forward, said director of product and digital growth at DTC cookware brand Caraway, Josh Knopman, to Modern Retail earlier.  "It is almost like a game of whack-mole honestly, trying to work through all the new issues that come up as a result of the iOS update, and as a result of the algorithmic changes and other changes Facebook is pushing," said Knopman. "Something that worked last week will most likely not work this week."
Constellation Agency is working around the update that Lee described as "changing the [advertising] world." The agency is developing ad formats where consumers can select products within the ad unit itself, without ever leaving to another app or service on their phones.
"I'm not saying this is exactly going to happen, but if website interest is no longer data that we can buy, and actually sell anymore, are websites going to be as relevant as they are now?" asked Lee. "If we can't sell the data that's coming from the websites in the future, and it's completely cookie-less, we've got [to be] able to have consumers have a frictionless experience to an ad unit, and be able to even make a purchase from the ad unit itself."
Still both are hopeful about the future of digital marketing and digital sales for Bearaby, even as consumers can shop in store again.
"At the end [of the day] the shopping part will stay digital," said Hamm. "[Post-pandemic] I don't see necessarily that our [in-store] retail is picking up. I see a continuous, constant flow on DTC. I'm not sure if that is going to change by the end of the year, but so far, we haven't seen it."