Why West Elm is partnering with a weighted blanket brand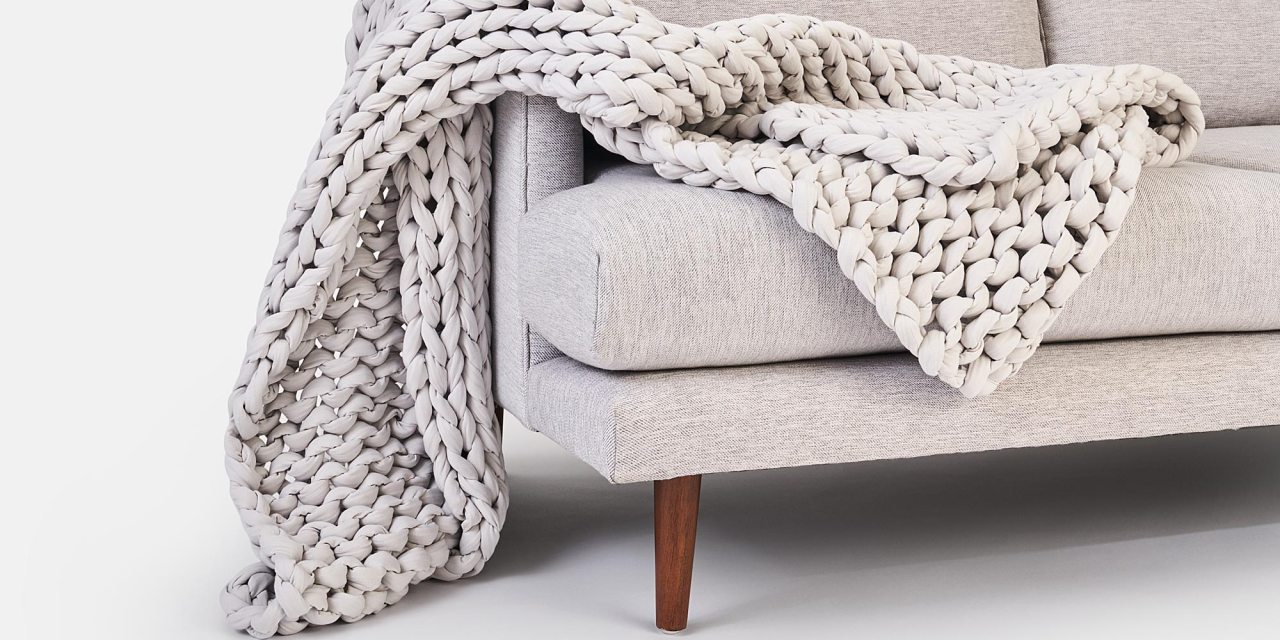 West Elm's latest collaboration with weighted blanket company Bearaby is another example of the company seeking out strategic partnerships to grow its business.
The furniture retailer has forged a partnership with Bearaby, which makes knitted, weighted blankets. The two have made a joint weighted blanket line that will be available for purchase online — as well as featured in five West Elm locations. It shows the Williams-Sonoma-owned brand looking more toward partnerships in its attempt to stay relevant and grow.
For West Elm, this collaboration is an extension of how it approaches complementary products. The company has worked with local makers on Etsy since 2011, featuring certain sellers on its site. "We've been in this business for some time," said Dru Ortega, West Elm's director of PR and influencer marketing.
For years, West Elm has sought out smaller businesses to feature in its stores and website; "This has long been a part of our strategy when it comes to supporting brands and like-minded customers," said Ortega. While it's true that West Elm has a bigger reach than Bearaby, it is also seeking out these partnerships strategically. Williams Sonoma, at its most recent earnings report, described West Elm as its "biggest growth opportunity." While the brand's revenue has seen steady growth — it's looked toward smaller partnerships in areas slightly outside of its domain to keep business apace. A partnership with a small but trendy direct-to-consumer brand is as much West Elm helping another business to grow as it is West Elm looking to diversify customer acquisition by entering adjacent markets while not building the product itself.
West Elm's criteria for collaborating with a smaller — generally DTC — company is based primarily on whether the product would be complementary to the overall retail experience. "It also comes down to making sure our values are aligned," he added.
Bearaby, which is less than a year old, has remained bootstrapped. It's grown with the trend of weighted blankets — thanks to players like Gravity and Helix. It didn't invest in digital marketing, and instead rode the PR wave. Bearaby's founder Kathrin Hamm sent out the product to editors and outlets and it ended up getting featured in a bunch of news articles. "Weighted blankets became such a hype," Hamm said. "That got us a lot of traction."
Up until now, the company has remained staunchly DTC, mostly because it didn't have the bandwidth for rapid expansion. But West Elm contacted Hamm — she said thought the initial outreach was from a scammer posing at West Elm — when it began doing research into the weighted blanket space. Once Hamm deemed the inquiry real, the two began talking last year, which resulted in this current collaboration. The company has built its own line with West Elm, using feedback from the company's design team about colors that would go with the store's overall aesthetic. Over the last month, Hamm and her team have been getting ready for the expanded stock and being nationally available. "It's a lot for a small company," she said.
Sofas, Ortega said, are a product that requires people to touch and understand it; for a product like Bearaby — which is made with heavy knitted fabric to make it more breathable — a similar tactile experience is part of the overall education. "People want to sit on a sofa and feel what it's made of — understand the fabrication of it," he said. Bearaby often requires that kind of interaction too, making it "a nice symbiotic relationship."
While this is a smaller collaboration, it fits into the overall program West Elm has been building for years. Last March it announced a partnership with Rent The Runway to offer its products on the rental platform. In 2017, West Elm forged another partnership with the mattress company Leesa to sell its products in its stores.
"For us, this is an extension of what we've already been doing," Ortega said. He added that West Elm "has another partnership in the works that's very similar."
For Hamm, this puts her small business into overdrive. "This changes our trajectory," she said. She hasn't raised venture capital, but to keep with demand things may change. "It's a lot of work to go into retail so small," she said. "We had to have a lot of things in place."