Q&A
// June 12, 2019 ■ 5 min read
Indochino CEO Drew Green's plan for building a global custom apparel brand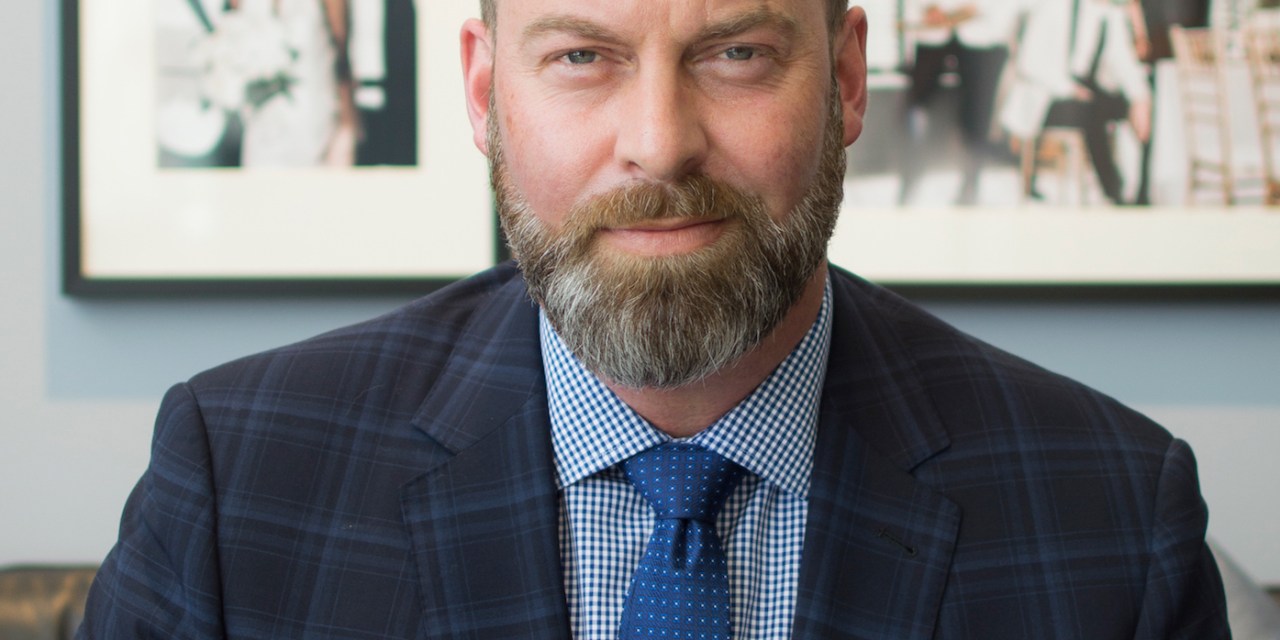 For custom apparel brand Indochino, the preference for proprietary extends beyond its products.
The 12-year-old, Vancouver-based business does most of its media buying in-house, and has for most of the company's history. In 2017, it built its own attribution system to better determine the effectiveness of different marketing channels and unite online and offline data. And, it operates off of its own proprietary point-of-sale system that it's installed in all 45 of its showrooms across the U.S. and Canada.
CEO Drew Green, who's been in the role since 2015, said that it's important for the brand to "control its own destiny," particularly during important interactions with the customer.
And for a costly category, control becomes even more critical. Building a direct-to-consumer brand is an expensive business, but a custom one even more so. Earlier this year, custom footwear brand Shoes of Prey liquidated after it ran out of money to keep building the business, and was unable to find a buyer.
So, Indochino focused on both growth and retention, according to Green. Last year, the company did more than nine figures in revenue, and Green said that 56% of purchases came from customers who were buying Indochino were buying for a second, third, or fourth time. After building the brand in the U.S. and Canada, Indochino is now expanding internationally. Last month, the brand launched an Australian website, as it looks to open its first showrooms outside of North America. Although just 2-3% of Indochino's revenue today comes from outside of North America, Green thinks it could eventually climb to 30-35%.
Green spoke with Digiday about how the brand's marketing and showroom strategy has evolved as the company seeks to become a more global brand. Answers have been edited for clarity and length.
Have you found that certain types of marketing channels are more effective for driving sales to online vs. in your showrooms?
Even though we have an ever-growing sort of quote-unquote "retail business," we truly are a digital retailer. Sixty-eight percent of all transactions last year were driven through our site, either by an online transaction or by an appointment into a showroom. So I think it's important for us to test and learn.
We've got a fairly sophisticated media buying team in-house, we've got an attribution system that really allows us to look at each channel and see what's having success, and we do know that there are certain channels we have that are more successful for driving online behavior, or the online behavior that we want, and we'll prioritize those. 
For us, lifetime value is really important. It allows us to plan our budget appropriately, and so we know the costs per acquisitions of each channel, we know the cost per order from a media perspective of each channel. And, importantly we know the lifetime value within a 12-, 24-, 36-, 48-month window of each channel. So for us what we've focused on within the last four years is making sure that we attract the right customer with our media dollars, our pricing strategy, etc. So our attribution model, which we built ourselves and use internally, really focuses on that.
The right customer isn't exclusively the one with the highest lifetime value — our No. 1 core demographic is millennials. They've taken ahold of the brand, made it their own and created their own garments through the brand. One of the demographics we have, such as grooms and wedding parties, is not the highest lifetime value. Usually they are just buying for one special event. But we still see that market as a huge opportunity, and that would be one example where we're not just focused on lifetime value, but what comes into play is order value of the first transaction, which is quite large.
The rising cost of Facebook ads is something that's affecting many DTC brands. Is that something that's affected your marketing strategy and where you put your dollars?
One thing we've worked hard at and are good at is being diversified from a media perspective. We're not reliant on any one channel, and we often shut channels off if they're inefficient. We've seen the rising costs specifically in Facebook, and before that on Google. Frankly, if it hits our caps from a customer acquisition standpoint, we simply don't spend there anymore and turn the dollars to other channels. The important thing for us and for others is to not be reliant on one, two or three channels, and to have a diversified approach. Facebook takes up less than 20% [of our marketing budget].
Why did you decide to create a proprietary point-of-sale system versus go through a Shopify?
Because we are custom apparel, and the checkout process for us is very different than a standard checkout process. We have customers who are choosing between dozens and dozens of customizations that they can make to their garment, and that's something that needs to be captured effectively and efficiently — it needs to be stored in a certain way, it needs to be transmitted to our factories in a certain way. So it was important for us to control our own destiny, as it related to a really important interaction with the customer, which is the point of sale.
Custom apparel takes longer to manufacture and ship — how long does it take Indochino's suits to ship now and how have you been able to cut down on that?
In 2017 we launched a three-week delivery promise, in November 2018 we launched a two-week delivery process, and later this year we're launching a one-week delivery option for customers. We've entirely re-engineered and recreated our supply chain these last four years in China to be able to do that .
It's something that we're super proud of — when we start to get into one-week delivery, for a custom perfectly fitted garment, that for certain segments like suiting is even further ahead than off-the-rack. Because with off the rack you buy it, and get it tailored, and then hopefully you get it back in one week to 10 days. We feel like it's going to inspire our customers to transition away from off-the-rack and ready-to-wear into custom apparel.
—
Sign up for the Modern Retail Briefing to get retail news, analysis and insight delivered to your inbox every morning.