How Yelp is planning a comeback with reservations and pickup tools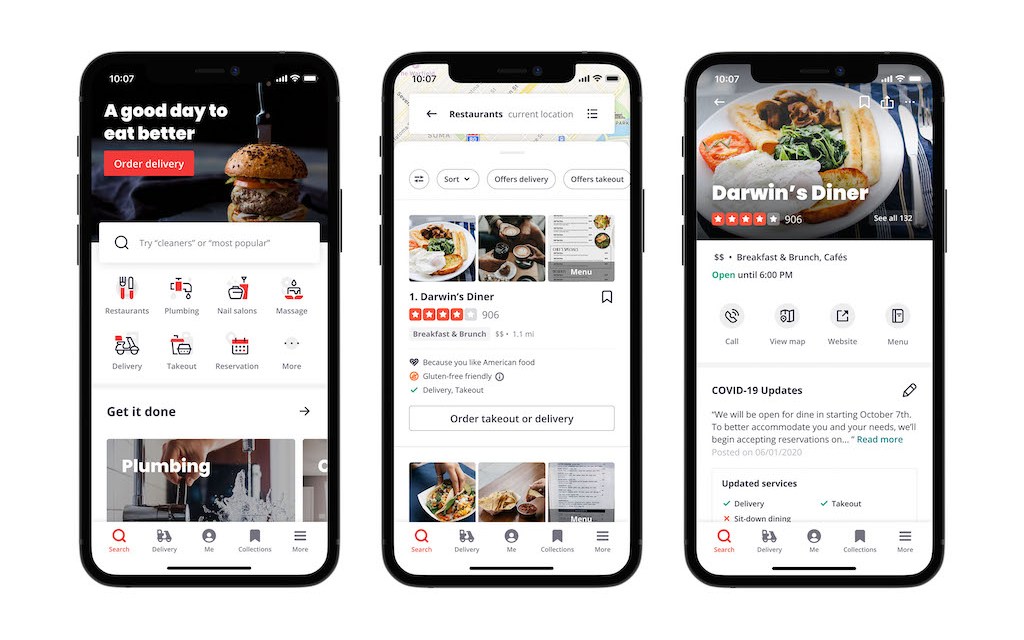 Image via Yelp
Ashwin Deshmukh, part owner of the Williamsburg Pizza chain and Short Stories bar, used to promote his businesses on Yelp. But over the last few years, he has neglected his establishments' pages on the platform.
"It's GeoCities in 2021," said Deshmukh.
Instead, the focus is mainly on other marketing funnels, like organic social growth via Instagram and Google — as well as keeping an eye on other restaurant platforms like Resy and Tock. Deshmukh isn't the only one.
Founded in 2004, the customer reviews-based site and app became a vital part of businesses' marketing efforts. After years of building its business model around selling ads, the company went public in 2012 and continued to court businesses to buy ads in exchange for greater visibility, which helped it become profitable two years later. This pay for visibility model paved the way for other restaurants platforms like DoorDash and GrubHub. In 2014, the company boasted 135 million unique monthly visitors — a 13% year-over-year increase from the year before.
That growth has since sputtered. In recent years, Yelp has faced a rise in competition, namely from the likes of Google, OpenTable and Resy, who have all clamored for market share. For example, Google has made it easier for customers to enter reviews, which appear on the business' homepage during search. That –along with Google's efforts to surface its own reviews above Yelp's — has led to a years-long rivalry between the two companies as they continue to vie for SEO dominance. Over 60% of consumers say they check Google reviews before visiting a business, with 45% saying they're likely to check Yelp ratings, according to ReviewTrackers data.
Yelp's earnings performance has been on a downward trend for years, even prior to the pandemic. In 2020, Yelp's year-over-year revenue slowed by 14%, compared to the previous year. In contrast, OpenTable and competitors have started to take a bigger share of the reservations pie. OpenTable, which is owned by Booking Holdings, currently provides its booking software to more than 60,000 restaurants worldwide, resulting in about 1.3 billion diner reservations annually. Yelp, however, is still bigger, with over 5 million listed businesses.
Still the competition is creeping up. Now, Yelp has to fight a multi-pronged battle: it has to once again become the go-to place for people to check customer reviews while preventing further market share loss to other reservation apps. Meanwhile, it must win back the trust of restaurant partners — many of which became disillusioned with its ads-based business model.
Yelp is working on regaining market share with a slew of new features that take aim at the growing competition of OpenTable, Resy and Tock. These include a revamped diner waitlist that integrates with takeout orders, backend analytics, POS integration and customer profiles. All these tools point to Yelp's ambitions to be more than just a customer reviews destination. 
The company has also been trying to adapt some tools to meet the needs of businesses during the pandemic. Last year, Yelp noticed many restaurants adapt their use of Waitlist  — a three-year-old tool that allows customers to be placed on a live waiting list before arriving at the restaurant — to manage takeout and curbside pickup orders, according to the company. However, the platform's technology wasn't initially built to meet this growing need, only to manage dine-in service. 
Restaurant owners and hosts can now use Waitlist to manage takeout orders and communicate with consumers about their order status via SMS. Yelp Waitlist customers can also find the new takeout feature in their Waitlist app. For local restaurants with nine or fewer locations, the takeout feature is available at no additional cost; pricing will vary for restaurants with ten or more locations. Hosts can enter and keep track of all takeout orders in the app – whether the orders were received via phone or website — and input other information, such as type of car due to curbside pickup. 
Rahul Hampole, vp of product at Yelp, told Modern Retail that these updates with Waitlist showcase the company's new focus: the company wants to help restaurants operate more efficiently. These latest features, Yelp Waitlist and Yelp Reservations, are a way to manage the front of house and engage with customers, he said. Another component is the upgraded Yelp for Business' Analytics, Guest Profiles and the POS integration. These are meant to enable restaurant owners to better understand their diners, and to be used for upcoming features to run relevant content and promotions for certain customers. 
These new features mimic existing tools on other reservation platforms — such as OpenTable, Resy and Tock — which have increasingly been courting retailers and small businesses themselves. OpenTable has been helping restaurants with digital bookings since launching in 1998, and began a delivery partnership with UberEats in 2019. On the customer reviews end, OpenTable Reviews launched in 2008 and has generated over 97 million reviews by verified diners to date, according to the company.
Last year, all three platforms expanded their own variation of reservations and waitlists for non-dining retailers. Furthermore, American Express-owned Resy and OpenTable waived onboarding fees to attract new clients during the pandemic.
Improving the customer experience
While some of Yelp's new tools were rolled out to immediately meet the new needs of restaurants or consumers during the pandemic, Hampole said they're part of Yelp's long term strategy. Takeout and curbside, for instance, have become increasingly popular among consumers. "We anticipate that even as dining-in returns to pre-pandemic levels, the interest in pickup orders will remain high," he said. 
Searches for takeout on Yelp have increased by 3,200% since March 1, 2020 year-over-year, and have remained at 2,265% above prior levels as of last month. But despite delivery platforms taking off during the pandemic, Yelp's integration is still mainly focused on front of house operations. More delivery integration options will gradually be added in the coming year, Hampole said.
Yelp has also been building out more features that focus on the consumer side of these services. The company, for example, has updated the user experience, making it easier for diners to find the information that is most valuable to them — like the latest menu images, most relevant food photos and most popular dishes.
According to Yelp, as of January 2021, it's seen more than a 60% increase in consumer interaction with menus on Yelp, compared to January 2020. The idea is to continue to improve virtual searches for customers. For example, the new On the Menu feature is meant to better highlight available meals. Another new feature is the dish and photo search upgrades, which better surfaces images when users search for that dish under each business' listing. Additionally, Yelp just released an iOS 14 home screen widget that allows for direct search on iPhone.
Yelp isn't the only platform restaurants are turning to to post menus digitally. Indeed, Instagram has become an indispensable restaurant tool for posting both updated menus and the latest dish photos. The platform, already a go-to for retailers and brands, has become popular among local businesses looking to easily stay connected with their customers. During the pandemic, small business owners increasingly relied on live Stories and Direct Messages to keep customers informed on updates to their operations. For many, the social platform replaced the slower-to-update Yelp and Google pages. For example, Chelsea Goss, owner of Salt Lake City-based bridal shop Off White, previously told Modern Retail when shutdowns began last year, the business focused on Instagram — as opposed to other retail-focused search platforms — to update hours and field customer questions.
Nick Verses, owner of pizza restaurant BarDough near Times Square, which predominantly uses Yelp to attract tourists, said the site remains an important part of his digital toolkit. "We use it for reservations," said Verses, mainly because many non-U.S. tourists are more familiar with Yelp and TripAdvisor over local platforms. BarDough's staff also uses Yelp Connect — Yelp's Instagram Stories-like feature — which is a quick way to publish and push content to the Instagram feed. These range from promotions to new menu additions. 
Despite shortcomings compared to competitors, Yelp remains an important part of the U.S. dining scene, said Koorosh Bakhtiar, owner of Jajaja Plantas Mexicana. He said that all his restaurants still check user posts frequently; he responds to all 3-star and under reviews. "They've also added Covid sanitation standard check boxes, which are useful to a lot of customers," he said.
Bakhtiar's restaurant group, which has a total of seven restaurants, had one location switch from OpenTable to Yelp reservations back in 2019. The locations also use Yelp to run occasional promotions and advertise seasonal menu items. All of his restaurants also use Yelp's delivery and takeout integration with Grubhub, albeit it's hard to quantify if those are increasing actual sales, Bakhtiar said. 
Businesses shift away
Even though his restaurants use Yelp, Bakhtiar admitted it still has many shortcomings. "When it comes to reservations, I think they've lost their luster to the Resys and OpenTables of the world," Bakhtiar said. Reservation upgrades aside, one of the biggest frustrations with Yelp's interface remains unresolved, Bakhtiar said. "You still have to pay to get other restaurants' ads off your page."
This refers to an issue many businesses have faced while using Yelp. Over the years, a number of restaurants alleged that Yelp used predatory practices to force them to buy ads on the platform in order to get user visibility. Some claimed to be swayed into paying for Yelp's enhanced tools. In the past decade, multiple business operators — mainly restaurateurs — have complained about Yelp allegedly manipulating ratings by removing authentic positive reviews.
The company has maintained it does not do so; a 2015 class action lawsuit — filed by multiple owners — was dismissed by the U.S Court of Appeals, which found "no extortion or wrong doing" by Yelp. Since then, the company has moved away from the restrictive ads structure. As of 2018, Yelp began implementing a "pause anytime" paid advertising model. That change has resulted in a decrease of long-term paying clients.
Danny Teran, co-founder of Watson Hospitality Group, has led the charge against Yelp. Teran, the subject of the Yelp-focused documentary Billion Dollar Bully, alleged that when he opened his first restaurant, Yelp continuously manipulated dozens of the business page's existing positive reviews. And for years following the incident, he claimed the Yelp sales team aggressively reached out to advertise with them in order to improve his negative ratings.
When asked about the recent changes to the ad program, Teran said "it's too little, too late to regain businesses' trust," adding that he's "never been a fan of their pay-to-play model." 
In response to questions about Teran's allegations, Yelp confirmed that his page's reviews likely went through quality control as part of Yelp's automated fake ratings detection system, which it implemented at the beginning of 2015. "Yelp takes significant measures to maintain the integrity and quality of the content on our site, while leveling the playing field for businesses that rightfully earn their great reputation," the spokesperson said.
Still, Teran said that in many ways, Google has taken over what Yelp was doing when it comes to customer ratings and reviews. "It also helps that people seem more respectful on Google," he added. Teran also pointed to his newly-opened bar — Brooklyn-based Farewell — as a testament to this shift. Farewell currently has over 50 Google reviews since opening last summer, and just one on Yelp, he noted. 
For now, according to Hampole, the focus for now is to continue building out these new tools while preparing for a post-coronavirus restaurant scene.  "As restaurants continue to open and reopen, review platforms like Yelp will remain essential to consumers," he said.
Despite Yelp's efforts to win back operators, these new tools haven't won over everyone. "As of now, we don't have a reason to waste time on partners that don't benefit us," Deshmukh said.