How virtual fitting rooms became the next retail battleground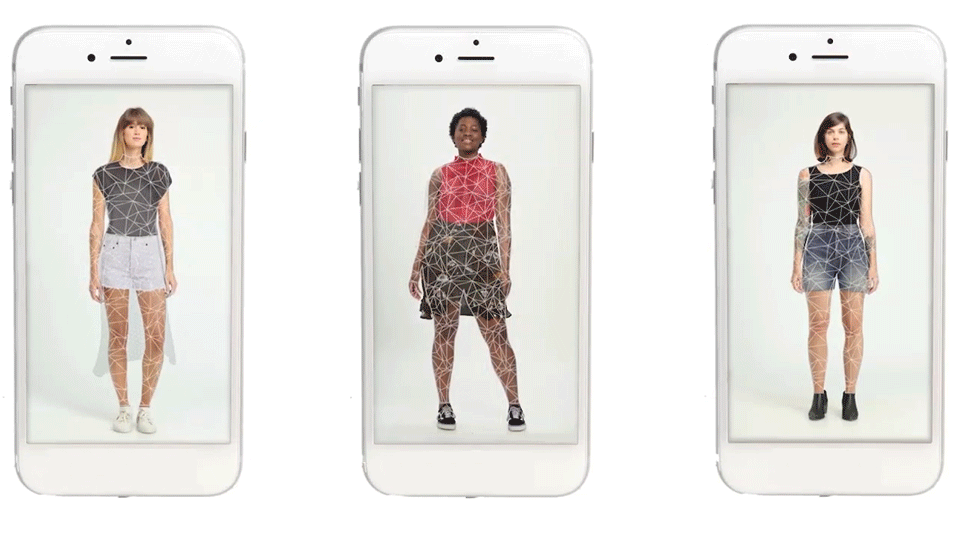 Zeekit, via Walmart PR
Walmart is looking to create virtual fitting rooms for its online shoppers.
Last week, the company announced it would acquire Zeekit, a startup that has worked with ASOS, Adidas and other brands on building technology that lets customers virtually try on clothes before they buy them. Terms of the deal were not disclosed. Through Zeekit, customers upload photos of themselves and input their body dimensions, and the company builds a virtual body double. Customers can then dress it accordingly.
With the acquisition, Walmart said its shoppers will be able to style virtual models of themselves featuring clothes from third-party brands that Walmart sells — like Free People and Levi Strauss — as well as Walmart's own private-label fashion line. While companies from Farfetch to Kendra Scott have tested virtual try-on technology, the Walmart acquisition represents the highest-profile endorsement of it yet from a major brick-and-mortar retailer — suggesting that even while virtual try-on remains a niche phenomenon, it is fast becoming the next battleground in retail.
Until now, many of the highest-profile investments have come from companies with large technology teams. Snapchat recently bought a string of companies, Fit Analytics and Screenshop, in a bid to expand its AR e-commerce presence. Amazon also has a number of AR features, including one called AR View for furniture shopping. It also has a Made For You t-shirt — to buy one, customers take photos of themselves to build a virtual model. The shirt is then fitted to the dimensions of their body.
That doesn't mean, however, that virtual try-on software is an especially popular mode of purchasing at the moment. "I don't know if I would call it mainstream yet, but I would say there are enough examples that I'd say it's widespread," said Victoria Petrock, a principal analyst at eMarketer who covers emerging technologies. For Walmart, said Petrock, the acquisition seems to be about getting its foot in the door in the virtual fitting space. In that realm, "I do think Walmart is behind the curve in terms of competing with Amazon," she said — and Walmart wants to project an image of itself as an innovator, especially as it continues to expand its e-commerce presence.
For retailers, virtual try-on technology, if it does receive wider customer adoption, brings other important benefits. Shopify, for instance, reported that customers that tried on clothes in AR through a software integration were 40% less likely to return the product. "Anytime people can visualize themselves in something, I think that's going to help cut down on the returns," said Petrock.
Other retailers have virtual try-on tools as well — Wayfair and Williams-Sonoma for visualizing how furniture would look in a customer's room, Ulta and Sephora for testing makeup — but many have avoided applying AR to the apparel space. That is because clothing is so complicated: more sizes are involved, and the technology has to be capable of estimating fit for many different types of clothes across many different body types. As such, the ultimate promise of virtual try-on technology — to predict how well a dress will fit on a given customer before they hit purchase — remains far off. "In terms of getting down to fit, that requires depth sensors on phones as well and very few phones have depth-sensing capabilities today," said Faisal Galaria, CEO of the AR company Blippar.
Another, more immediate benefit of AR try-on technology is its social tie-in. In its acquisition announcement, Walmart highlighted the fact that Zeekit allows shoppers to share their virtual fitting room looks with friends, capturing at least some of the social experience of shopping in a store with friends. Other shoppers have begun sharing their virtual outfits to social media. A New York Times report alluded to users who try on Dior sunglasses and Gucci shoes with no intention of buying them, but merely to send to friends as a joke. That might not translate into direct sales, but it does drive word-of-mouth marketing
If the social side of virtual fitting rooms does continue to gain traction, that might especially give a boost to the social media platforms that have been increasingly building out shoppable AR technologies: Snapchat has been most aggressive in its AR investments, but Instagram, Facebook and Pinterest all have AR shopping tools now as well (all focus predominantly on makeup for now). These companies are not far off from creating AR walled gardens, where customers try on outfits, send photos or videos to friends and then place a purchase all within the app.
Petrock said that, right now, it's early days for virtual try-on technology in retail. As e-commerce continues to boom, retailers are still scrambling to invest in AR and snap up the startups that are already active in the space. But it isn't clear yet which technology is the most accurate or consumer-friendly — and the real question remains whether any company can build a try-on system so precise that it makes a significant dent in customer return rates.