How shapewear brands are trying to reinvent themselves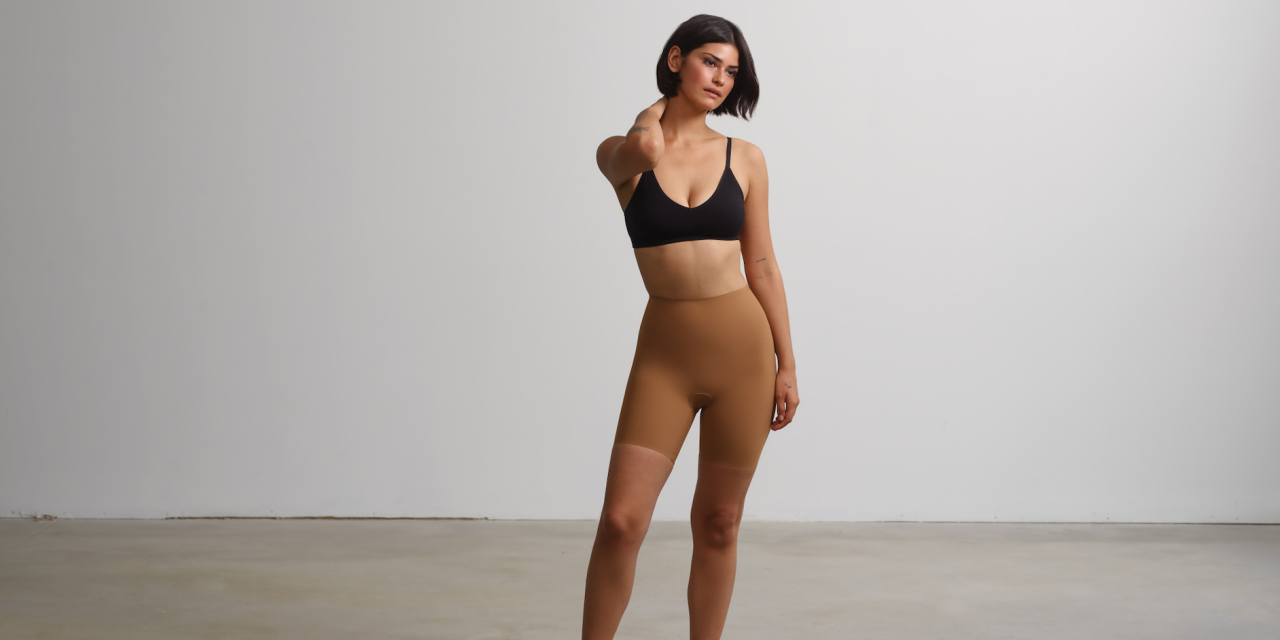 Commando
Shapewear companies are rebranding toward inclusivity and casualness.
When Oprah declared Spanx one of her favorite things on her show in 2006, she noted that the products "suck it all in." On the same segment, brand founder Sarah Blakely praised Spanx for making herself look a "size smaller." However, much has changed since the early aughts. The pandemic accelerated the casualization trend in fashion, pushing consumers away from restricting styles and tight undergarments. Meanwhile, body positivity and size inclusivity movements also grew. Now, in a new cultural landscape, shapewear brands are changing marketing messages and entering new product categories — playing to a new normal and blurring the lines between shapewear and other fashion categories.
While shapewear brands used to praise the product's ability to make consumers look smaller, marketing today has shifted, said Kayla Marci, a market analyst at a retail market intelligence company Edited.
"There's undoubtedly been a shift away from marketing shapewear with body policing words like 'fixing,' 'hiding' or 'slimming,'" said Marci. "Instead, retailers have pivoted their messaging around comfort or support, and promoting confidence while creating a seamless silhouette regardless of shape."
Products in the space have also changed to better reflect this marketing. Instead of only stocking maximum control, full-body suits, brands like Yummie, Leonisa and Shapermint are increasingly offering a range of compression levels. They are also introducing more casual styles like light compression camis that can be worn as shirts, or high-waisted shapewear thongs rather than full thigh compression shorts.
"Customers are looking for more updated styling that has more function than just being true shapewear," said Alicia Burns, vp of design and merchandising at apparel brand Yummie, over email. "Our bodysuits are the perfect example as they offer all-around smoothing and are designed for all-day wear as a top on their own."
Inclusive products are also on the rise. Kim Kardashian's shapewear line Skims, for example, offers products sized XXS through 5x in nine different skin tones. Most recently, the brand partnered with Team USA on an Olympics and Paralympics line.
In contrast, for example, Spanx offered only one shapewear style in small, medium and large sizes and black, white and "nude" colorways back in 2001.
A return to "normal"
In recent months, the shapewear category has gotten a boost as consumers head outside of their homes again.
Kerry O'Brien, founder, designer and CEO of the intimates and apparel brand Commando said that shapewear was a top performer for the company over the last quarter, with underwear shapewear styles doing particularly well. The brand's shapewear, explained O'Brien, suits the ever-changing lifestyles that consumers are in at this point of the pandemic.
"Shapewear doesn't have to be this horrible experience, but a garment that you can wear whether you're running errands or putting on that beautiful dress," said O'Brien.
Still, a return to events has also helped shapewear sales grow. Bridalwear brand Azazie launched a shapewear line this month in anticipation of this, for example, said CMO Ranu Coleman. The styles are suited towards unique wedding dress needs, like accommodating deep "v" necklines or adding butt and hip padding.
"Our customer in general has found that wearing your traditional undergarments with these dresses — they don't really work and they're not very practical," said Coleman. "With events and businesses opening up and a huge wedding boom in terms of our sales, people are really excited to get dressed up and put their shapewear on again."
Blurring category lines
A sense of casualness has pervaded fashion for many years and was only exacerbated by the pandemic. As some offices enact permanent work from home policies and even in-office apparel is predicted to remain casual, it makes shapewear a more difficult sell.
To speak to people whose wardrobes have become more casual, many shapewear brands have entered other categories like loungewear, intimates and swim.
Skims launched its first set of fuzzy loungewear just two months after its November 2019 shapewear-exclusive brand launch. Since then, the brand has expanded into bras, underwear, clothing, loungewear and pajamas. Spanx now sells leggings, activewear, underwear, swim and even menswear.
"Brands need to innovate to create products that resonate with the shift towards casualization that the future is hurtling towards, offering products to support, control or enhance — not exclusively hide or fix," said Marci. "With WFH remaining the norm, there's an opportunity for products that are comfortable and aid with posture support."