How pet brand Fable managed a 5,000-person waitlist during the pandemic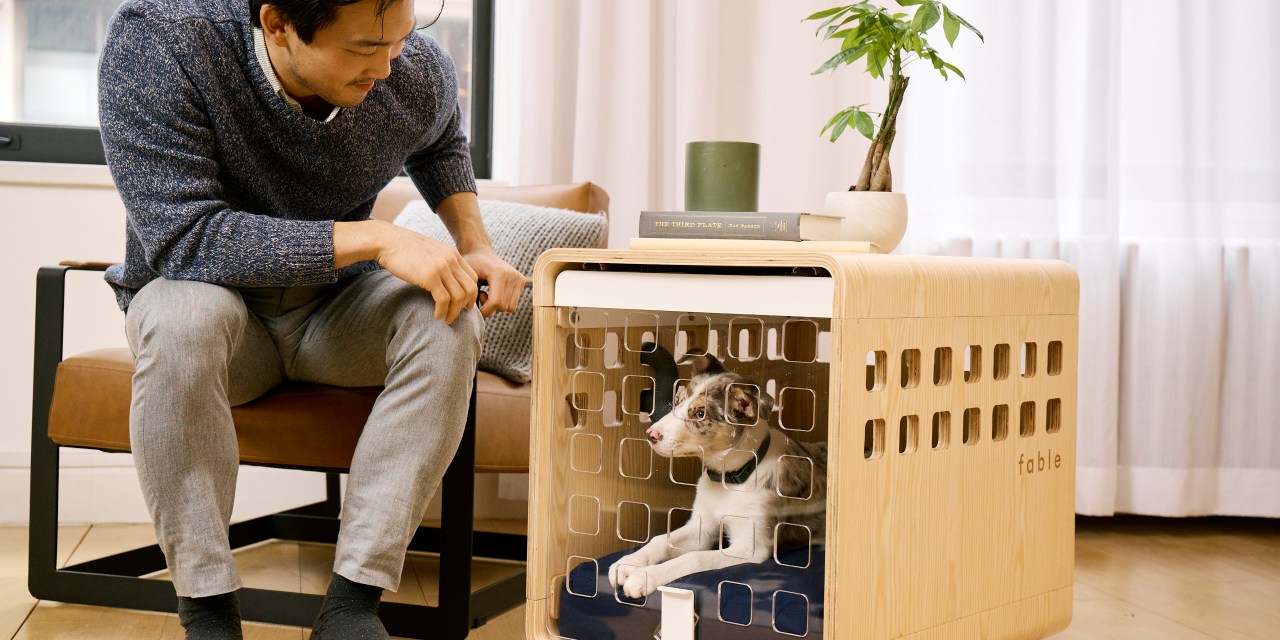 Fable
When supply chain constraints started taking hold in tandem with increased interest in pet products, direct-to-consumer pet gear brand Fable was caught in the middle.
In early 2021, Fable had amassed a waitlist of 5,000 people for its pet crate, which now costs $395-$595. It was at that moment that Fable learned to be proactive in managing demand, rethinking product design, working closely with manufacturers and actively communicating with consumers. The company said it has since cleared out the waitlist, and has seen a three-fold growth year-over-year since its launch in 2019. 
To prevent inventory backlogs in the future, Fable is looking to co-invest in machinery with its manufacturers to make its production process more efficient and is now reassessing the product's design elements to make it easier to produce. Jeremy Canade, Fable CEO and co-founder said pet crates, in particular, had a longer lead time but the spike in demand coupled with the supply chain crisis were the primary driver of the waitlist.
"It's a good problem to have," Canade said. "We tried to wrap it up quickly. We're trying to be thoughtful about how we stock inventory, trying to be proactive, but it's a learning process."
Fable was founded in 2019 as a pet brand that focuses on solving some of the pain points of pet ownership, while also keeping design in mind. The company sells premium pet products like bowls, beds, toys and leashes. The company raised $9 million in Series A funding in January, led by venture capital firm 14W. With the fresh funding, Fable said it also plans to release more products and partner with other retailers.
While Fable was working on meeting the volume of demand in 2021, its marketing team was giving consumers frequent updates on the supply chain and educating them on the factors causing the delay. For instance, if shoppers sign up for the waitlist, they are periodically given updates via email.
"I hate feeling like we're not meeting the customer's demands," Canade said. "People were super passionate about the product and we definitely feel their pain."
Fable declined to share specifics on how they are planning to update the design of its pet crates to prevent future supply chain delays, but said the company typically does extensive testing and prototyping before introducing product updates.
Another tactic Fable is pursuing is offering to cover part of the cost of machinery for manufacturers. The idea, Canade said, is that it would communicate how much the company values its partnership with the manufacturer, and doing so could potentially unlock efficiencies in the production process.
Fable is among several DTC pet brands that experienced high demand in recent years. Chewy reported a 24.1% year-over-year net sales increase in the third quarter. The Diggs Revol Dog Crate had a waitlist of 25,000 people, according to People magazine in June. 
Chris Jones, managing partner at Markacy, said the boom in the space was largely driven by consumers looking for companionship at home. In 2020, 70% of households in the U.S. owned at least one pet, compared to 67% in 2019, according to recent data from Statista. 
Like many businesses, pet retailers also had to navigate the supply chain constraints, Jones said. "The components that they're trying to juggle are just the inconsistency and the challenges of managing delivery times and shipment times and navigating the ports," he said. "A lot of that's outside of the control of brands in many ways, and so that's been a little bit of a challenge in terms of being able to project out demand and then meet consumer expectations around shipment timelines."
Jones said that waitlists or the backorder tactic is fairly common among direct-to-consumer brands. DTC outerwear brand The Arrivals has used waitlists, pre-sales and back-in-stock email notifications in the past to match its inventory with customer demand. However, Jones said that waitlists can pose the risk of cancelations.
"You also just open up the potential for customers to be frustrated when there are more delays than anyone could reasonably anticipate," he said. "There's a really fine line that brands are having to kind of thread the needle on."
Fable said it is planning to launch additional products later in the year — potentially in the next couple of months — depending on how the supply chain disruptions play out, but it wants to mitigate wait times going forward. Canade said Fable is also looking to partner with industry experts to get the latest research on animal behavior and enrichment.  "I want to continue to invest in the innovation piece and build the best product lines across the space and really earn credibility."